"Romance is thinking about your significant other, when you are supposed to be thinking about something else."― Nicholas Sparks
Where did January go? Woke up today to realise we are one month down the year already!
So for the next 14 days , reds and pinks are going to take over our world , advertisements for Valentine's sales will pop up everywhere , the heart will become the commonest shape you see , people will start reserving majorly overpriced dinner slots , others will start planning surprises for their sweethearts . Tis the season of love !
Excuse the sarcastic undertone. I' m all for celebrating love even though I might not be that crazy about focusing it all on one day a year! Are you the out and out have-to-celebrate Valentine's day kind of person or are you the sorts who couldn't care less? I think I am somewhere in between .
So anyways , if you don't really feel like making major plans for V day , or can't .. you know … work , kids , parents , procrastination , the flu , giant zit , husband wants to watch cricket on tv… whatever the reason. But if you don't want to let the day pass just like any other "ordinary" day , then these red velvet cakelets are the solution!
These are basically a mug cake recipe that makes enough for two. You need a couple of bowls , a fork , some ingredients that I'm sure are lying around at home and two microwaveable mugs/bowls. If you are as lazy as me , you ll use the same bowls that you use to mix ! Just kidding , I just have many in the set …! 5 minutes in the microwave and done! Do I have you hooked already?
You could of course go the whole nine yards ,and use a stencil to sprinkle the confectioner's sugar to exclamate the Valentine- ness of it all! And honestly , it hardly takes a couple of minutes to make the stencil out of parchment. You can do it while the cakelets are cooling.
Its a microwave recipe so you don't need an oven.
If you don't have the red food colour (you can use liquid , gel or powder!) , just skip it and you ' ll have chocolate cakes . You can use any other food colour , but swap out the cocoa for more flour or you'll have a brownish tinge.
Oh, just in case you are worried about the egg not cooking , fret not. Its half an egg in each mug and its plenty time to cook it! So , what excuse do you have not to try it now.
Oh , did I forget to tell you how it tastes? Absolutely legendary !Moist and fudge-like when warm. Softer when cooling(or if you overcook). I won't tell you this will be the best cake you've ever eaten . But it might very well be the best cake you've ever eaten that are so quick!
Recipe courtesy:Midwest living
Seriously , how cute are these. Even for a person who isn't the biggest fan of red or hearts , I loved how intimate ly romantic types these look. And they are best warm and moist ! Try them and you ' ll see how good they are! Even if you don't , all you'll lose is less than ten minutes of your time. Less than ten minutes for moist , red velvet cake… what are you waiting for 🙂 !
Like Red velvet or looking for more options for Valentine's day? You may want to take a look at these Red velvet cheesecake bites , these red velvet truffles or maybe these red velvet cupcakes !

Print Recipe
10 minute red velvet cakelets !
Yum
Microwave red velvet mug cakes for two !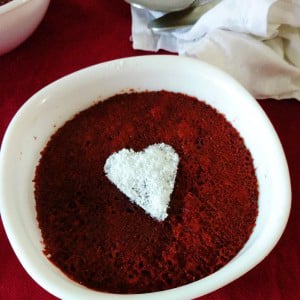 | | |
| --- | --- |
| | |
In a small bowl , mix together the milk and vinegar. Keep aside.

In another bowl , mix together the egg, oil , vanilla and food colouring.

In a small bowl , mix together with a fork the flour , cocoa, sugar , salt and baking powder.

Add both liquid mixtures to the flour mixture and mix until smooth.

Divide into the two mugs or microwaveable bowls. Make sure the mugs / bowls are only half full . 

Microwave , one at a time , at full power for 1 1/2 minutes for mug , 1 minute for a bowl. The cakes are done when they spring to the touch. If not done , Microwave again for 10 second intervals checking each time. Let cool for about three minutes.

If you are decorating with icing sugar , as they are cooling , prepare your stencil. Cut a piece of parchment or wax paper the size of your mug / bowl . Draw a heart shape in the centre and cut it out .Place the stencil over cake and sprinkle icing sugar over the cakelets.
These are best saved warm . You can make them earlier and microwave again to rewarm but they will be slightly drier (only slightly).
After 20 minutes or so , the cakes taste drier (still soft) .
Use mugs or bowls of about 1 cup or 240 ml capacity .
Tap the mugs once filled to avoid wonky cakes.
Sift or sieve your cocoa powder if they have lumps.
For other colours , use 8 tbsp flour , omit the cocoa powder and use colour of choice.