Now the thing about making puff pastry the regular way is that – yes it takes hours , but most recipes give you enough and more that freeze beautifully for the longest time. But of course there are times when you don't want to spend half your day rolling pastry and the waiting by the fridge. Or those times when you just want some puff , and not another package taking up precious freezer space ( if you are anything like me , freezer space is precious!)
This 15 minute , 4 ingredient puff pastry to your rescue! There s a 2 hour resting period of course. Off the bat , I want to tell you that it isn't as "puff" as the regular puff pastry. So if you want many many layers like in stuffed puffs or patties, I think you may want to try the old fashioned way. Some things just take time. BUT… and this is a BIG BUT …. it works ! And works beautifully. It does great in Palmiers and twists and tart shells and things like that – in patties too, it may not give the same look but tastes great. Its buttery and flaky and rises to golden brown gorgeous puffiness in the oven .
I am not sure who gets the credit for the original recipe here as too many blogs have it , and I got tired of backtracking. The way of making the puff is pretty much the same as usual puff pastry , leaving out the resting time between folding. Start off with frozen butter (which is hell to grate!) and the idea is to keep it cold throughout .
I think I m talking too much for a recipe that is supposed to be quick, so here goes!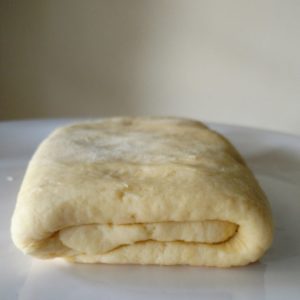 So now you know ! No more scouring for that super expensive frozen pastry sheets in that one upscale supermarket across town. And no more rolling , folding and waiting for six hours when you want to make some puff right now! I threw together some quick, jam palmiers to test it out .. this is one baking hack that works!
Print Recipe
15 minute puff pastry
Yum
 15 minute puff pastry - enough said!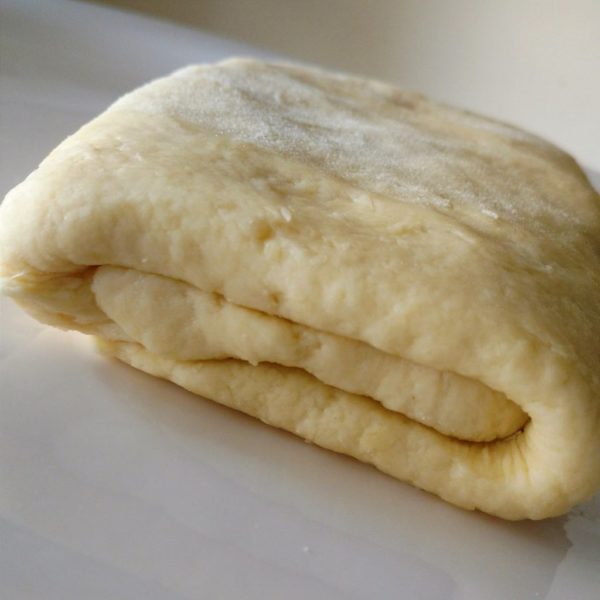 | | |
| --- | --- |
| | |
Whisk or sift the flour and salt together in a large bowl.

Grate in the frozen butter into the bowl .

Stir with a knife until all the butter is covered with flour .

Add the cold water and stir with a knife until a dough forms. It will look rough and shaggy.

On a well floured surface, roll out the dough into a rectangle ( around 10 inch long) . Fold the bottom third over the middle third , and then the top third over the middle third (like a letter)

Rotate the dough one quarter of a circle, roll it out again and refold as above.

Repeat for 6-7 times. The dough will start out crumbly , but will get smoother as you carry on. Chill for 15 minutes if you feel the butter is melting and then continue.

Cover with cling wrap and chill for atleast one hour in the refrigerator. Use as needed!
You can use this for any recipe that asks for puff pastry sheets .
This can be frozen for 6-8 months.
You will see bits of butter in the dough in the beginning , do not worry !