"Less is more only when more is too much." ― Frank Lloyd Wright
A good portion of my baking happens to put left over ingredients to good use . Does that happen to you too ? After making this Mangomisu , I had a half tin of Mascarpone abandoned in the top shelf of my refrigerator . Racking my brains and some Pinterest stalking didn't yield enough inspiration.
A relaxing weekend , a disturbing but powerful movie , a couple of naps and a chance Youtube video later … I had my answer ! This simple rustic 3 ingredient cheesecake ! Ochikeron had this video that went viral three years ago (which I just happened to see yesterday) of a three Ingredient Japanese souffle cheesecake that looked soft and fluffy and drool worthy!
So the three ingredients are white chocolate , cream cheese and eggs. I swapped out the cream cheese for the Mascarpone , with some trepidation I must add. They both are soft cheeses , cream cheese of course having that characteristic tang compared to the much mellower taste of mascarpone (which is more to MY taste!) . The result was super soft , not too sweet-not too tangy gorgeous cheesecake heaven !
Another change I made was in the method of baking . The cheesecake is baked slowly in a hot water bath but instead of varying the temperature like Ochikeron did , I just baked it at 160 C throughout to make it more fuss free. I didn't get the height she did , but I am not sure if that was because of the changes I made or pan size.
The cake was still tall enough , beautifully melt-in-your-mouth and drop dead delicious !
I am not sure if this is a Japanese cotton cheesecake anymore. Does it become Italian because I added Mascarpone ? Or have I committed some sort of blasphemy in the cheesecake world by making the switch?
But can I tell you how good it is …. so so so good. Its one of the softest , lightest cheesecakes I have ever eaten . Tastes like a sweet exquisite cloud (something like that!) and you'll keep shovelling in forkfuls until you realise you have had one wedge too many!
On a side note , if you watch Indian movies , do catch Udta Punjab . Some stellar acting and some rivetting scenes !

Print Recipe
Three ingredient Mascarpone cheesecake
Yum
A soft , sweet , super light cheesecake made with just Mascarpone , white chocolate and eggs !!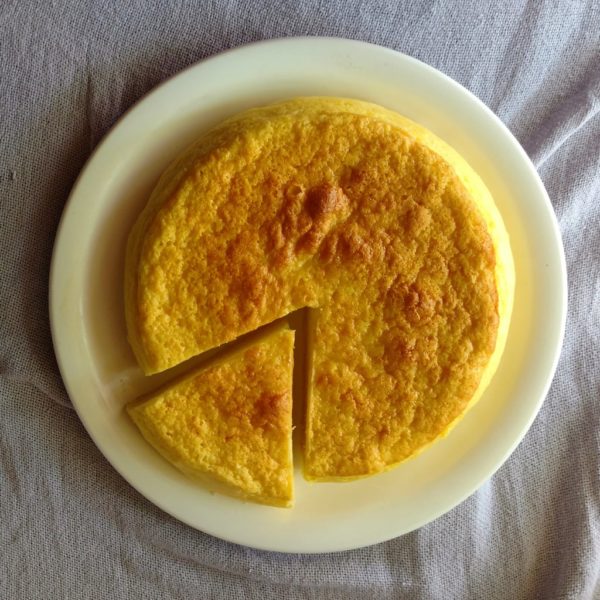 Line the bottom and sides of a 6 inch round pan with parchment . Preheat your oven to 160 C/ 325 F. Boil some water and keep on simmer.

Chop your chocolate and melt in a double boiler or microwave.

Mix in the Mascarpone until smooth.

Mix in the yolks when the chocolate-mascarpone mixture is cool.

Whip up your egg whites using a handheld or stand mixer at medium high until you have firm peaks . This will take a few minutes .

Mix about 1/3rd of the whipped egg whites into the chocolate-mascarpone- yolk mixture to lighten it.

Fold in the remaining egg whites in two additions gently until smooth .

Pour into pan and tap against the counter to remove air bubbles.

Place your pan into a bigger pan . Fill the outer pan with the hot water upto half the height of your filled cake pan.

Bake at 160 c/ 325 F for 45- 50 minutes until the top is browned and the cake wobbles just lightly .

Cool completely before removing from pan.
Step by step Tutorial :
Also:
Keep refrigerated until serving. It stays good for upto 3 days.
Both pure and couverture chocolate works fine.
You can bake in a 7 or 8 inch pan for 35-40 minutes for a not as tall cake.
Use cream cheese if you have it or you prefer your cheesecakes tangy.