"Even if I knew that tomorrow the world would go to pieces, I would still plant my apple tree."-Martin Luther.
Its that time between the rains and the winter when it's chilly enough to snuggle under a blanket but yet not cold enough for sweaters and jackets to be optional. The odd hot and sunny day in between. Indian autumn shall we call it!
Apple seemed like a apt ingredient for some cookies to celebrate autumn. A sudden urge to make them as healthy as I could but still good. The earthiness of whole grain flour with the wholesomeness of oats and a sprinkling of the season's favoured spice – cinnamon. And these cookies were born.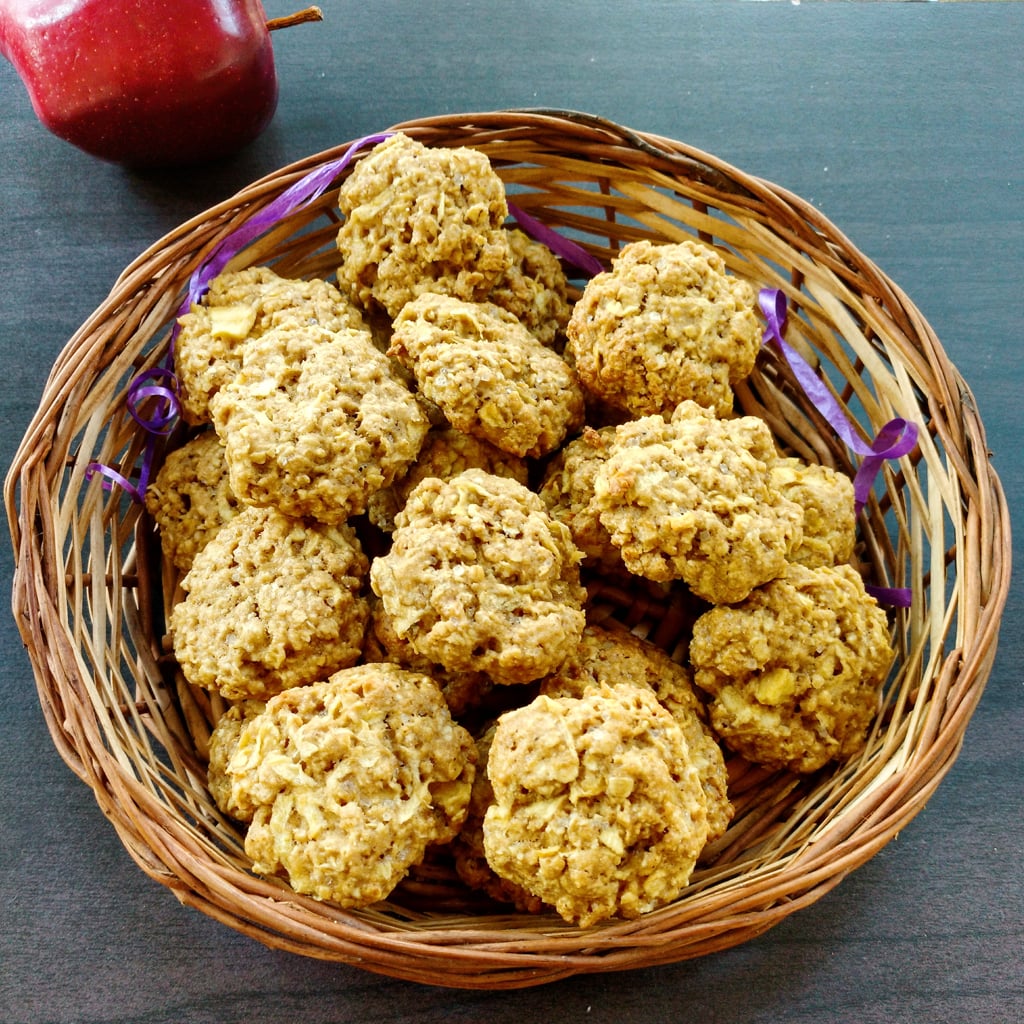 Perhaps not the best looking cookies , but they expect so little fuss from you and the rough around the edges kind of appearance appeals to me . Seems rustic and – Autumn y maybe ?
These cookies definitely fit the bill for the "autumn" challenge. Your home will smell of apples and cinnamon . Taste and texture wise, these are quite unlike the usual cookies I make. The edges are crisp and the centres deliciously chewy. And the yummy bits of fruit in each bite!
By the way …have you tried my simple oat cookies ?
One of the best things about fall–in addition to sweaters and football–is all of the delightful seasonal themes that come to mind for baking. Pumpkin, apples, late summer and early fall harvest, Halloween, Thanksgiving…. They are all fun and delicious to play around with, so check out what we have for you this month!
You can also use us as a great resource for cookie recipes. Be sure to check out our Pinterest Board and our monthly posts (you can find all of them here at The Spiced Life). You will be able to find them the first Tuesday after the 15th of each month! Also, if you are looking for inspiration to get in the kitchen and start baking, check out what all of the hosting bloggers have made:
Print Recipe
Apple and oat cookies
Yum
Wholesome cookies made with wholewheat flour, oats and fresh apples - perfect for the weather !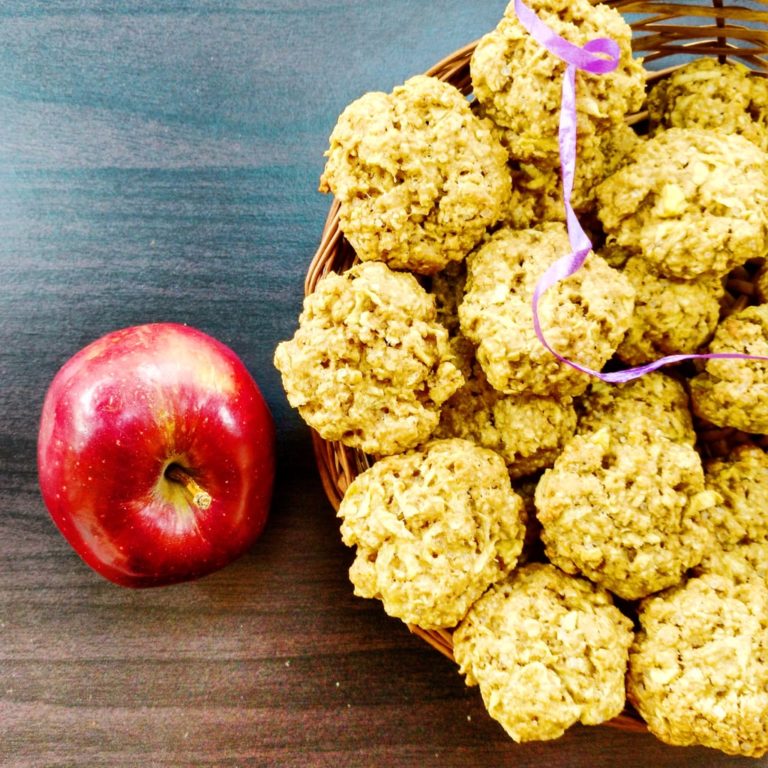 | | |
| --- | --- |
| | |
Mix together all the dry ingredients in a bowl .

Add the melted butter , egg and vanilla . Mix until it comes together. It will still be granola like and not a smooth dough.

Peel and grate the apple and mix it in until a dough forms.

Wrap in plastic and chill for 45 minutes or so.

Meanwhile, preheat your oven to 180 C/350 F . Line a cookie sheet with parchment paper or grease well.

Drop tablespoons of dough about 2 inches apart on the lined sheet. Flatten into discs

Bake for 18 to 20 minutes.

Cool completely on a wire rack.
This recipe makes 25 cookies.
These can be stored in an airtight container for 3-4 days.
Replace the whole wheat flour with all purpose flour if you want a "more refined" taste.
I used Pillsbury atta , a medium sized red delicious apple and Quaker's oats