"It must be a fragile system if it can be brought down by just a few berries."- Katniss Everdeen, The Hunger Games.
Blueberry Bundt! That name has a nice ring to it !
I could ogle at  lovely pictures of Bundt pans and cakes all day. But I don't own one yet ! Either the ones I find are terribly overpriced or are so intricately constructed that clumsy that I am , I cannot imagine getting a cake out of them in one piece! I do own a tube pan , the plainer baby version of the Bundt , and much easier to handle. But one of these days a bigger Bundt is going to make its way into my kitchen and you'll see a beautiful Bundt cake on here ( hopefully an intact one!).
This is a simple , straight forward cake ….. no frills , bells or whistles – a wonderfully flavourful cake with the classical combination of lemon and blueberries. When you slice into it , that gorgeous crumb with the spattering of the bright blue of the blueberries . It tastes delicate and moist,  and Nothing Bundt Delicious!
This Bundt has an undertone of a  great lemony flavor, a nice crunch to the crust, the punctuation of the delightful tartness of the berries and a tender crumb . You could of course serve this for dessert, but it doubles up as a great option for brunch or teatime. Or breakfast? Of course ..it has fruit in it!
Print Recipe
Blueberry Bundt
Yum
Moist cake with a light lemon flavour and loads of delightful blueberries!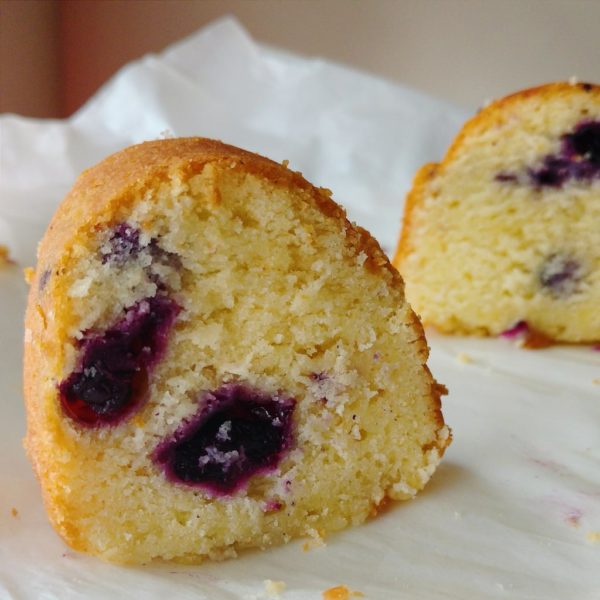 | | |
| --- | --- |
| | |
Preheat your oven to 180 C/ 350 F . Grease your pan well with butter and generously dust with flour. Shake off excess.

Dust the blueberries with the one tablespoon flour so that they are completely covered . This is to prevent them sinking to the bottom of the pan . Keep aside.

Beat together the butter , salt , zest (if using) and sugar with a whisk or electric beater until light and fluffy.

Add the eggs , one at a time , and beat well until incorporated.

Add the yoghurt and beat well until incorporated.

Add the flour and baking powder. Mix at low speed until the flour is just incorporated.

Fold in the dusted blueberries with a spatula .

Spread batter into prepared pan and bake in the preheated oven at 180 C / 350 F for 35-45 minutes

The cake is done when a skewer inserted comes out dry . The top will be slightly browned. Cool in pan for about 30 minutes and then unmould to cool completely on a wire rack.
Step by step tutorial:
Also :
The cake can be stored in an airtight container for 3 - 5 days.
Double the recipe makes two loaf cakes or a Bundt pan of 12 cup capacity.
I used frozen blueberries here but fresh blueberries would be even more fantastic .