"Life is like an ice cream cone, you have to lick it one day at a time. "― Charles M Schulz
So summer is all set to bid its goodbyes for the year and the rain gods have been more and more generous with us off late , I thought its a great time to share a couple of frozen desserts I have up my sleeve. Ofcourse my ice cream eating remains blissfully unhampered by the weather forecasts- Infact I like eating iceceam even more when its raining !
This blueberry swirl ice-cream is so simple , no fuss and comes together so quickly. I got the idea from a food magazine whose name eludes me now. I will not sit here and tell you this is the best ice-cream you'll ever have . But for a homemade ice-cream with no eggs and which requires no machine – it is pretty darn delicious!
The ice-cream base is one made with sweetened condensed milk and heavy whipping cream . A tried and tested combination that in different proportions is all over the internet. Blueberries are cooked down with a little sugar to make a syrup that is then swirled into the vanilla ice cream base. You could leave out the fruit or you could sub with other berries or fruits of your choice . But the tartness of the blueberry and the deep purple ripple against the white ice-cream worked for us!!!
This ice-cream is rich and smooth , and the blueberry swirl adds that little oomph to it! What more should I say.. its ice-cream ! How can it NOT be good!
The only thing I don't like about ice creams is taking pictures of them! However fast I move (and i am usually not a fast mover!) , it WILL go all melty on me before I get a decent click! Its like the Murphys law of ice-cream and photography!

Print Recipe
Blueberry swirl ice-cream
Yum
A no churn , egg free homemade blueberry swirl vanilla ice-cream . Smooth , rich and easy!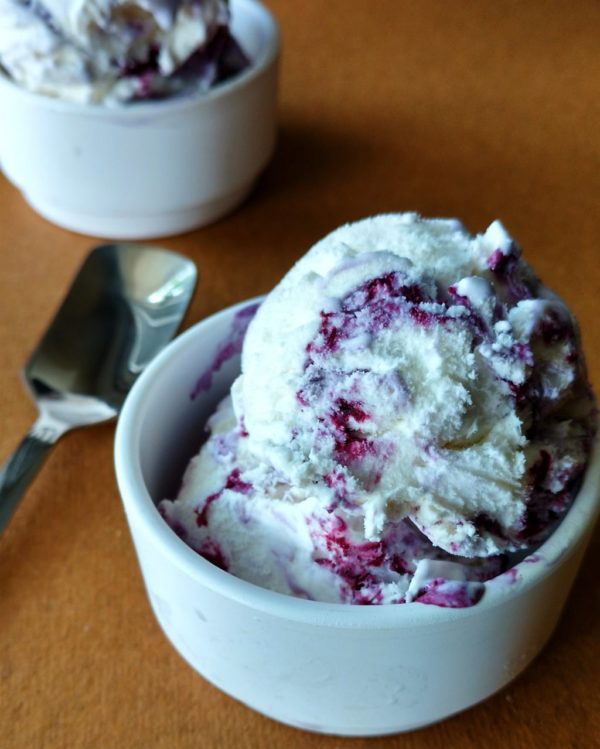 | | |
| --- | --- |
| | |
Heat the blueberries and sugar in a thick bottomed saucepan on the stovetop while stirring until the sugar melts and the fruit get soft . You can heat more to thicken it if you wish. Sieve the mixture and let cool.

Using a electric mixer or whisk, whip the condensed milk, cream and vanilla until firm peaks are formed.

In a freezable container, pour some of your ice-cream base, add a couple of teaspoons of the blueberry syrup and swirl it in.

Continue with more ice-cream and syrup .

Freeze for 6-8 hours (or overnight) until set.
Step by step Tutorial:
Also:
This will stay good for 2 months or longer in your freezer .
The recipe makes more than enough blueberry syrup, so reduce the amounts of blueberries if you wish.
If you have trouble whipping your condensed milk and cream mixture to peaks, chill it for some time and whip again. Better still, fill a tray with ice cubes, place your mixing bowl on the ice and then whip.