Whenever I hear the word butterscotch , I immediately think of ice-cream! Growing up, after chocolate and vanilla, butterscotch was one popular flavor. This was obviously before Baskin Robbins and Swensen's took over every street corner, Ever wondered what butterscotch means? Butterscotch is anything that has brown sugar and butter in it. Thats it.
Swiss meringue buttercream is made by heating egg whites with sugar, and then beating it with butter  . This frosting is basically a swiss meringue buttercream with brown sugar instead of white sugar. If you haven't tasted swiss meringue buttercream yet, try it today! I mean.. today! Its super smooth, super creamy and does not give you a sugar attack like many other frostings! i know I m gushing but i really love this buttercream . its my usual frosting if the flavor is not chocolate. I found it intimidating at first , but once I tried it, there was no looking back. The most difficult part is to figure out what to do with the egg yolks!
Team it with caramel cake or cupcakes , or plain vanilla !

Print Recipe
Butterscotch / brown sugar buttercream
Yum
A swiss meringue buttercream made with brown sugar - luscious and butterscotch!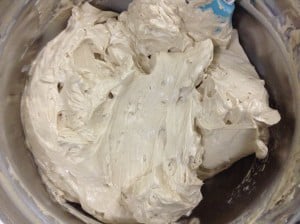 | | |
| --- | --- |
| | |
Separate your eggs and let your egg whites come to room temperature

Place your bowl over a saucepan of little water (double boiler) and heat on low flame .

Stir continuously until the mixture is thicker. If you have a thermometer, it should reach 150 F. If you feel it between your fingers, you ll feel no granules of sugar

Beat this at high speed until it starts getting fluffy. Keep beating until there are soft peaks and the outside of the bowl is not hot anymore

Add the butter in small pieces ( 1 tablespoon at a time) while beating. Your mixture will curdle but will come together again.

Smooth, creamy frosting.!

This frosting is enough to fill and frost a three layer 8 inch cake or 24 cupcakes.