"You can't just turn on creativity like a faucet. You have to be in the right mood. "- Calvin.
"What mood is that? "- Hobbes
"Last-minute panic." – Calvin.

I am not a very innovative cook or baker. I basically learn from others' work , adding a little of my own style and taste to it. So when I came up with the idea of these carrot halwa pies , I was quite pleased with myself. Granted this idea was inspired by a different fusion recipe in a cookbook I acquired recently. None the less, I was preening at such a brilliant idea that was both Indian and International in spirit.
But when the dear husband (who doesn't like waiting for ANYTHING) saw that I was filling his favourite halwa into a tart pan instead of a bowl, he had only one thing to ask- WHY? That set me thinking. Why all the extra effort when its the same carrot halwa inside. Why not just the carrot halwa itself, like always . Hmm , that made sense. I hate it when he makes sense.
But I was already filling my pies , so I made a couple of them. After of course appeasing my hubby with a small bowl of the halwa. Later on , I gave him a warm carrot halwa pie. This time he had two words to say – NOT BAD . He's a man of few words , my husband (totally unlike me of course!) . If you knew him, you would know that "not bad" is high praise indeed ! Which is why these pies made it onto the blog!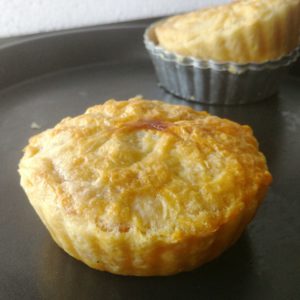 Now when you read this , you will probably think one of two things . One -whats the big deal , just carrot halwa only. Who is going to make puff pastry just for this , the halwa is fine on its own. Or two- nice way to upgrade the halwa and serve something different to those guests who don't really want to eat anything too different !
If you belong to the first group , come on over ! One taste of these pies and you will probably change your mind! And there is the cliche that all good things in life take time! The same reason you would make your own cookies or bread rather than buy it from the bakery next door. And if you think this is a nice idea … it IS! And not because its mine, but because it really is warm and so fulfilling on a cold winter night. The pastry is buttery and flaky , the halwa is rich and the whole thing is really really yum!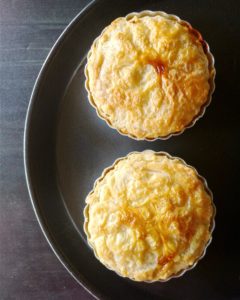 Carrot halwa pies
2017-01-29 18:00:45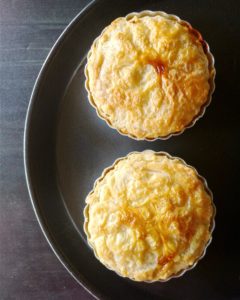 Delicious carrot halwa encased in buttery , flaky puff pastry!
For the puff pastry
125 grams or 1 cup all purpose flour
1 tablespoon icing sugar
Pinch of salt
125 grams or little more than 1/2 cup frozen butter
80 ml or 1/3 cup ice cold water
2 tablespoons milk (for wash)
For the carrot halwa
3 cups grated carrots , from 5-6 large carrots
480 ml or 2 cups milk
100 grams or 1/2 cup granulated sugar
2 tablespoons raisins
2 tablespoons chopped nuts (almonds, cashews etc)
2 tablespoons ghee or clarified butter
To make the puff pastry
In a large bowl , stir together the flour, salt and sugar.
Grate the frozen butter into the bowl. Stir the grated butter into the flour mixture using a knife.
When all the butter is covered with flour , add the cold water and stir with a knife until it comes together in a dough.
On a lightly floured surface , roll this dough to a vertically long rectangle of about 30 x10 centimetres.
Fold the bottom 1/3rd of this rectangle onto the middle third, then fold the top third on the middle third (like a letter).
Turn the dough by 90 degrees and roll again , and fold again in the same way.
Repeat 5-6 times , making sure the butter inside is not melting. Chill for 10 minutes if it is melting and then continue rolling.
Wrap in plastic and chill in the refrigerator for atleast an hour.
To make the carrot halwa
In a wide pan , heat the ghee and add the raisins and chopped nuts.
When the raisins are plump and the nuts golden, add the grated carrot .
Stir and cook for a couple of minutes.
Add the milk and simmer on low until all the milk has been absorbed by the carrots. Stir occasionally. This may take 15- 20 minutes.
Add the sugar and stir . Cook for a further 5 minutes.
Take off heat and cool completely .
To make the pies
Divide the chilled dough into two.
Roll each part to a 12 inch circle if using a 9 inch pie dish or pan.
If making mini tarts , roll the dough to a large rectangle and cut out circles 2 inches larger than the diameter of your pan base ( 2 circles for each pie)
Place one circle on the bottom of your pie dish and mould the sides to the dish. There will be dough overhanging over the edge.
Fill the carrot halwa right upto the edge of the dish.
Place the second circle of dough on top .
Seal the top dough with the bottom dough by pressing along the edge of the dish, you can even crimp it.
Cut off excess dough from the sides.
Using a fork, prick holes all over the top .
Using a pastry brush or spoon , brush milk over the top of the pastry.
Chill in the refrigerator for 20 - 30 minutes.
Meanwhile , preheat your oven to 220 C.
Bake for your pies for 15 minutes at 220 C and then 20-25 minutes at 180 C. The tops will be golden brown.
Remove from pie dish and serve warm or at room temperature !
Notes
These pies can be stored for 2-3 days.
The puff pastry can be prepared 4-5 days before and the filling a day before.
This recipe makes on 9 inch pie or five 4 inch pies.
You can use ready made puff pastry or regular puff pastry instead of quick puff.
You can use your usual recipe for carrot halwa instead of the one given here.
While handling the dough , make sure the butter remains as cold as possible .
FLOURS & FROSTINGS http://floursandfrostings.com/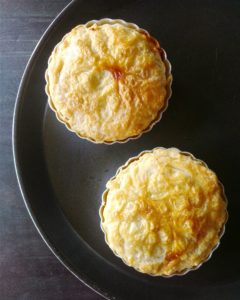 I think that quick puff pastry works brilliantly here. It forms enough layers for the tart covering and it tastes almost as good as a full puff. If you do want to make some full puff pastry , I would strongly urge you to do so. It is one of the most brilliant and versatile things you could make at home. When you peek into your oven and see those hundreds of layers rising – its a baker's dream come true!
Readymade or quick or full – do get hold of some puff pastry and give your good old carrot halwa a makeover. It will thank you ! And so will your family !