"No winter lasts forever. No spring skips its turn." – Hal Borland.
I just got back from a trip to my hometown and am only just easing back into the "regular" life. Sometimes I feel like I need a vacation to recover from my vacation. You know what I mean.?
So I'm back to my kitchen and oven after a good while and it's with these light and crunchy cinnamon sticks. Something I learnt about cinnamon during all my taste trials with friends and family ( when you bake and blog, people around you get fed a lot!) , you either love it or hate it. There's no in between. Me ? Its love all the way , and a newfound one at that. I love the 'sugar meets spice' flavours in cinnamon bakes and adore how my kitchen smells right after. Autumn-y n wood-sy almost.
This recipe is adapted from Arthur flours . It's almost a pastry kind of cookie that is filled with a cinnamon sugar and twisted . Each cookie is whimsically different from the rest ! The weather has been cold and weepy where I am , and these cookies were the perfect accompaniment as I huddled under my blanket with a cup of coffee and this great mystery novel that I m reading. Ahhh…!
These cinnamon twisty cookies are buttery ,crunchy and flaky. Lovely flavour. So light , you could eat several in a go and aren't too sweet. They would make good gifts for the festive season that's coming and delicious with your mid morning cuppa .
Creative cookie exchange !
Are we the only ones who start craving cinnamon when the weather gets colder? We can't be! And we are talking anything sold under the word cinnamon–cassia, "true Cinnamon", Ceylon Cinnamon, Vietnamese Cinnamon–if it is sold as cinnamon it is what we want! Check out all of our cinnamon cookies below! Hint: A lot of them could be used for your holiday cookie table!
You can also use us as a great resource for cookie recipes. Be sure to check out our Pinterest Board and our monthly posts (you can find all of them here at The Spiced Life). You will be able to find them the first Tuesday after the 15th of each month! Also, if you are looking for inspiration to get in the kitchen and start baking, check out what all of the hosting bloggers have made:
Print Recipe
Cinnamon sticks #creativecookieexchange
Yum
Crisp and light cookies with a sweet cinnamon filling !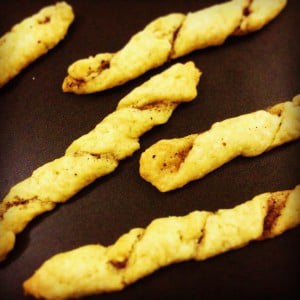 | | |
| --- | --- |
| | |
Whisk together the egg and milk.

Whisk together the flour, sugar , salt and cinnamon.

Add the cubed butter and rub in with your fingers until it all forms a coarse sand like consistency.

Mix in the egg-milk mixture until the dough just comes together.

Wrap in cling film and chill for atleast an hour and up to 2 days.

Divide the dough into two and roll the dough on a well floured surface until you get a rectangle about 12 cm by 24 cm . Meanwhile, preheat your oven to 180 C. Line a baking tray with parchment.

Apply some milk on top with a pastry brush or spoon. Mix the cinnamon and sugar for the filling together. Sprinkle half the cinnamon and sugar mixture generously.

Cut into strips about 1 cm thick.

Twist each strip from both ends gently. Set on your parchment lined baking sheet. You can place them close as they don't spread much. Repeat with all the dough.

Bake at 180 C for 20-25 minutes until golden brown.Cool completely.