"Apparently a raw food diet is great for weight loss. I'm starting with cookie dough!"
Which one of us hasn't licked the beaters after making our favourite chocolate chip cookies (if you haven't , you need to teach me about self -control) . I am not a "crazy" crazy fan of cookie dough, but I have a lot of friends who are. Kids ofcourse seem to love it and the ones who are kids at heart (which should be everyone, IMHO!).  But I do like its taste and I find the idea of cookie dough frosting fun !
This recipe is from Lindsay Landis who wrote The cookie dough lover's cookbook ! The frosting tastes like … chocolate chip cookie dough. It is of course, an eggless chocolate chip cookie recipe without any leavening – why would it taste any different. Its thick and rich and yummy.
Now, usually I wax poetic about most recipes I put on here. But I like to keep it real. So , I ll go ahead and say that this might not be everyone's favourite frosting! Thats not so say , its not delicious. It is … it truly is ! But if you like your frostings not sweet and super light, proceed with caution ! But do try this if you are a cookie dough lover or if you are baking for kids or just to see if you like it !
While most sites online use the eggless cookie dough as is, A better option I found is mixing this cookie dough with your favourite frosting . Add equal parts of the dough to whipped cream or any plain buttercream – you ' ll have a lighter , more mellow , still delicious , more frosting-like cookie dough frosting!
Recipe courtesy : Lindsay Landis
This cookie dough is versatile and good enough to eat by the spoon ! You could make cookie dough truffles . Or slather it on brownies ( thats for all you Brookie lovers!) or mix into ice-cream for some cold homemade cookie dough goodness ! As a frosting , it would be gorgeous on brownies or anything chocolate or mocha or even vanilla  (I have used the eggless chocolate cupcakes here ). Its luxurious and rich , so a little goes a long way. An answer for all our cookie cravings!

Print Recipe
Cookie dough frosting
Yum
Now you can have your cookie dough and eat it too!!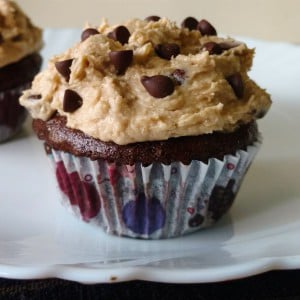 | | |
| --- | --- |
| | |
Beat the 1/2 cup of butter together with a brown and granulated sugar until light and fluffy. This is 6-8 minutes with a good electric mixer .

Add in the milk and vanilla . Beat until incorporated.

Add in the flour and salt. Beat at low speed till mixed well. Scrape the bowl well.

Fold in the chocolate chips. Your cookie dough is ready. You can top your cupcakes with this and skip the following steps. Also , If you have any buttercream , mix equal parts of this cookie dough and buttercream for a cookie dough frosting.

If you don't have any buttercream or frosting , we ' ll make a quick American style buttercream base ! Beat the 1/3 cup of butter until light , fluffy and pale.

Add in the sifted icing sugar , about 1 tablespoon at a time and beat well after each addition.

Once all the icing sugar is added , beat for a couple more minutes.

Mix this buttercream with the cookie dough frosting . Your smooth cookie dough frosting is ready!!
Also:
This can be stored in an airtight container in the refrigerator for 5 days or in the freezer for 2 months.
As this is raw cookie dough, take your time beating the sugars with the butter well as you don't want to have sugar crystals in each bite!
For a sugar cookie dough frosting , replace brown sugar with white sugar and omit the chocolate chips.
Its easiest to just spread the frosting on top. If you want to pipe this , some suggestions : a) use mini chocolate chips or the smallest chocolate chips you can find. b) use the largest piping tip you have so that the chips don't clog the tip! c) if you don't have mini chocolate chips or a large piping tip , just chop off a large corner of your piping bag and pipe simple round swirls. d) or don't fold in the chocolate chips . Pipe as usual and sprinkle the chips on top!
I have mixed this cookie dough with american style , swiss meringue , flour buttercream and whipped cream... all works well.
I have mixed this cookie dough with american style , swiss meringue , flour buttercream and whipped cream... all works well.