"You can't get too much winter in the winter !" – Robert Frost
We have been having a colder winter than years past and as much as I love chilly weather , I haven't been wanting to do much more than stay bundled up all day with a good book and a hot beverage. Its an absolute torture waking up to get to work on time. The animals who hibernate have got the right idea!
On one brisk evening, I did get a chance to try these cookies that were on my to-bake list for a while now. These cream cheese cookies have many fans and rave reviews on the Food52 site . Having some cream cheese left in my tub , too little for frosting or a cheesecake and too much to throw away , I knew I had no excuse not to try these!
Not only were they so easy to make, they were super yummy . Wonderful texture and unique taste. The first batch was devoured away before I realised and next time around , I added cocoa that took an already great cookie , right over the edge ( of course, being a true blue chocoholic , i could be biased here !). You can chose one over the other (check my notes ), or just make both in one go ! You must try these and let me know which ones you liked better!
These were just perfect . One of the patrons at the Food52 site calls the flavour "sophisticated " and thats so true. The edges are crisp and the centres are chewy. Sweet with that slight tang. Really fantastic cookies and the chocolate ones are to die for!!

Print Recipe
Cream cheese cookies
Yum
Cream cheese cookies done two ways- wonderful texture and unique flavour!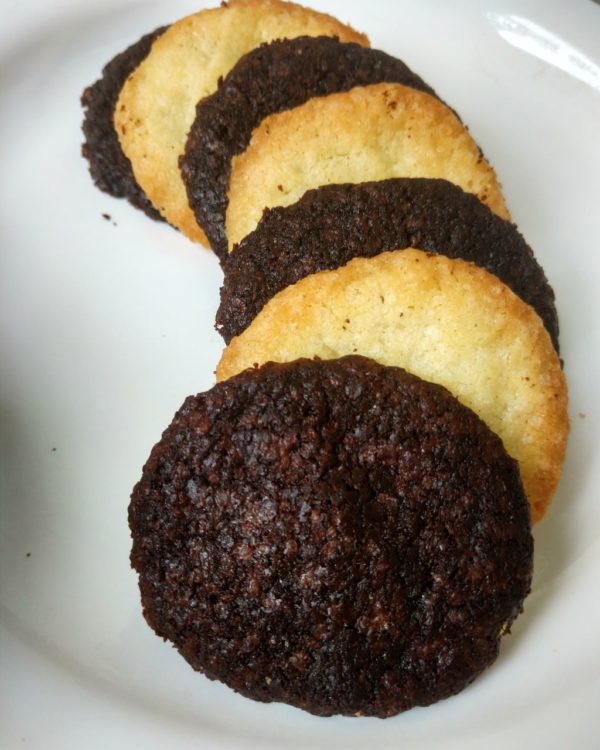 | | |
| --- | --- |
| | |
Using an electric mixer or wooden spoon, beat together the cream cheese , butter and sugar until smooth.

Divide this into two bowls. You can eyeball it.

To one, add 1/2 cup (62 grams) of flour and 1/4 tsp salt. Beat until the dough comes together.

To the other , add 1/4 cup cocoa powder , 1/4 cup flour and 1/4 tsp salt . Beat until dough comes together.

Chill the doughs for about half an hour or until firm. Meanwhile preheat your oven to 180 C/ 350 F and line a baking sheet with parchment paper.

After the chilling period, make balls with the dough of about two teaspoons each , and place 2 inches apart on the prepared sheet.

Bake for 14- 16 minutes until the edges brown (for the plain cookies) and the chocolate ones have set edges. Cool on baking sheet for couple of minutes , and then completely on wire rack.
Step by step Tutorial:
Also:
These can be stored at room temperature in an airtight container for upto 5 days.
If you want to make only plain cookies, don't divide the mixture and add 1 cup flour and half a teaspoon salt. If you want only chocolate cookies , add 1/2 cup flour, 1/2 cup cocoa and 1/2 tsp salt.
The original recipe states the baking time at 12 minutes , but mine were still soft and pale then .
Recipe works just fine with half the recipe.