I know that the title is quite a mouthful but this recipe is a keeper if I say so myself.
Biscotti or the twice baked Italian cookie demands a little more of your time and labour than any other everyday cookie . But if you have tasted or baked them before , you' ll agree with me that they are every bit worthy of that extra ounce of effort!
Here the cookie dough is baked as a log for about 20-25 minutes , sliced and then rebaked . The slicing gives them their traditional and characteristic "finger" shape, the double baking gives them their lovely crunch and sturdy structure. The twice baking also removes any moisture which means they keep for weeks when stored well!
I have added dried cranberries and white chocolate chips to the dough for that perfect combo for sweet and tart in every bite!
These cookies are an explosion of flavours in your mouth. The tad too tart cranberries and the tad too sweet white chocolate bits meet in perfect harmony in the otherwise subtly flavoured cookie . And the biscotti are so wonderfully crisp as biscotti should be. Enjoy them as is or feel free to dunk them in your coffee or tea like the Italians do !

Print Recipe
Dried cranberry and white chocolate chip biscotti
Yum
The crisp traditional twice baked Italian cookie , studded with red cranberries and white chocolate chips for great sweet-meets-tart flavours!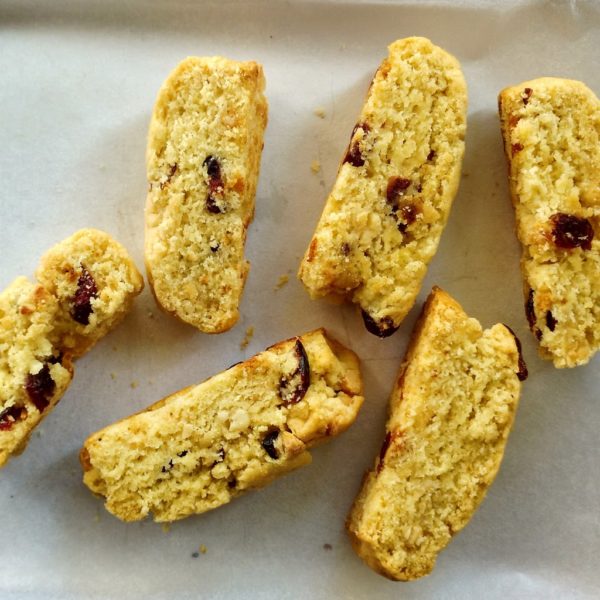 | | |
| --- | --- |
| | |
Preheat your oven to 350 F / 180 C. Line a cookie sheet with parchment paper or grease well.

Sift or whisk together the flour, baking powder and salt. Keep aside.

With an electric mixer or hand whisk, beat together the butter and sugar until light and fluffy .

Add the vanilla and beat until mixed well.

Add the egg and beat until incorporated.

Add the flour mixture and beat until a soft dough forms.

Fold in the dried cranberries and chocolate chips.

Shape into a log , approximately 20 x 4 cms in size. Bake in the preheated oven for 20-25 minutes until firm to touch.

Remove from oven and when cool enough to handle , slice using a serrated knife into slices of about 1.5 cm thickness.

Place cut side up on your lined baking sheet and bake again at 180 C/350 F for about 18-20 minutes. They will be hard to touch.

Cool completely on sheet and store immediately in an airtight container.
Step-by-step tutorial:
Also:
The recipe can be doubled or tripled.
Store in an airtight container for upto 3 weeks. They will go soft at room temperature.