"There are some ideas so wrong that only a very intelligent person could believe in them."- George Orwell.
Seems ridiculous no . Brown bread and icecream ? Really ? I don't even like eating brown bread much ,so the idea of putting it in ice-cream (one of my favourite foods) seemed unappetising to say the least !
But… I saw this icecream in a book by James Martin. And if you have seen one of his shows , or read one of his books , you will know that this easy going , infinitely impressive celebrity chef hits a home run with desserts everytime!
I stole his idea but changed the icecream base (no raw eggs here!) to make a simple 3 ingredient icecream. And the result was so so good that I tried it once again and this time went a step ahead and made it a dulce de leche- brown bread ice-cream ! Try it either way – both are yum!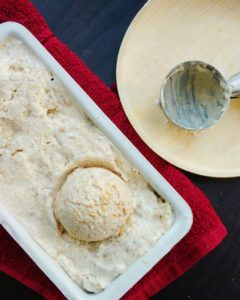 An easy way to make a no churn icecream is using condensed milk and whipped cream . It might not be authentic but it works for me -like in this blueberry swirl icecream and in this Horlicks icecream. Dulce de leche (meaning sweet of milk) is basically milk and sugar cooked to a thick , sticky caramel. Using condensed milk makes it a whole lot easier and quicker to make at home. If you haven't made dulce de leche at home , the online stories of bursting cans and kitchen disasters might scare you off. No worries.. the ever useful pressure cooker works like a dream here and you go from condensed milk to dulce de leche in less than an hour !
And some absolutely delicious, totally unique homemade icecream in a few hours ! It's got caramel , it's got crunch.. it's kind of like butterscotch but even better !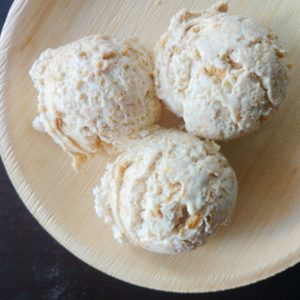 Dulce de leche and brown bread ice-cream
2017-02-04 02:04:50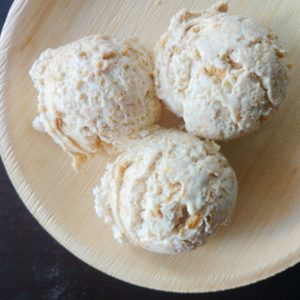 Three ingredient , absolutely delicious caramel-ly , crunchy ice-cream!
Ingredients
175 grams or 5 to 6 slices brown bread
400 grams or 1 tin condensed milk
480ml or 2 cups cold whipping cream
Instructions
To make the dulce de leche : In a pressure cooker ,place your unopened condensed milk tin on its side . Fill water so that it comes halfway up it's sides. On medium heat , heat with weight on until one whistle. Lower the heat to minimum and continue cooking for 35 to 45 minutes. 45 minutes will give you a darker dulce de leche. Switch off the heat , let the pressure release on its own and remove the can. Cool to room temperature. Empty the dulce de leche to a large mixing bowl.
Preheat your oven to 200C / 400F .
Shred your bread into small bits as possible , you could use a food processor or your hands for this.
Spread the crumbs on a foil or parchment lined baking sheet.
Heat at 200 C for 6 to 8 minutes until dark and crisp. Every two minutes , get the sheet out and mix up the crumbs so all get evenly toasted.
Let cool and break any larger pieces by rubbing together.
Whip the cold cream to stiff peaks.
Using a spatula , fold quarter cup of the cream into the condensed milk .this loosens it up.
Fold in the rest of the whipped cream gently.
When it's a uniform colour, mix in the toasted crumbs until uniformly distributed.
Line a 9 x 4 inch loaf pan with plastic wrap (or any sealable container) and spread the icecream in.
Cover and chill for 5 to 6 hours. It can be eaten even at 2 to 3 hours but sets best after atleast 6 hours!
Notes
This makes one litre of icecream.
The recipe can be halved.
The plastic wrap lining for the loaf pan is optional. It allows you to remove the icecream slab and slice easily. You can fill it up in the loaf pan and scoop directly.
Remember to remove any plastic lid or plastic covering the condensed milk tin has !
You can use light 25 percent cream for this. Chill beaters, cream and bowl for 15 minutes and then whip to soft or firm peaks. Follow the recipe as is. This will give you a softer serve icecream.
FLOURS & FROSTINGS http://floursandfrostings.com/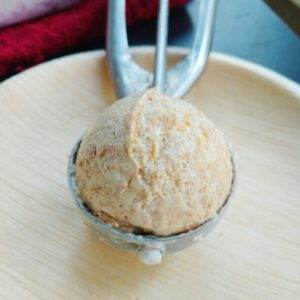 The only thing I like more than feeding people my home-made experiments is surprising them with the results ! I asked everyone I gave this ice-cream, to guess what the bits in the icecream were – and not one person got it right . If I hadn't made it myself , I would never believe that old bread could actually make one helluva ice-cream !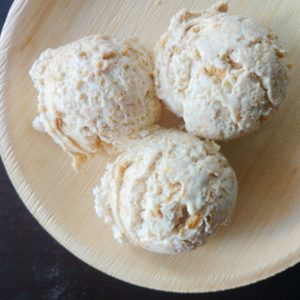 Affiliate links : Here's where to get hold of an ice-cream scoop
like mine !