My favourite meal of the day is , without a doubt, breakfast. For me, the most exciting part of staying at a hotel is the breakfast spread , a breakfast out is a regular part of our weekend and the hubby & I celebrate every anniversary / bday with a breakfast date (not that he has any choice in the matter ! ) .
Even so, I don't experiment much with breakfast foods only because I wouldn't know what to do with the excess. Croissants and bread aren't as well received as a slice of cake or a tin of cookies among my group of constantly hungry friends.
Ofcourse for me , cinnamon rolls veer on that thin edge between sweet breakfast and desserts . As it stands , I like cinnamon. And I liked these rolls. They turn out so soft , almost as clichedly soft as a pillow. So light , you wolf down one huge roll without even realising it.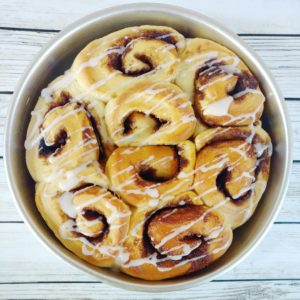 If this is your first breakfast roll rodeo , the dough is a basic , egg enriched dough that is proved once . A cinnamon sugar mixture is then spread and the thing is rolled , sliced and proved again. Best eaten warm but great at room temperature as well , cinnamon rolls are usually glazed . The glaze is super simple to make , and definitely elevates the rolls. But it can be skipped . These cinnamon rolls can be made ahead or the previous night and just baked in the morning . Or whenever you want.
Please do a better job of rolling the cinnamon rolls than I did. My rolls were uneven and wonky . Which doesn't matter unless you need to photograph it for a food blog (which I have to) , or u are a perfectionist (which i am not by any stretch of imagination). But I wasn't about to chuck a perfectly good batch of cinnamon rolls into the bin just because they didn't look identical. Nor was I gonna make another batch and resist eating two pans of rolls – resisting one was bad enough!
Did I mention how perfectly good they were?
Print Recipe
Easy Cinnamon rolls
Yum
Ridiculously soft , and really delicious easy cinnamon rolls
Heat the milk to lukewarm (105 -115 F) . You should be able to put your finger in it and keep it for 5 seconds (and not longer). Add one tablespoon sugar and the yeast. Set aside until frothy. This could take 5 -15 minutes depending on your yeast.

In a large bowl , mix together the yeast mixture , flour , remaining sugar , salt , egg and melted butter. Mix until a sticky dough forms. You can use a food processor or electric mixer for this.

On a well floured surface , knead the dough for about 6-8 minutes until smooth. You can add up to half cup more flour if the dough is too sticky.

Transfer the dough to a bowl greased with a little oil. Cover and keep in a warm area for about an hour or until doubled.

Punch out the air gently . Roll the dough out to a rectangle of about 9 x 6 inches on a floured surface.

Keeping an edge of around 1/2 inch free all around, spread melted butter on the rectangle . mix together the cinnamon and sugar well and spread on the melted butter as evenly as possible.

Beginning with a long side , roll the dough tightly.

Lay the dough on a cutting board or surface with the seam down. Using a sharp knife , slice the roll into 9 equal pieces.

Butter a 9 inch round pan well. Place the cut slices of roll in the pan , leaving gaps between the edges and the rolls themselves. Cover and set aside for 30 minutes.

Meanwhile preheat your oven to 180 C / 350 F.

Bake the rolls for 20-22 minutes until golden brown. They will sound hollow if tapped. Brush them with about a tablespoon of milk once they are out of the oven.

To make the glaze, mix the sifted powdered sugar , lime juice and 2 tablespoons of milk until smooth . Add more milk if you want it thinner or more sugar if you want it thicker.

Pour or spoon glaze onto the rolls after they have rested in pan for about 10 minutes.
These are best eaten on the same day but can be refrigerated for 3 days. Get to room temperature before serving.
Adjust the brown sugar and cinnamon in the filling as per your tastes.
You can cover the pan after the rolls have risen the second time and refrigerate the dough overnight or even for a day. Bring to room temperature and then bake.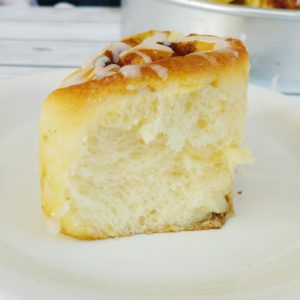 Maybe some day soon, some technology will allow us to teleport food or taste goodies straight from our computer screens. Until then, you have only this picture above to see how ridiculously soft these rolls are. And my word of course.
I wouldn't lie to you… would I ?