"Between the optimist and the pessimist, the difference is droll.
The optimist sees the doughnut; the pessimist the hole!" – Oscar Wilde.
One useless random fact about me – I cannot make circles. As in , if someone asks me to draw a circle on a piece of paper , I can never and i mean , NEVER draw a circle thats actually completely 360 degrees round.
Now, despite this …i have lived a relatively normal life so far ( shocking! I know!) . Because life doesn't really expect you to draw perfect circles and my husband has learnt not to question my chapatis that look closer to the map of Italy than a round !
Until I became a food blogger , and needed to make some cookies or macarons or doughnuts. Which is the reason for all this "circle" talk! Try as I might , my doughnuts wouldn't come out as smooth rounds ! Ovals , egg shaped , a couple even square (not photographed!) but not rounds! I used perfectly round cookie cutters , handled the dough as gently as can be … but I had to give in to the fact I am not meant to make round doughnuts.
Which is why I am grateful that they are so damn delicious! A nice crisp shell and awesomely light insides. Fill them with custard or jam or jelly or ganache or some yummy pastry cream . Sprinkle on some powdered sugar and you are good to stuff your face . Or forget the filling , just the powdered sugar. Maybe a little cinnamon sugar or vanilla sugar? Whatever rocks your boat!
If you can somehow oversee the misshapen doughnuts and the less than stellar pictures ( daylight and my time at home somehow coincide less and less these days) , and ofcourse my endless rambling about circles and rounds…..you should get around to making these. I won't say they are the easiest thing to make. But they aren't the most tough either ! And this is the easiest way for delicious fried ones! Sure you need to have some faith in your yeast , wait for the dough to rise and there is some deep frying involved. But hey , you have homemade doughnuts at the end of it and homemade beats bakery bought anyday!
You see what I told you about my trouble with circles ? I needed to practise so much to get even these !
Not important ! Whats important is that these homemade doughnuts are so worth it. Your family and friends will not believe these came out of your kitchen ! I used delicious ganache here but you could try these with any flavour of this pastry cream or just some ready made jam or Nutella. So pray to the yeast Gods (i know I did!) , brace yourself to face a pan of hot oil … because when you bite into that light doughnut with the gooey chocolate inside … its so worth it!

Print Recipe
Easy doughnuts
Yum
Light , pillow like doughnuts , filled with a dark chocolate ganache!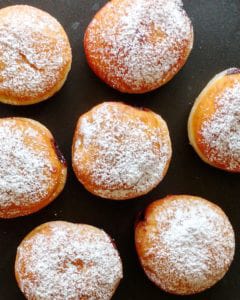 | | |
| --- | --- |
| | |
Warm up 1/4 cup of the milk and add the yeast and a teaspoon of sugar.Let it rest for 5-10 minutes until frothy. The milk should be hot enough to be able to place your finger in it for 5 seconds . Any hotter and your yeast will be killed. Any colder and it won't activate the yeast. If you have a food thermometer, thats between 105 to 115 F.

Stir together the flour and salt in a mixing bowl.

Meanwhile , in a saucepan heat the remaining milk, sugar and butter on low heat until the butter melts and the sugar dissolves. Take off the heat and get it lukewarm or room temperature.

Whisk in the eggs into the milk-butter mixture .

Add the activated yeast mixture and the liquid mixture to the flour.

Mix using an electric mixer fitted with dough hooks or knead by hand for few minutes until a dough is formed that pulls away from the sides of the bowl. The dough will be sticky.

Transfer to a well oiled bowl. Cover with plastic wrap or damp towel and let it rest in a warm place for about an hour or doubled in size. This is the first proofing.

When doubled in size, punch the dough to knock out the air.

Roll on a well floured surface to a thickness of about 1/4 inch. Using round cookie cutter or jar lids , cut out the doughnuts . I used 4 cm cookie cutters .

Transfer to a plate or tray and again cover and rest in a warm place for about half an hour.( second proofing)

When the dough rounds have doubled in size , heat some oil in a pan (atleast 3 inches deep) on medium or medium high. Fry the doughnuts until golden brown ( about one minute each side) .

Drain out the doughnuts on a wire rack. Let cool to room temperature.

When cool , insert a toothpick or skewer into the doughnut from one side and wiggle it inside to create some room. Fit a pastry bag with a small round tip and fill with ganache , pastry cream or jam . Insert the tip into the doughnut opening and fill until the doughnut becomes heavy or you can't push anymore ! Dust with icing sugar
Store filled or unfilled doughnuts in an airtight container for 2-3 days at room temperature and 4-5 days in the refrigerator
You can freeze unfilled doughnuts for upto 2 months.
Doughnuts are best eaten fresh on the day they are made .
If the dough is still very sticky (unmanageable ) after kneading or mixing, add 1/4 cup to 1/2 cup more flour and mix.
The yeast may take upto 15 minutes to get activated. If it doesn't turn frothy by then , discard and start fresh.
Re rolling and cutting out scraps of dough may cause the doughnuts to become slightly tough.