"You're a human being, you live once and life is wonderful, so eat the damn red velvet cupcake." – Emma Stone
Red velvet cupcakes are exceedingly popular. On blogs and in dessert shops . Somehow they seem fancier and sophisticated than chocolate or vanilla and the like, i am guessing thats the reason?
Fancy or not, they are as easy or easier than any other cupcakes. I feel like I use the word "easy" a lot here. But I can't help it , most of my tried and tested recipes are the simpler recipes I come across. Which does not mean that they fall short in the taste department. These cupcakes are absolutely moist (another word i seem to be using a lot) and delicious.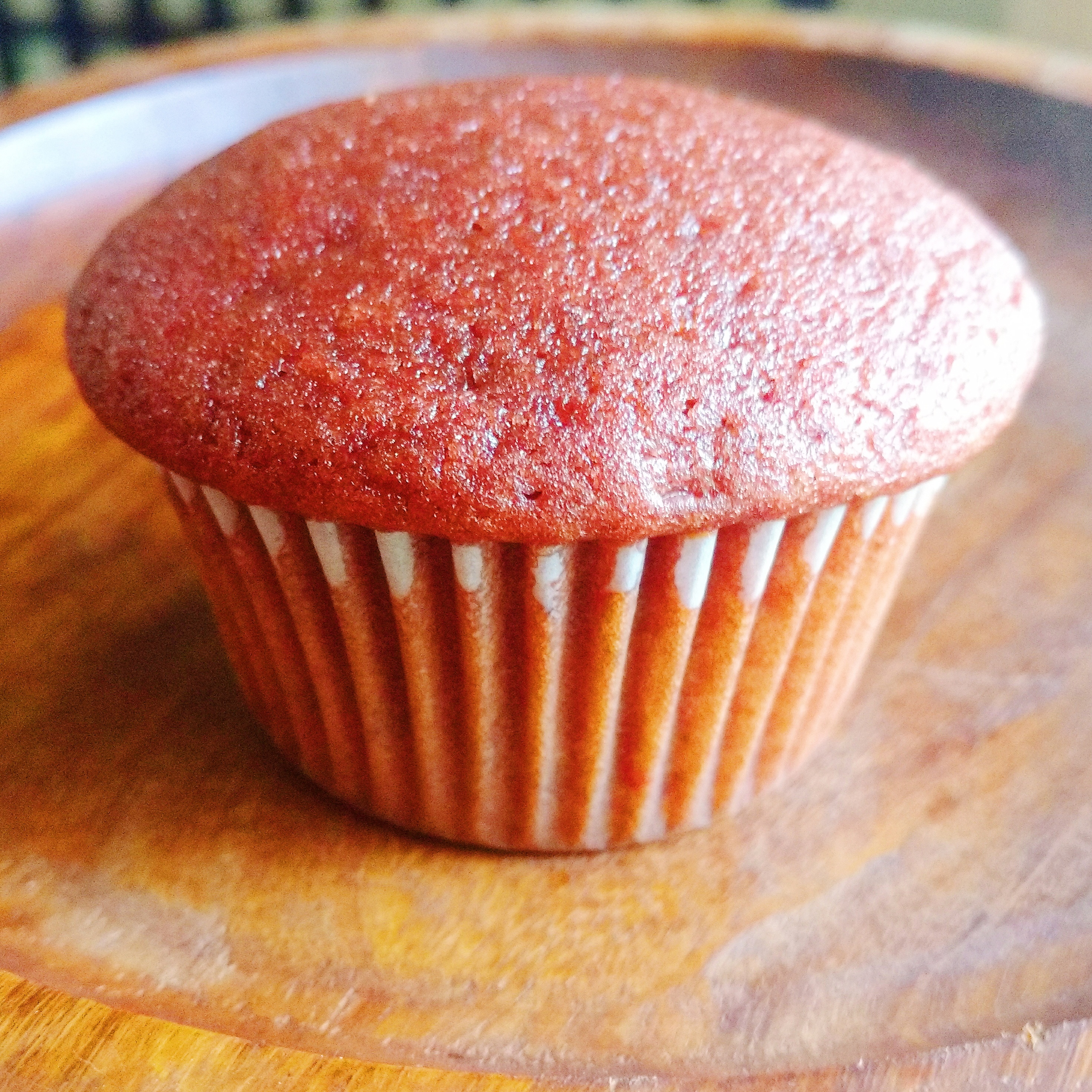 This recipe is adapted from Gretchen's bakery, which is one of my go-to sites for video tutorials on baking. I have tried many a red velvet cupcake and cake recipe. Have liked all of them. Love this one. Try it , you ll see why. If you got your ingredients at room temperature , it ll take only 10 minutes to get the first batch in the oven. And once they are done, It ll take even lesser time to devour a couple. They are that good!
Do check out the step by step tutorial to make these super easy cuppies here. If you are in the mood for cake, I made this easy red velvet layer cake using the very same recipe.
These cupcakes are really good. And thats not even me bragging, as its not really my recipe. It really is that good . Moist yet fluffy and light. Usually I say , frosting is optional but in this case, I urge you to try it with either this cream cheese frosting or this one . Yumminess overload without a sugar overload!Ok, maybe a tad sugar overload!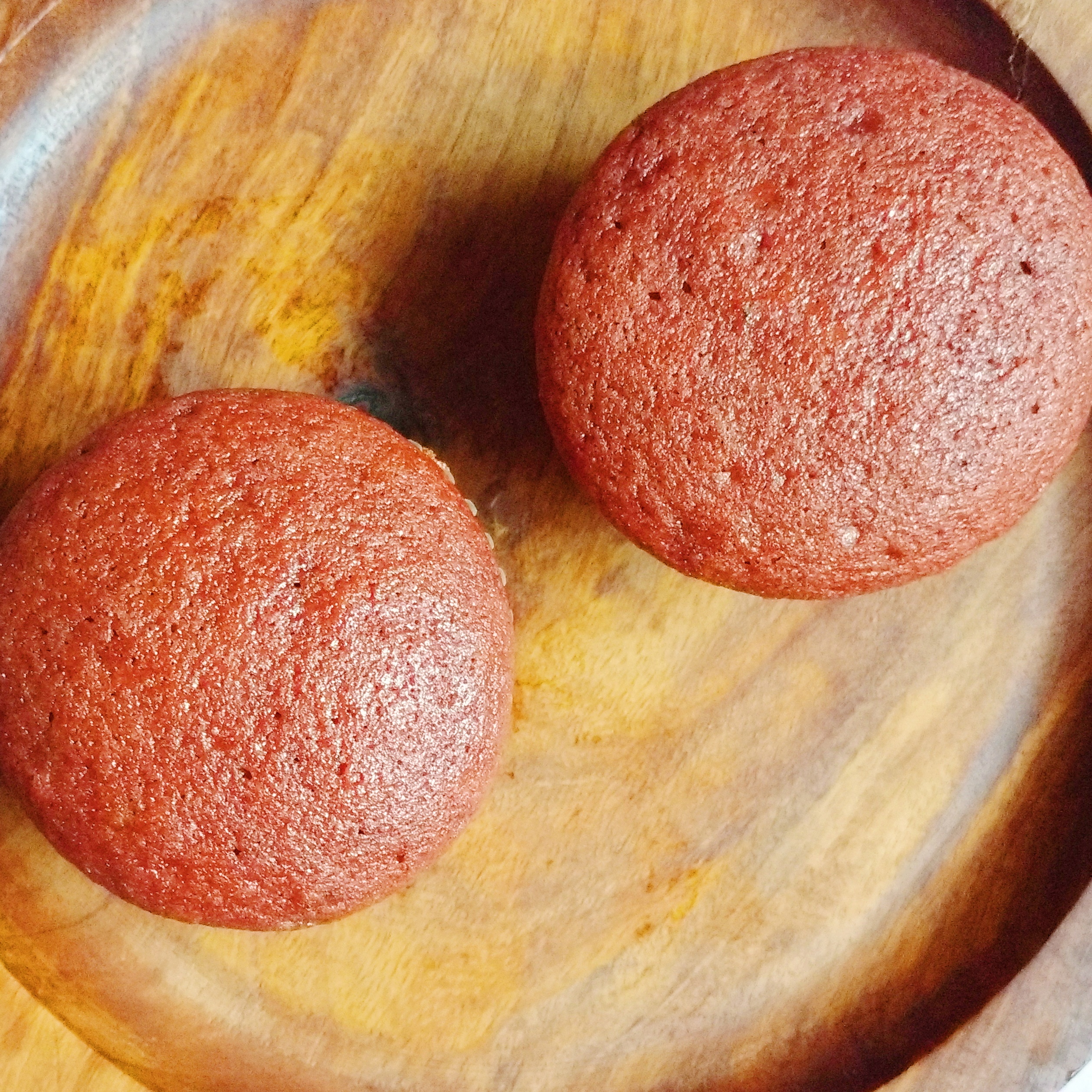 If you'd rather not use eggs in your cakes, do give these eggless red velvet cupcakes a look-see. They get rave reviews from anyone who tries them !

Print Recipe
Easy Red velvet cupcakes !
Yum
Easy , soft and moist Red velvet cupcakes!!!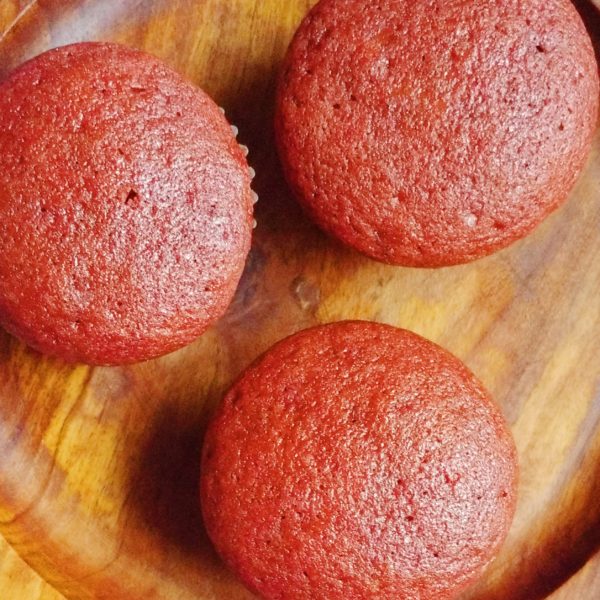 | | |
| --- | --- |
| | |
Line your cupcake pan with liners . Preheat the oven to 180 degrees C.

Measure out the dry ingredients , that is , the flour, salt , cocoa and baking soda

In another bowl , whisk together the egg, sugar, oil , buttermilk , and vanilla

Add the vinegar and red food coloring

Mix well until the color is uniform

Add the dry ingredients to the wet and mix until smooth

It is a thickish batter. If you are unhappy with the colour, you can add more food colouring now.

Bake at 180 C/350 F for 15-18 minutes or until toothpick inserted comes out clean. Cool completely before icing.
This recipe makes 24 slightly domed cupcakes like in the picture. Half the recipe for 12 cupcakes like I have done. You can also make 2 8 inch cakes with the full recipe or 1 8 inch cake with half.
Vinegar and cocoa react together to give a rust color. If you use no red food coloring, you ll still get a reddish tinge to your cupcakes. They ll still taste damn good. The amount of coloring you add depends on how deep a red you want.
I used 4 drops of Americolour XMas red . If you are using liquid food color, you might need around a tablespoon for the same red.
How to make red velvet cupcakes :