"Sometimes it does seem as if the more one gets the more one wants" ― Little Women
I like to crib about things I'd love to use in my bakes but don't really find easily where I live. Like passionfruit and lavender and elderflower and rhubarb … and berries. Fresh blueberries, raspberries and blackberries are slim pickings , and even the frozen ones are quite expensive. So recently , when I was travelling, I picked up a small box of blueberries that I thought would survive the flight back home.
They did. And they sat on my refrigerator shelf for 3 days after that because for the life of me, I couldn't think of anything to bake with them ! I had already made a buttery lemon and blueberry cake , and blueberry swirl icecream (both with frozen blueberries I should add!). Pinterest and Google spewed out muffins and crumb bars and pies . But I wanted to use the elusive fruit in something really special. Ya well, I was drawing a blank ideawise and there was no way I was going to let the fruit go to rot!
So muffins it was !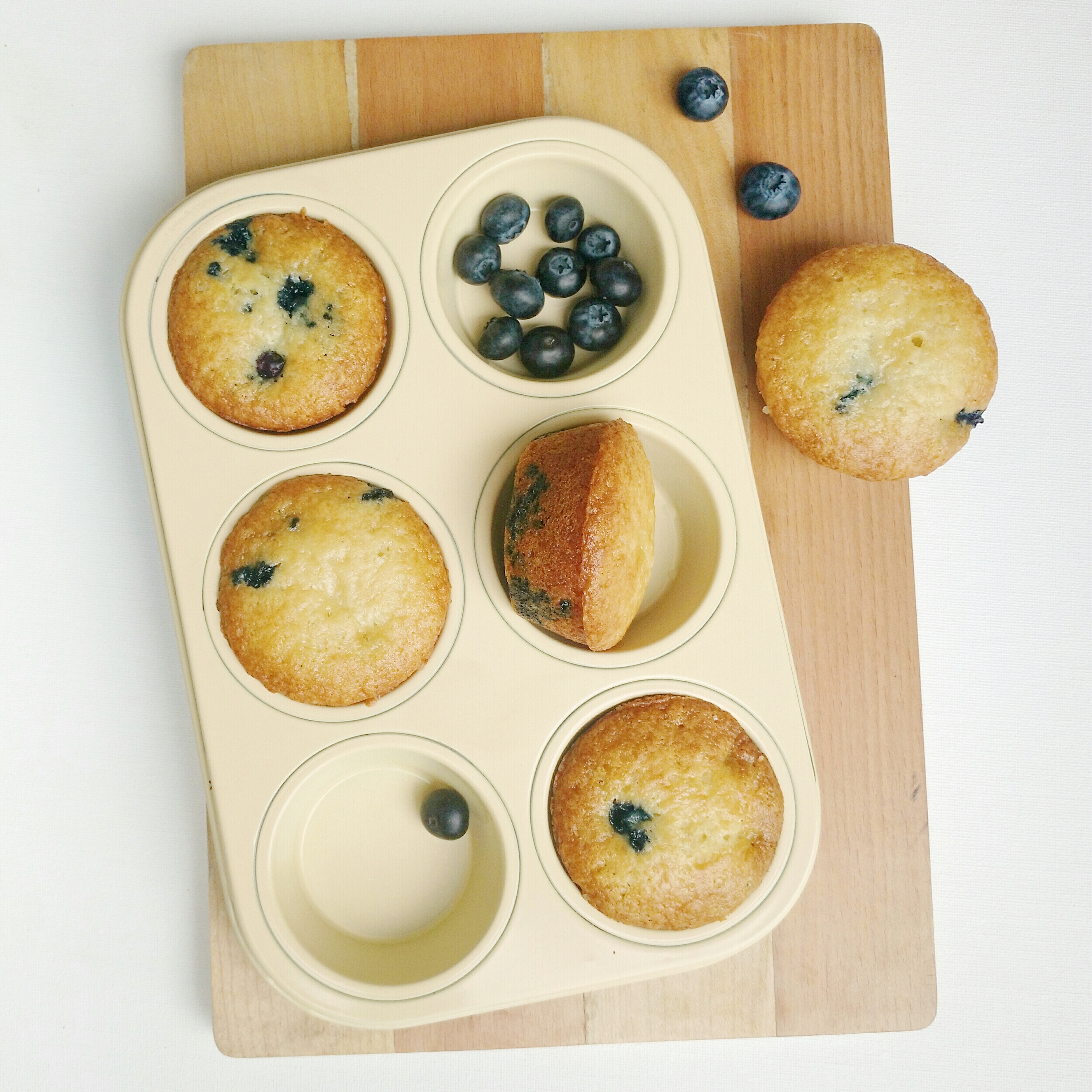 These muffins DID turn out quite special! I mean , they are muffins. Bells are not going to start ringing when you eat them , nor are you going to fall in love with the next person you see (hate those corny icecream and candy ads!) . But they are really good muffins. The recipe is adapted from here.
They are super light and uber fluffy. Not too sweet at all , so great for breakfast or brunch or teatime. All in all – a great use of some of my blueberries!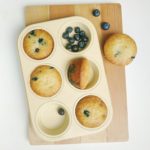 Eggless blueberry muffins
2017-04-04 11:16:09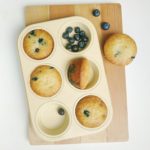 Light and fluffy eggless muffins with juicy blueberries!
Ingredients
125 grams or 1 cup all purpose flour
3/4 tsp baking soda
1/4 tsp salt
100 grams or 1/2 cup granulated sugar
120 ml or 1/2 cup milk , at room temperature
3 tablespoons oil
1/2 tablespoon vinegar
1 tsp vanilla extract
1/2 cup blueberries
Instructions
Preheat your oven to 180 C / 350 F.
Grease a muffin pan with butter or oil / line with paper cupcake liners.
In a bowl , whisk together the flour , baking soda and salt.
Dust the blueberries with a tablespoon of this flour mixture.
In another bowl, whisk together the sugar with the milk, oil , vanilla and vinegar.
Add the liquid mixture to the dry mixture and whisk until smooth.
Fold in the berries using a spatula.
Divide the batter into the cavities/ liners filling them about 3/4 full.
Bake at 180 C / 350 F for 14- 16 minutes until a toothpick inserted comes out clean.
Notes
You can use almond or soy milk to make this vegan.
This recipe makes 6 standard size muffins and you can double the recipe .
They last for 3-4 days in an airtight container.
The original recipe uses the zest from one lemon , you could use that if you wish!
The dusting is so the berries dont all sink.
These are just barely sweet but the fruit balances it out. If your fruit is tart or you like sweet , add two or more tablespoons of sugar extra.
You can use frozen or fresh berries, chopped tropical fruit , chocolate chips etc for add ins !
FLOURS & FROSTINGS http://floursandfrostings.com/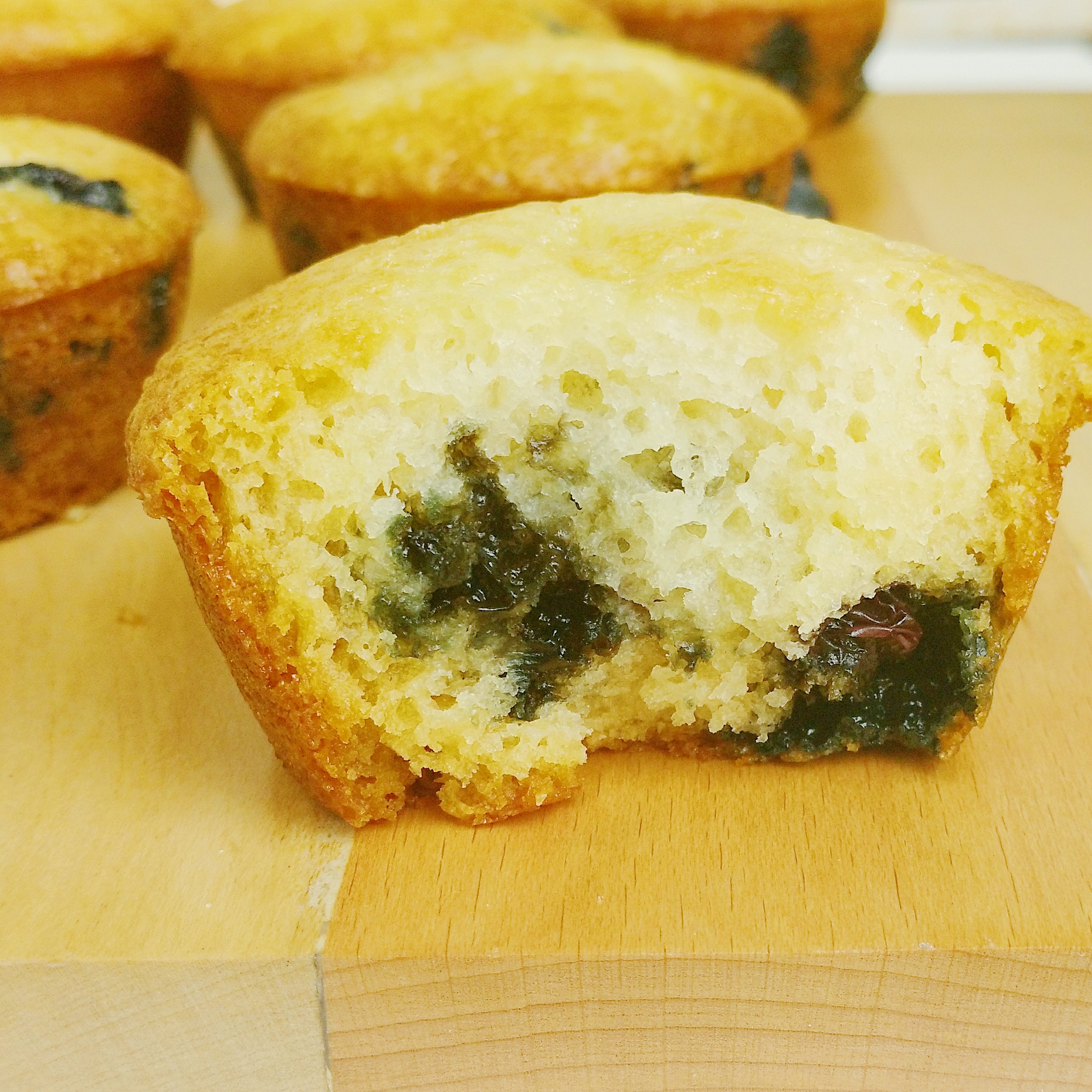 This muffin recipe is definitely a winner in my opinion. They are really tender and the juicy berries just burst in your mouth! And if you don't have blueberries , shuck in some chopped mango or some chocolate chips . You cant go wrong!
And please tell me ways of using blueberries . I already know a handful are going into a compote , but have you guys tried any good recipes using them or you have any ideas that you would like me to try out? Let me know!