"When life hands you a lemon, say, 'Oh yeah, I like lemons! What else ya got?" – Henry Collins
There are some things that can just brighten up your day and one of them is lemon curd ! Its like sunshine in a cup (…or a tart or in bars or in cake) . And all sweet can get a little boring right… we all need a little tart in our lives once in a while!
Making a good eggless lemon curd was a bit of challenge. Most recipes I found were too thin or just not lemony enough . I wanted this curd to be as close to a regular lemon curd as possible..in flavour , texture and appearance.
Flavour … spot on! Its lemony , bright , sweet and buttery!
Texture … smooth , creamy and velvety!
Appearance …not so much . Lets face it , its difficult to get that bright yellow without the aid of some yolks. This curd is a pale yellow , but you could add food colour for that more yellow hue (I didn't) . Otherwise just use the brightest lemons you can find!
This recipe is adapted from one by Elizabeth Faulkner and the key is to use fresh lemon or lime juice and bright lemon zest. If you don't own a zester , just remove the yellow skin of the lemons with a sharp knife . Take cake not to use any of the white pith underneath, as it will make the curd bitter. The zest is rubbed with a little bit of sugar as it extracts the flavours best. Also do not skimp on the cook time , or the texture just won't be right.
Lemon curd is so versatile ..you can serve it in tart shells , you can make luscious lemon bars , you can fill it in your cupcakes or layer it in your cakes or fill it in your thumbprint cookies . You can have it on top of your pancakes or crepes , bread even. You can also use the same recipe to make orange or any other citrus curd just as easily. I'm telling you , if you make this once ..you'll find a hundred different things to slather it on or lick it off!

Print Recipe
Eggless lemon curd
Yum
Smooth , creamy , velvety , pucker-worthy eggless lemon curd!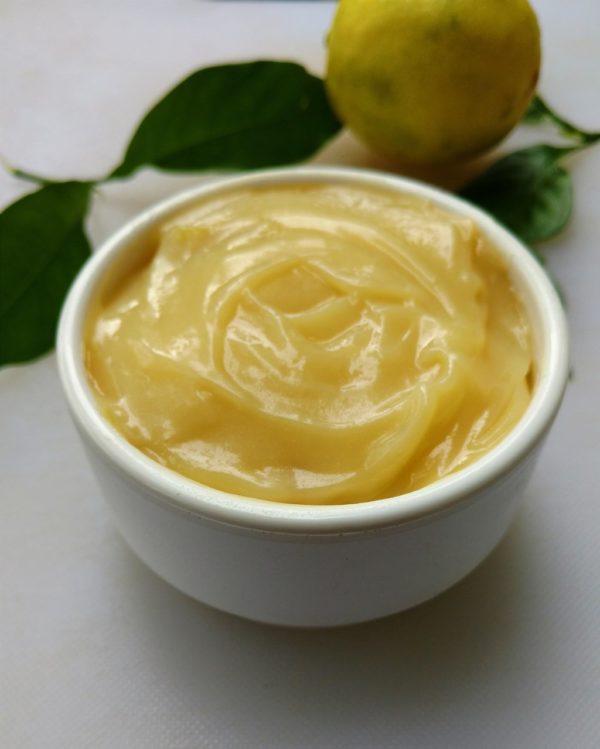 | | |
| --- | --- |
| | |
Dissolve the corn flour into the water. Keep aside.

Rub the lemon zest with 1 teaspoon sugar for a few minutes until it becomes paste like.

Heat together this zest sugar mixture, sugar , juice and butter in a saucepan. Bring to a boil and boil while stirring for 4-5 minutes.

Mix in the dissolved cornflour and simmer for 3-4 minutes. It will thicken.

Take off heat , pour into a bowl and stir in condensed milk.

Cover with cling wrap touching the surface of the curd , cool for 15 minutes and then chill for 2 hours or longer.
Step by step tutorial:
Also:
This can be refrigerated for about 10 days.
If you want , you can strain the curd when you get it off the heat (before mixing in the condensed milk) .
This lemon curd is full of flavour. Increase the sugar by 1/4 cup if you want a sweeter curd. Or adjust the amount of lemon juice and zest.