"Red is the ultimate cure for sadness. "- Bill Blass.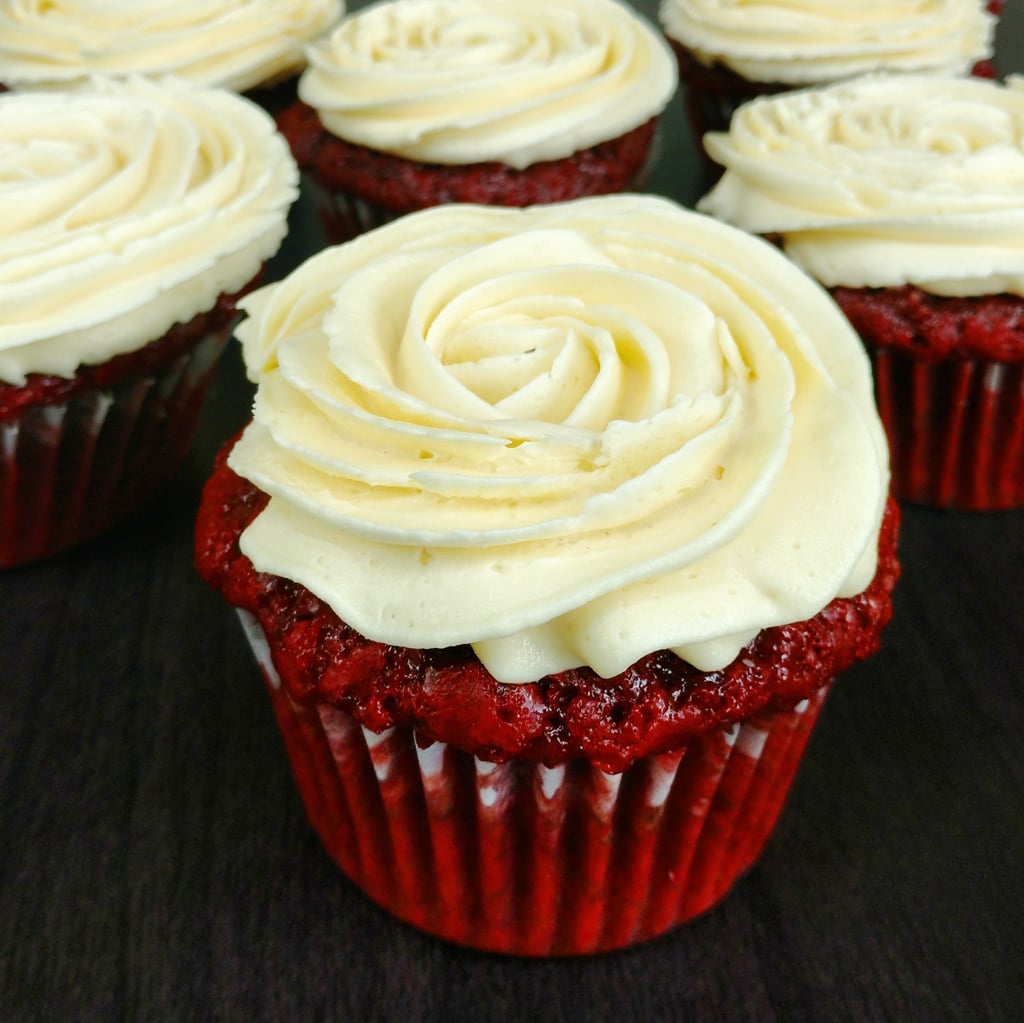 Red velvet cupcakes. Wonder what's the allure in them ? Maybe it's the name that makes it sound all exotic and mysterious , or maybe it's the colour, because let's face it.. all of us can use some more colour in our lives ! Or maybe it is just that it's a delicious cupcake !
For the non believers… No, red velvet is not just a chocolate cake dyed red ! It's a moist and light cake that has to be made a certain way. The batter turns red by the reaction between the buttermilk , acidic vinegar and the small amount of cocoa that is in the batter. Ofcourse , it's customary now to add food colouring to the batter for a brighter pop of the red. But even sans the colouring , you'll get a deeper albeit understated , gorgeous hue of a burgundy-ish red.
I have already shared my go to recipe for red velvet cake (note to self to take better pictures of it !) , So it was about time I tried an eggless variant. I tweaked a recipe by Loving it vegan a tad , and it worked like a charm ! If you don't mind the eggs in your bakes , then you will adore my go to red velvet cupcakes ! And if you want to make these vegan , look at the notes below the recipe !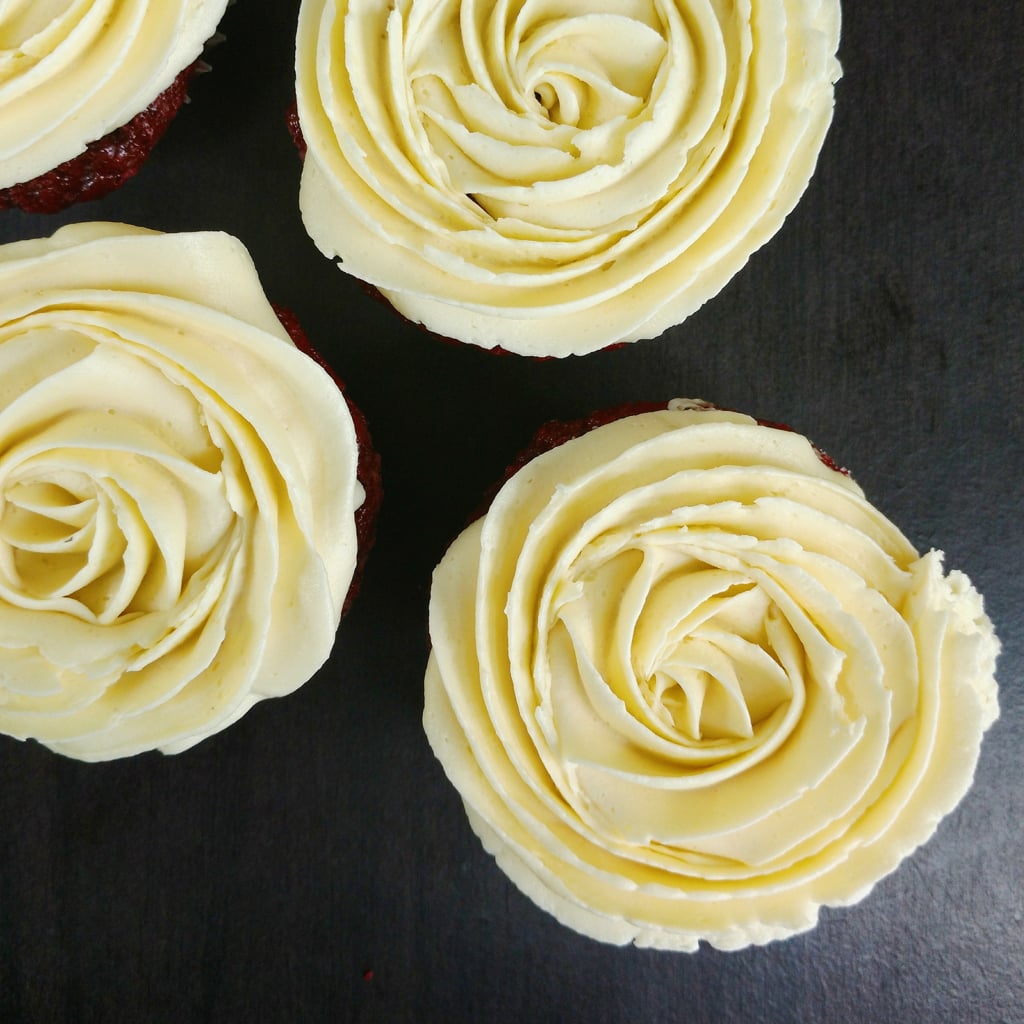 I paired it with a rich white chocolate frosting which is as easy to make , as it is smooth on the tongue ! And it is perfect for piping. For anyone who likes their white chocolate , this is a must try. If you aren't one of those people , feel free to make some cream cheese frosting or flour frosting .
Or just make the cupcakes. These don't need no frosting yo !
Eggless red velvet cupcakes with white chocolate frosting
2017-10-06 16:55:41
Moist eggless red velvet cupcakes with a super smooth white chocolate frosting !
For the cupcakes
250 grams or 2 cups all purpose flour
200 grams or 1 cups granulated sugar
1 tsp baking soda
1/2 tsp salt
1 tablespoon unsweetened cocoa
240 ml or 1 cups buttermilk* at room temperature
80 ml or 1/3 cups vegetable oil
1 tsp vanilla extract
1 tablespoon vinegar
3 - 4 drops red gel food colour
For the frosting
180 grams white chocolate
115 grams or 1/2 cups butter , at room temperature
50 grams or 1/2 cups icing sugar, sifted
1 tsp vanilla extract
For the cupcakes
Preheat your oven to 160 C / 325 F . Line your muffin tray with paper liners or grease and flour well.
In a bowl whisk together the flour, sugar, cocoa , baking soda and salt.
Add the buttermilk , oil , vanilla , vinegar and food colour . Whisk until smooth.
Fill the cavities of the muffin tray / paper liners about 2/3 rd full.
Bake for 20-22 minutes or until a toothpick inserted comes out clean.
For the frosting
Chop up the chocolate and melt in a double boiler/ microwave until smooth. Cool to room temperature.
Beat the butter using a whisk or electric mixer until light and smooth.
Add the chocolate and beat until mixed.
Add the vanilla and sifted icing sugar , beat until light and fluffy.
Notes
The cupcakes can be stored in an airtight container for upto 3 days.
Cupcake recipe can be halved for 8 cupcakes .
The frosting makes enough to minimally frost 15 cupcakes. increase the amount if you want to pipe elaborately. It can be refrigerated for upto 10 days . Get to room temperature and beat again to desired consistency.
Frosting recipe can be doubled.
*To make the buttermilk, either mix 1 tablespoon vinegar or lemon juice to 1 cup milk. Let stand for 5 minutes and use. Or mix 1/2 cup curd with 1/2 cup water.
I used 3 drops of Americolour super red.You can add more for a brighter red colour.
To make these cupcakes vegan , skip the buttermilk. Add one tablespoon vinegar to a scant cup soy milk or almond milk. Mix and let stand for 10 minutes. Use this instead of the buttermilk. And use vegan food colouring. The rest of the recipe remains the same .
My measuring cup is 240 ml.
FLOURS & FROSTINGS http://floursandfrostings.com/
I cannot describe the flavour of these cupcakes. They aren't really chocolate but you do get that hint of cocoa. Its a unique flavour . And since the cupcake isnt too sweet and is so light , the white chocolate frosting complements it so well! And that white and red combination is a treat to the eyes.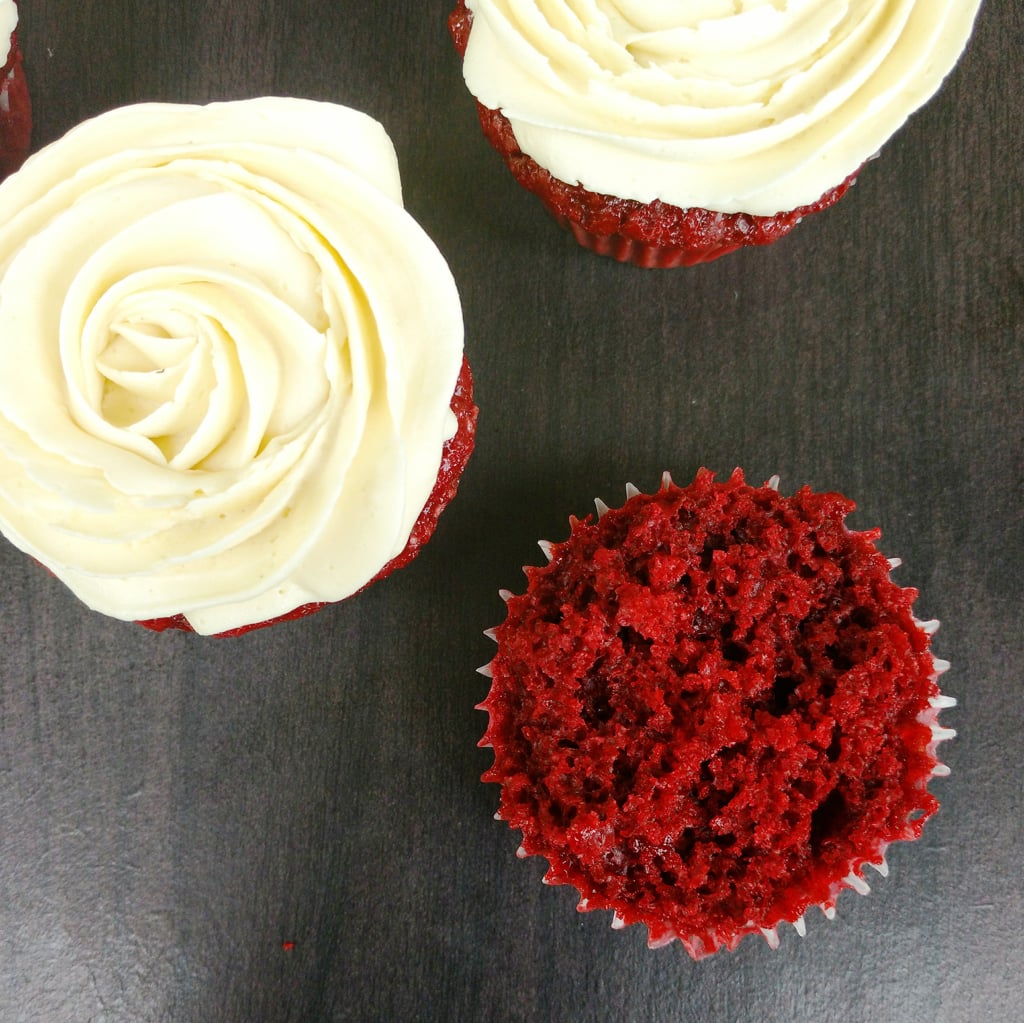 I even cut off the top of one to show you the crumb ! So red, so good!
Speaking of crumbs, if in the unlikely circumstance , you have left over cake (unlikely !) – make these red velvet truffles that are to die for !