"Reflect upon your present blessings — of which every man has many — not on your past misfortunes, of which all men have some." – Charles Dickens.
Happy new year guys!! 2018 was a fabulous year for me. It was an absolute roller coaster of profoundly life changing events (some planned, some unplanned) both personally and professionally. A year of experiences and emotions that were previously unseen and u felt. I hope 2019 matches up well and I wish the same for each one of you!
Blogging wise, the past year is bittersweet. While I didn't find time to share as many new recipes as I would have liked, I was overjoyed to see my viewership and support stayed constant which was a great boost to my resolve to keep blogging with whatever time and effort I can muster up. Blogging resolution 2019 – atleast one new recipe post every week!
Starting off that resolution, is this basic but so versatile recipe. If you can bake only one thing, it should be a good vanilla cake. I already have some eggless vanilla cupcakes on the blog, which are really good (in fact I had tagged them the best ever! ) but have quite a bit of leavening agents. These cupcakes are a good option if you want to avoid that. I got this recipe from Foodviva!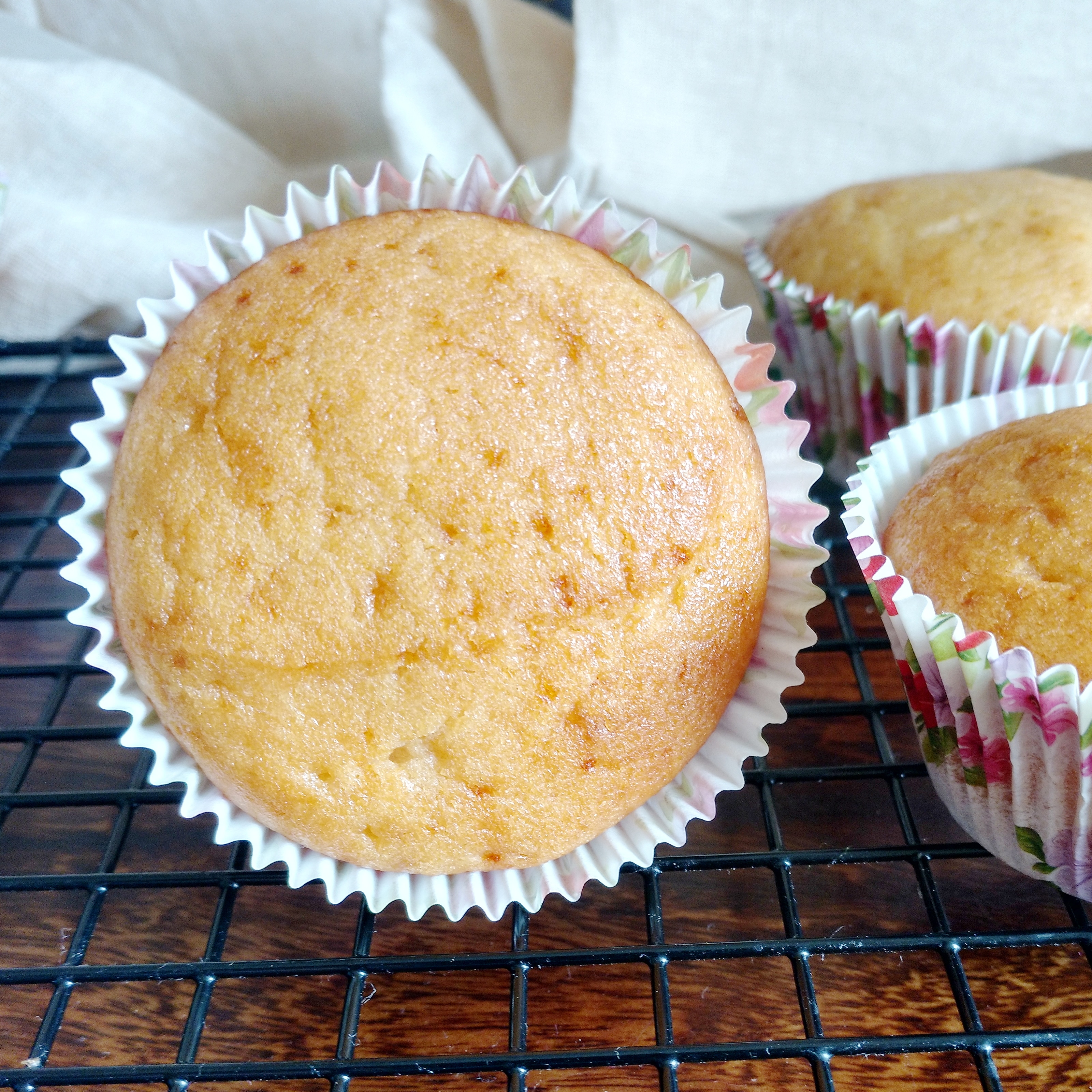 The recipe gives exactly 12 cupcakes – half the recipe works perfectly for 6 cupcakes if you have a smaller oven or double for 24 if you have more (or hungrier) mouths to feed. The recipe works well for cakes as well. Half the recipe in a 6 inch round pan or the full in a 8 inch round pan. If you are looking for an eggless vanilla cake, you can have a look at my vegan vanilla cake as well.
The cupcakes are everything a good cupcake should be. Easy to make. Light and soft. Not too sweet. Nice even domes to frost. Flavourful enough to eat on their own!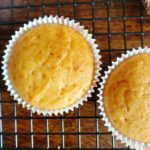 Eggless vanilla cupcakes
2019-01-03 16:36:54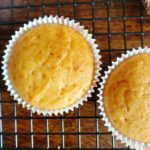 How to make eggless vanilla cupcakes!
Ingredients
190 grams or 1½ cups All Purpose Flour or Maida
240 ml or 1 cup curd or yoghurt
150 grams or 3/4 cup Granulated Sugar
1/2 teaspoon Baking Soda
1 teaspoon Baking Powder
120 ml or 1/2 cup vegetable Oil
1 teaspoon Vanilla Extract
Instructions
Preheat the oven to 180 C or 350 F. Line a muffin tray with cupcake liners or grease and flour well.
In a bowl, whisk together the curd and sugar until smooth.
Whisk in the baking soda and baking powder. Let rest for 5 minutes while the mixtures bubbles up.
Whisk in the oil and vanilla extract until smooth.
Sift in the flour and whisk until smooth.
Fill the batter into the lined muffin pan so that each cavity or liner is 2/3rds fill.
Bake for 18 to 22 minutes until the cupcake springs back on pressing.
Cool in pan for 5 minutes and then completely on a wire rack
Notes
This recipe gives 12 cupcakes.
Recipe can be halved or doubled.
You can also bake this recipe in an 8 inch round pan
The cupcakes will last for 3 to 5 days in an airtight container.
Pour the batter immediately into pan when ready and bake immediately.
My measuring cup measures 240 ml.
FLOURS & FROSTINGS http://floursandfrostings.com/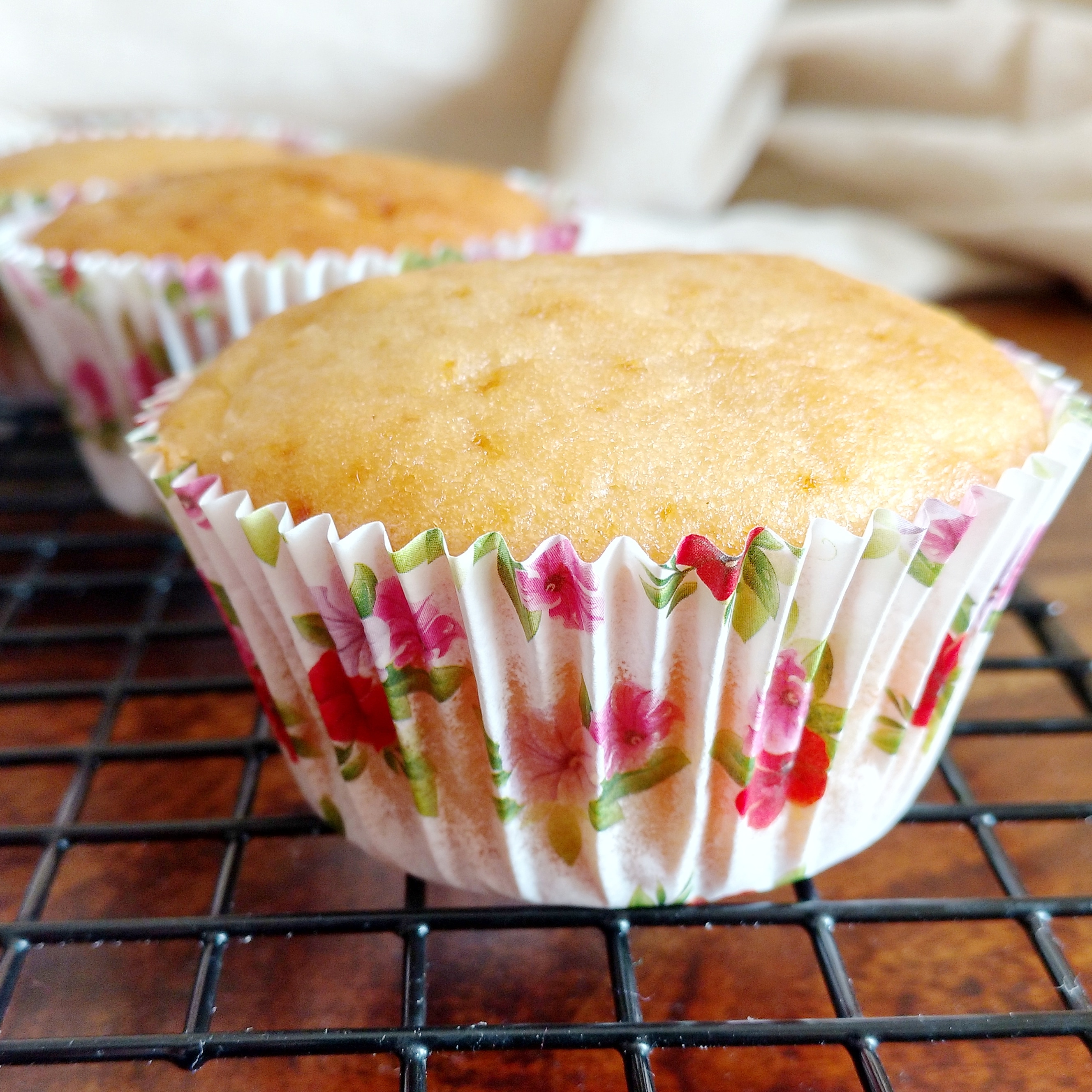 Do give these cupcakes a try. I am sure you will not be disappointed. Top them with ganache for a classic chocolate on vanilla combination. Or make the most of the strawberries in season by making an eggless strawberry buttercream!