"If all we had were roses, would the thorns then be beautiful?" – Kamand Kojouri.
OK… So I am just going to say it now. I know you thought it too after seeing the picture. These cookies are ugly as hell!
But they taste gooodd… And they are egg free. And whole wheat. And easy to make. And the dough needs no resting time. And they taste good.
So I don't care how ugly they look! Maybe I do a little bit. Which is why I baked batch two of the dough into cookie bars. You cannot deny the convenience of cookie bars. There is no hassle of shaping the dough and they bake in one go. Easier to store too I guess. And these ones look acceptable enough!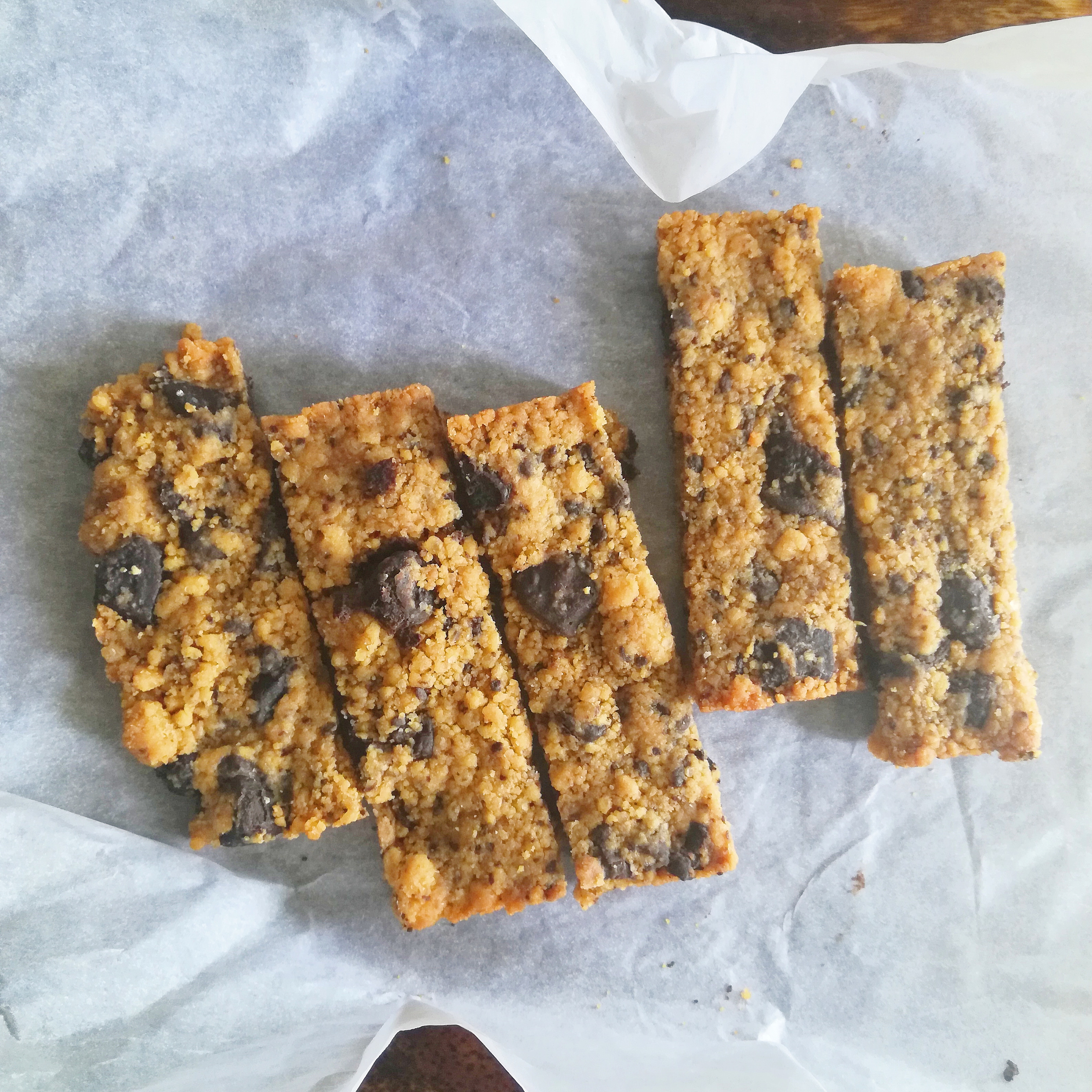 OK.. Now that we are past how ugly these eggless wholewheat chocolate chip cookies are, let me tell you, they really are worth making. I used this recipe by King Arthur Flour but changed it quite a bit by halving it, reducing the sugar, skipping the egg, adding a splash of milk. The cookies are crunchy if you let them bake through. If you underbake them, the outside is crunchy while the inside is kind of crumbly. Still really good! And let's not forget those pockets of melty deep dark chocolate among all that crunchiness!
Eggless wholewheat chocolate chunk cookies (eggless wholewheat chocolate chunk cookie bars)
2018-09-03 05:53:33
Eggless wholewheat chocolate chunk cookies or cookie bars!
Ingredients
135 grams of 1 cup wholewheat flour
60 ml or 1/4 cup vegetable oil
28 grams or 2 tablespoons unsalted butter, at room temperature
50 grams or 1/4 cup packed brown sugar
50 grams or 1/4 cup granulated sugar
1/2 tablespoon or 1 1/2 teaspoon vinegar
1/4 teaspoon baking soda
1/4 tsp baking powder
Pinch of salt
2 tablespoons milk, at room temperature
1 teaspoon vanilla extract
1/2 cup chocolate chunks or chips
Instructions
Preheat your oven to 180 C /350 F.
Line a cookie sheet with parchment or a 8 inch square pan with parchment (if making bars)
Using an electric mixer or wooden spoon, beat the oil, butter , salt , vanilla and sugars together until light and fluffy.
Add the milk, vinegar, baking soda and baking powder and beat until combined.
Stir in the flour .
Stir in the chocolate chips or chunks.
If making cookies, make balls of tablespoonfuls of cookie dough. They won't be smooth. Don't try to make them smooth or the cookies will be tough. Just bring together in a ball shape. Place the dough balls on the lined sheet with 2 inches gap between each.
If making cookie bars, press the dough into the bottom of the lined pan. The layer will be about quarter inch thick. Press down with a glass to flatten the dough evenly if required.
Bake at 180 C/ 350 F for 18 to 22 minutes for cookies and 20 to 25 minutes for bars until well browned.
Cool on pan for 5 minutes, then transfer to cooling rack.
Using a sharp knife, slice the cookie bars into desired sizes when still warm.
Let cool completely.
Notes
This recipe gives 24 to 30 cookies.
They can be stored in an airtight container for 5 days or so.
I used Aashirwad atta , safflower oil, cocoa craft dark chocolate, regular vinegar and full fat milk.
I bake my cookies in the middle rack with both top and bottom rods on.
If using a convection oven, turn the sheet front to back after about 10 minutes of baking.
My measuring cup is 240 ml
FLOURS & FROSTINGS http://floursandfrostings.com/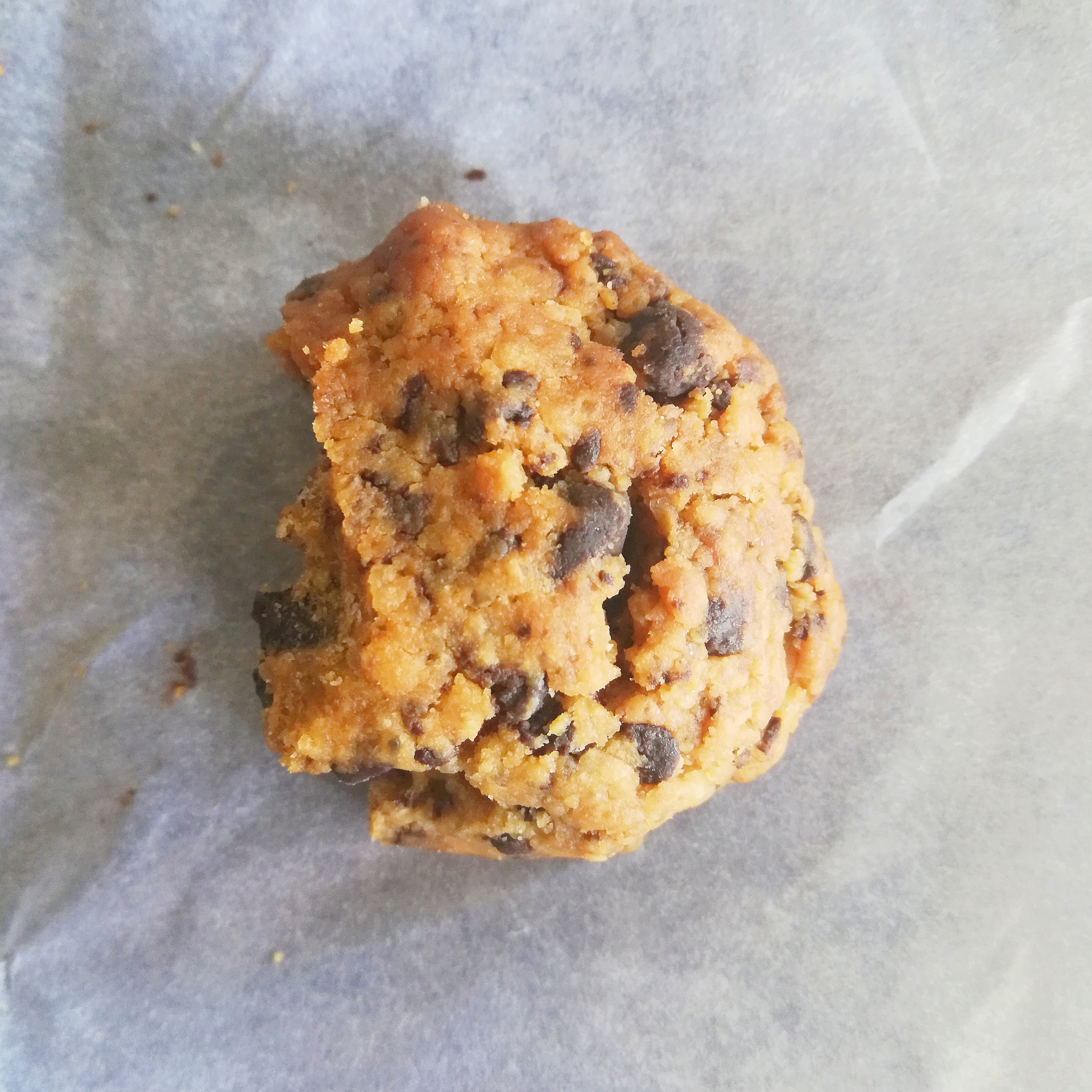 I really like a good crunchy chocolate cookie. If you prefer your chocolate chip cookies chewy, try out
these cookies
. And if you prefer them crisper and more buttery, then these
slice and bake chocolate chip biscuits
are sure to please you.
And you can choose to use chocolate chips instead of chunks. You are saved from chopping chocolate and your cookie will look much better. But I prefer those larger bites of gooey real chocolate. Hence the chunks. And hence the ugly-as-hell-but-so-good cookies!