"Tradition does not mean to look after the ash , but to keep the flames alive." – Jean Jaures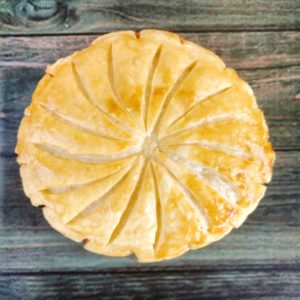 For the month of December, Kat challenged us to make Gateaux Pithiviers.
To be honest , I hadn't even heard of these before , let alone seen or tasted one ! I felt like the dazed contestants during the technical challenges of the Bake off!
These are French round pies made up of two sheets of puff pastry enclosing a sweet almond filling or the frangipane in between. They are also called Galette des rois or cakes of Kings and found exclusively from Christmas to the end of January.Traditionally, they have scalloped edges and a domed top with curved engravings . Did you know that there's a town called Pithiviers in France from where these pastries presumably originate ? And versions of these cakes are served on the Twelfth night after Christmas (day after Epiphany) and a trinket or bean hidden inside the filling. The cake is served along with a cardboard crown and whoever gets the trinket in their slice would wear the crown. Hence the "Cake of Kings". Fascinating !
While the story fascinated me , the prospect of making this dish intimidated me . I did not stray from the recipe provided by Kat. The recipe of puff pastry makes three times the amount needed for the pithiviers and I stashed the rest away in the freezer , hopefully to make some savoury puffs sometime soon. This dish isn't difficult . It just requires some planning . Although it requires a few hours for the entire thing , its almost all chilling time . Just one of those things that seem way more complicated than they actually are.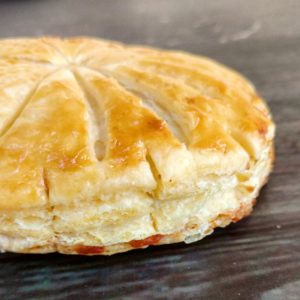 I enjoyed making these as I was so eager to see and taste the final product.I had no idea what to expect in terms of taste. I was overjoyed to see those layers when the gateaux came out of the oven . Haven't had this much luck with puff pastry before . And the delicate sweet nuttiness of the filling with the buttery flakiness of the puff hit my tastebuds in all the right ways.
Update (6.01.2017) : I made this again..befittingly on the twelfth night ! This comes out just as good with 15 minute puff pastry , and is quick work if you have some pastry around !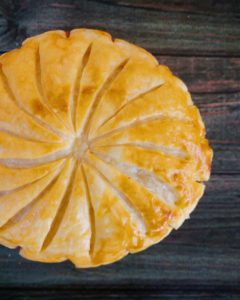 Galette des rois or pithviers
2017-01-06 12:41:07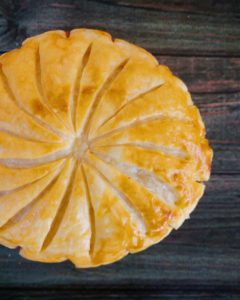 Serves 6
This traditional French dish made on the twelfth night after Christmas has delicious frangipane filling encased in buttery, flaky puff pastry sheets !
For the Frangipane
100 grams or about 1 cup almond flour or ground almonds
56 grams or 1/4 cup unsalted butter , at room temperature
2 eggs, at room temperature
2 tablespoons water or rum
zest of one lime or 1/2 an orange
100 grams or 1/2 cup granulated sugar
1 tsp vanilla extract
450-500 grams puff pastry
1 egg (for wash)
Instructions
Prepare the Frangipane by beating together all the ingredients. It will not be completely smooth .
Chill for half hour.
Mean while , divide your puff pastry into 2 and roll out to about 1/8th inch thickness. Cut out an eight inch circle from each . You can use a cake pan for this.
Place one circle on a parchment lined baking sheet , spread the chilled frangipane , leaving about an inch free all around.
Place the second circle on top and press all round on the edge to seal.
Using a sharp knife , make small slits / cuts along the edge to form a scalloped border.
Using a pastry brush or spoon , brush egg wash on the top. Avoid the sides or the puff won't Puff!
With the knife, draw curved lines from the centre to the edge of the top puff pastry circle. Be careful not to etch too deep.
Chill for 20-30 minutes. Meanwhile preheat oven to 200 c/ 400 F.
Bake at 400 F/200 C for 10 minutes and then at 180 C/ 350 F for 15-20 minutes until the top is golden brown.
Have warm or after cooling !
Notes
This can be stored at room temperature for 1 day or refrigerated for 5 days.
If you don't almond flour, just blanch the cup of almonds , dry and grind along with sugar in the frangipane recipe.
FLOURS & FROSTINGS http://floursandfrostings.com/
Shaping the pithviers :