"I wish we could put up some of the Christmas spirit in jars and open a jar of it every month." – Harlan Miller.
Yup. A whole week of cookies for Christmas. For seven days, I will be sharing my favourite recipes for my favourite cookies for my favourite time of the year. There's a good mix -traditional and not so traditional , nutty and spiced and sweet , cut outs and hand shaped and dropped. I'd like to think there's something in here for everyone. These are cookies that taste great , look festive and are perfect for gifting and making ahead. Because tis the season to be jolly …fa la la la la la….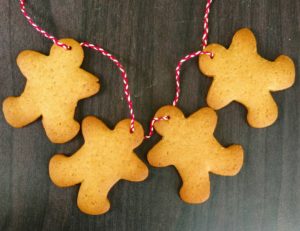 How can we talk about christmas cookies and gingerbread not be part of the conversation ! Gingerbread are almost as representative of christmas as Santa's reindeer and yule logs!
I have seen pictures of gingerbread cookies all my life but never tasted one until I made one myself. So , I don't really have a benchmark that I can compare my cookies to ! But I fed these to a whole lot of people and they approved. And so here come traipsing my little gingerbread men!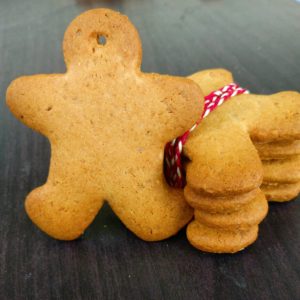 I had a very difficult time finding recipes for gingerbread men. All of them needed molasses (another something that I have neither seen or tasted) . Finally , this recipe by Kamran Siddiqi was the answer. I used fresh grated ginger because I like to go fresh whenever practical and possible. You know, rather than buy a tin of ginger powder that I wouldn't have much use of once the cookies are baked. My cookies didn't turn out as dark as some you would see. I think the absence of the dark molasses is the main reason . The molasses add to the flavour too, but this sans molasses version is good too!
Scratch that. Not good. Great! Its crisp , ginger-y , just sweet enough and mighty adorable if I may say so myself!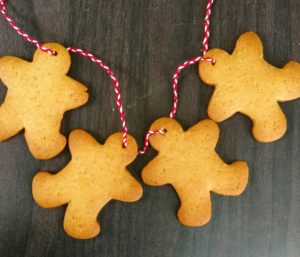 Gingerbread cookies
2016-12-12 02:53:45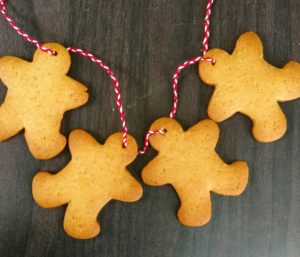 Crisp gingerbread men that just have to be invited to your homes for Christmas this year!
Ingredients
112 grams or 1/2 cup unsalted butter
65 grams or 1/3 cup brown sugar
2 tsps fresh grated ginger
250 grams or 2 cups all purpose flour
1 egg, at room temperature
85 grams or 1/4 cup honey
1/4 tsp baking soda
1/4 tsp salt
1/2 tsp cinnamon powder (optional)
Instructions
Whisk or sift together the flour , soda , salt and cinnamon. Keep aside.
In a large mixing bowl , using an electric mixer or wooden spoon , beat together the sugar, butter and ginger until light and fluffy (about 5-6 minutes).
Beat in the egg until incorporated .
Beat in the honey .
Add the flour mixture and beat at low speed until a soft sticky dough forms.
Divide the dough into two and wrap in plastic wrap. Chill for atleast 20 minutes until it firms up.
Meanwhile preheat your oven to 180 C / 350 F. Line a cookie tray with parchment paper or grease well.
On a lightly floured surface, roll out the dough to about 1/4 inch thick.
Using your cutter , cut out cookie shapes and transfer to the prepared cookie sheet, about 2 inches apart.
Re roll the scraps and cut until all dough is used up.
Bake for 15-18 minutes until well browned , turning the tray after about 10 minutes.
Cool on sheet for five minutes and then completely.
Notes
These store for about a week in an airtight container .
The dough can be chilled for 2 days before baking.
The longer you bake , the crisper they get . But make sure you don't burn them!
I got about 30 big cookies of about 4 inches each.
For a dark cookie , use dark brown sugar and a dark honey !
FLOURS & FROSTINGS http://floursandfrostings.com/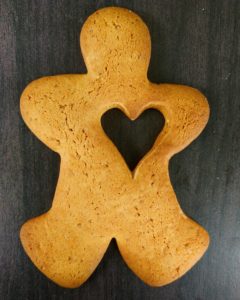 I expected a mixed response at best for these , because I don't make spicy cookies too often. But these were gone much sooner than I expected – into some happy bellies. The spice undertones are just right without being overpowering and the texture of the cookie is just plain fantastic !
By the way , is it a sign of deep-set inner aggression or something if the only way you want to get gingerbread men is to chomp off the head first?!?!
Affiliate links : Just so you know, I have baked these cookies in my trusty Morphy Richards 52 Litre Oven
.
Happy baking !