"Eating is a necessity, cooking is an art ".
When I think of pannacotta , it brings to my mind Masterchef Australia. They seem to be making it on the show every third episode (not complaining !). And there's the whole drama if the panna cotta is set ? did it come out of the mould ?and will it have just that right amount of wobble. ?
Well, mine did set . It did come out of the mould and it did have that wobble ! Which DOES NOT mean I am implying I am of Masterchef standards. If I somehow managed to get through on to the show – I would be running in the kitchen like a chicken with my head cut off , probably sure I'll burn something, cut atleast two fingers , say something absolutely politically incorrect , spill a vat of sauce on the floor and then slip on it , forget about some key element left in the blast freezer – and I am pretty sure I would do all this on the first episode . Oh , and I'd end up with the messiest counter (And the dirtiest apron) in the history of the show!
Anyways……after that coffee overload cake, I thought maybe I should keep the tea drinkers in mind. I had a small box of green tea from one of my planned weight loss ventures. Needless to say , it was unopened and unused. It is even better if you get a couple of teabags. Matcha tea is ideal for green tea desserts but I tried my luck with regular old green tea and it worked a charm ! Although all I got was a really pale green pannacotta 🙁 .
Panna cotta (or cooked cream) , a classic Italian dessert , is one of the easiest desserts to make and needs very few ingredients . The cream is flavoured , cooked , sweetened and set with some gelatine (or agar agar) . Easy , make ahead and creamy !!
Admittedly , there's not much to dislike about a dessert thats basically cream and sugar! If you are a tea drinker , you'll like these. I am not – and the pannacotta still went down easy! The green tea is "there" without being overpowering . The colour wasn't as telling as I would have liked …but it is sooo silky smooth, so all else is forgiven!

Print Recipe
Green tea panna cotta
Yum
Silky smooth green tea panna cotta. Dessert doesn't get any easier!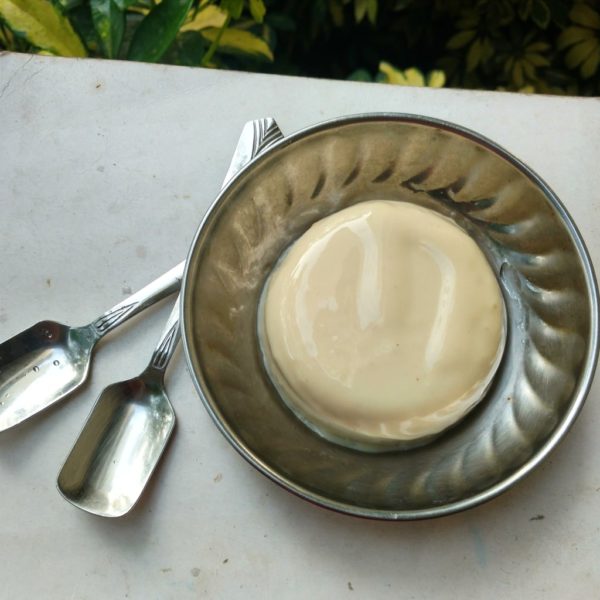 | | |
| --- | --- |
| | |
Grease your serving bowls / ramekins lightly with oil. Keep aside.

Mix the gelatine into 2 tablespoons of the cream.

Heat the remaining cream with the tea powder / bags for a few minutes , stirring as needed.

Take off the heat , remove the tea bags or strain out , squeezing for more flavour.

Mix in the sugar until dissolved.

Add the gelatine and heat again for 3-4 minutes while stirring, until the gelatine dissolves. Do not let it boil .

Pour into your bowls/ ramekins , bring to room temperature and then refrigerate for 4 to 6 hours.

When you want to serve, dip the ramekin in hot water, run a knife gently along the edge and invert onto your serving dish. It will plop right out!
Step by step Tutorial:
Also:
This stays good in the refrigerator for 2 days.
You can use an equal amount of agar agar or vegetarian gelatine to set.
I used Amul fresh cream (20 % fat).
I would suggest using green tea bags as you just remove them out, so less one less saucepan and strainer.
Increase the sugar if you like your desserts sweeter.