"…nothing is too much trouble if it turns out the way it should." – Julia Child
Another basic cake that would do good in your baking repertoire . It is extremely light and fluffy , similar to my basic sponge cake. It is as delicate but a tad bit more moist and flavourful IMHO.
It is not difficult to make , but the way of making it is slightly different from other vanilla cakes I have tried. There is the whipping of the eggs and the adding of flour . But to this is the additional step of adding hot milk to which a little bit of butter has been melted.
The end result is a gorgeous crumb that is sturdy but at the same time airy enough to absorb soaking syrups and their flavours. Therefore – infinite versatility as a amazing basic sponge in any number of fascinating layer cakes. Infant I adapted this recipe from The Birthday Cake Cookbook !
Good enough to eat on its own ( with some dusted sugar maybe?) , but its perfect to use whenever you want some vanilla cake layers to build a celebration cake. And thats exactly what I am going to do with it … stay posted !

Print Recipe
Hot milk sponge cake
Yum
Fluffy , light and flavourful sponge cake that is good enough to be eaten on its own, even better in a layer cake.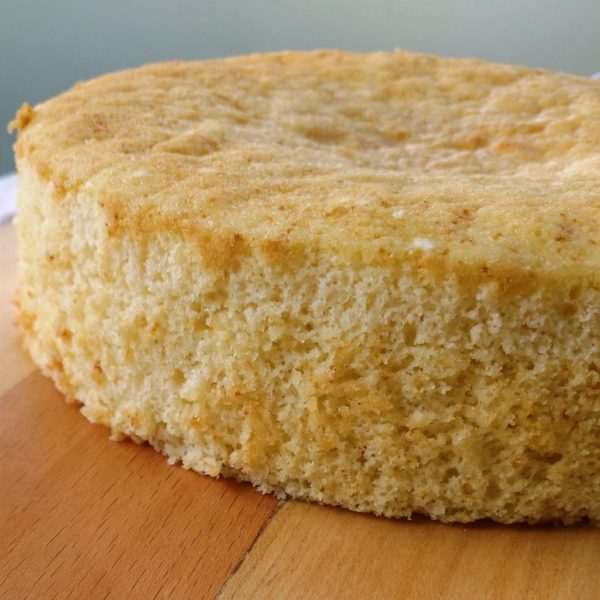 | | |
| --- | --- |
| | |
Preheat oven to 180 C / 350 F. Grease and butter well a 7 inch round pan. Line the bottom with parchment ( optional).

Whisk together the flour, baking powder and salt. Keep aside.

Heat milk and butter until the butter melts. Keep aside but keep it hot.

Beat with an electric mixer or whisk, the sugar, vanilla and eggs until light and fluffy (about triple in volume)

Whisk in the flour mixture.

Whisk in the hot milk-butter mixture.

Pour batter into prepared pan , tap against counter and bake for 30-35 minutes at 180 C/ 350 F until cake springs back when touched on top . The top will be browned and edges will come away from the pan.

Cool in pan for 5 minutes and then carefully invert out, remove parchment and cool right side up on a wire rack.
Some of the lovely people who tried this cake found it far too sweet. I agree that this cake is on the sweeter side , so consider using 150 grams (3/4 cup ) sugar instead of the 200 grams (1 cup).
This cake can be stored in the refrigerator for 4-5 days and frozen for upto 2 months .
Bake for 35-40 mins in a 6 inch round pan, 20-25 minutes in a 9 inch round pan and 25-30 minutes in an 8 inch round pan .
Bake as soon as the batter is ready . Letting the batter stand will make it deflate and lose volume.
When baked in a 7 inch cake pan, this can be easily sliced into two layers horizontally , and into three if you have some practice doing it. 8 or 9 inch pans will give you 2 layers and a 6 inch pan will give you three thickish or four thinner layers. Chill the cake well before slicing for least crumbs.
For an eggless and wholewheat version of this cake , check out Akila's post here . While there , do have a look see at her other recipes ( if you haven't already!) . She is an awesome and innovative baker!