"In France, cooking is a serious art form and a national sport."- Julia Child
Did you guess this post was going to be a puff pastry recipe? You know me too well !
So Palmiers are rolls of puff pastry sprinkled with sugar. They are called so because they are supposed to look like palm leaves. But some people think they look elephants' ears …so they are also called "Elephant ears" too . If you grew up in India in the 90s , they will bring back memories of the Little heart cookies !
Palmiers are crunchy and buttery , and infinitely versatile . The simplest versions consist of rolling out a puff pastry sheet into a rectangle , sprinkling some sugar on and rolling up the ends until they meet in the centre. The log is then sliced and the slices baked. So if you have frozen puff pastry , you actually need only one more ingredient – sugar! But often times other ingredients are spread onto the puff pastry to make an array of sweet and savoury palmiers.
No prices for guessing that I went with a sweet one! I just spread some jam on the pastry so when the palmiers bake, it bubbles and oozes out . So there s a little bit of fruity gooeyness along with the crunch!
These are crisp , light and flaky . Perfectly sweet ! And they are pretty …aren't they?
To make your own puff pastry , check out my step by step tutorial. Short on time? No problems . There s a quicker way to make this too !

Print Recipe
Jam palmiers
Yum
Crisp , light , flaky palmiers with a little bit of fruity gooey-ness!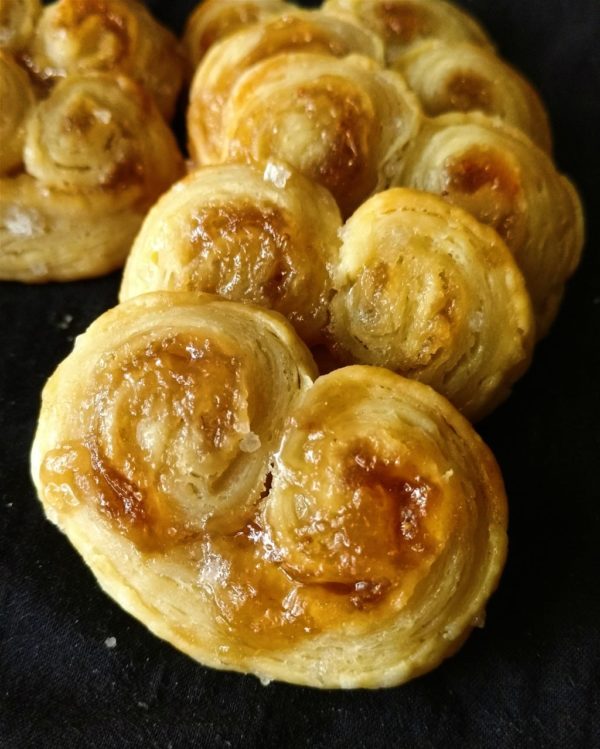 | | |
| --- | --- |
| | |
Preheat your oven to 200 C/ 400 F. Line a cookie sheet with parchment paper or grease well with butter.

Sprinkle some sugar on your rolling surface.

Roll out the puff pastry into a rectangle with a thickness of about 1 cm.

Spread a thin layer of jam on the pastry.

Roll both the long ends as tightly as possible towards the centre. Wrap this log in cling wrap and chill for 10 minutes.

Using a sharp knife, slice the log into cookies of about 1 cm each .

Lay the slices on the prepared cookie sheet, brush a little bit of milk on top of each and sprinkle more sugar.

Bake at 200 c/ 400 F for 10 -12 minutes until golden brown. Flip the palmiers over and bake further for 10- 12 minutes until golden brown .
Step by step Tutorial :
Also:
These can be stored in an airtight container for 3-4 days.
I used a mixed fruit jam , you can use any of your choice . Just don't add too much or your palmiers won't be as crisp. Or just sprinkle sugar to go simple.
Flour the surface and your rolling pin if you find handling the puff pastry tough .
You can make your puff pastry from scratch or try the 15 minute puff pastry.
You can make these with any amount of puff pastry . Use as much jam and sugar as you need.
I have tried baking palmiers for about 20 minutes without flipping over, and that has worked for me as well. But flipping causes even browning.