"The fellow who never makes any failures, never makes any successes either" – Anonymous.
Its time for some creative cookie baking ! The theme this time was to bake some yummilicious cookies with whatever's in season . The moment I read Laura's seasonal theme , I decided "something with mangoes" , almost on autopilot. Mangoes are probably the best thing about Indian summers , atleast in my opinion. That was until I actually went to the local market to pick some up, and a bunch of pale red lychees caught my eye.
How great would some Lychee cookies be ! I have never had any in my life , actually I had never heard of any ! I chose to make these easy melting moments . The original plan was to flavour the cookies themselves with some litchi puree but I just couldn't get the right texture just like I wanted it (too much liquid in the dough I am guessing ) , also Lychee cookies with Lychee cream seemed a tad bit too much .
So, I kept the cookies plain. Plain is probably the wrong word because they taste anything but. They are truly melt-in-the-mouth . And the crumbly, light and barely sweet biscuits pair wonderfully well with the Lychee -ness of the richer and sweeter custard like filling .
The cookie recipe is adapted from a Primrose Bakery recipe , and the cream filling is my own.
Aren't these just perfect for the summer ? These melting moments stay true to their name ! The uber tender cookies were simply irresistible and the fresh lychee filling were a great hit at home !
Creative Cookie Exchange !
Spring is here! And with it loads of great flavors for baking!
You can also use us as a great resource for cookie recipes. Be sure to check out our Pinterest Board and our monthly posts (you can find all of them here at The Spiced Life). You will be able to find them the first Tuesday after the 15th of each month! Also, if you are looking for inspiration to get in the kitchen and start baking, check out what all of the hosting bloggers have made:
Print Recipe
Lychee melting moments
Yum
These delicate cookies stay true to their name and have a lovely fresh lychee filling!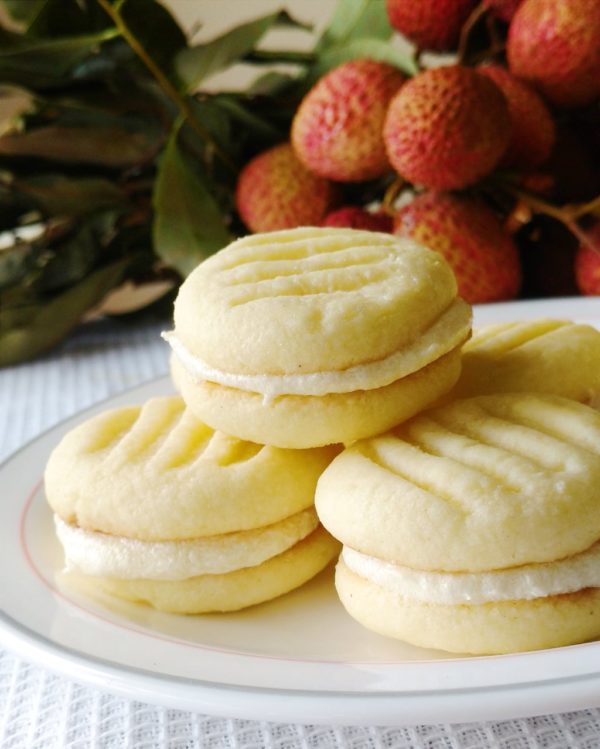 In a medium sized mixing bowl , beat together all the ingredients for the cookies - the flour, corn flour, icing sugar , butter and baking powder at low speed until a soft dough is formed.

Wrap the dough tightly and chill for 20 minutes.

Meanwhile preheat your oven to 180 C/ 350 F and Line your cookie sheet with parchment paper.

After 20 minutes of chilling , make balls with one tablespoonful of dough each. Place them on your lined cookie sheet about 5 cm apart .

Using a fork, press lightly to flatten each. If the fork sticks , dip it in cold water and rub dry between each cookie pressing.

Bake at 180 C/ 350 F for 9-10 minutes, turning your tray around midway. The cookies will just start to brown lightly.

Cool on rack before filling.

In a mixing bowl , beat together all the filling ingredients - butter, sifted icing sugar and lychee puree- at medium speed until smooth.

Sandwich two even sized cookies with about 2 teaspoonfuls of filling each.
Step by step Tutorial:
Also:
These can be stored in an airtight container for 2-3 days but ideally fill cookies the day you want to serve them.
Double the quantities to make a bigger batch.
Make lychee puree by peeling and pitting the fruit and blitzing in your blender.
Adjust the amount of puree as per your taste and thickness of the puree.