"When you learn, teach.
When you get, give."― Maya Angelou.
I know…strange name ! But the creative juices runneth dry when it came to christening these !
So you know money bread right.. the sweet yeasty dough that is broken into chunks and rolled in cinnamon sugar mixture,  baked together and then pulled apart while eating ? Its usually baked in bundt pans. Did you ever wonder why its called monkey bread , I know I did.
One theory is that it is because the bread resembles the fruit of the monkey puzzle tree. Another says the name is derived from the amount of "monkeying around" needed to prepare the balls of dough. Some say its because of the pulling apart the sections of cake and playing with your food in monkey-like fashion.
Well, none of those theories make much sense to me . Apparently, its also called sticky buns, bubble loaf and monkey brains ( no , thank u..i ll pass!).
Anyways, I made monkey bread in a muffin mould , hence the name. But I am not even sure I can technically call it monkey bread as I didn't use any yeast in it ! I read this recipe somewhere and jotted it down , played it with a little , added bits of other monkey bread recipes and…. the monkey muffins were born!
These are so easy to make , so thats a big yes. And I like the fun factor of a pull apart bread! Eaten warm, these are gooey , and sweet . The bread is so soft and the cinnamon just warms you up. And they look kinda rustic n pretty – You don't think so?
Warm from the oven, these are a great teatime treat .Or serve the little flowery muffins at brunch and wow your friends! Kids will love pulling apart the little fluffy balls of bread and the grown ups will enjoy the cinnamon lure. I think I'll try these with a caramel sauce next time. How great would that be!
If you like cinnamon , these cinnamon sticks  or these snickerdoodles are great cookie options!

Print Recipe
Monkey muffins!
Yum
Pull apart muffins made with a no yeast dough coated with cinnamon sugar , and then glazed!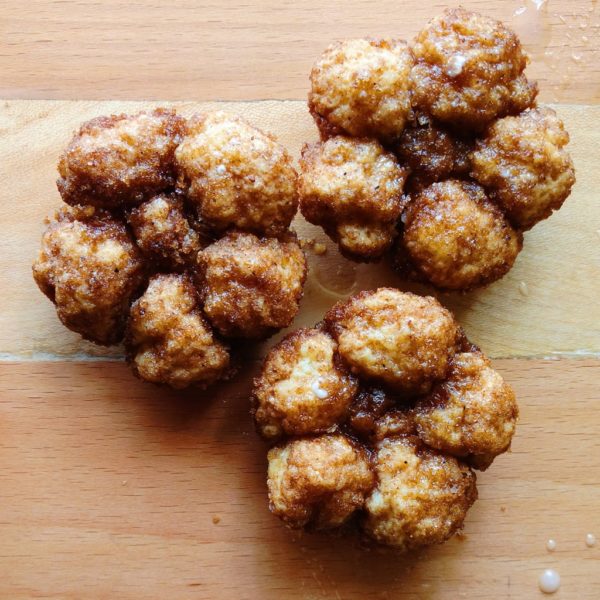 | | |
| --- | --- |
| | |
Preheat oven to 180 c / 350 F. Grease your muffin tray with butter.

Melt the butter and let cool.

Mix together the brown sugar and cinnamon . Keep aside.

Whisk together the flour, granulated sugar , baking powder and salt.

Add the milk, yoghurt and three tablespoons of the melted butter. Mix until it forms a smooth dough. You may need to use your hands.

Make small balls of the dough (about a cm in size) , dip in the butter. Tap off excess butter into the bowl.

Roll in the cinnamon sugar.

Place into the greased muffin trays. You don't have to squish them together. They just need to be touching. Repeat with all the dough.

Bake in the preheated oven at 180 C/ 350 F for 18-20 minutes.They will increase a little in size and turn a dark brown. Cool in the tray for five minutes and then nudge them out (by running a knife along the cavity) .

When they are out of the oven, prepare the glaze by mixing together the milk and icing sugar until smooth. Add more milk if needed to achieve desired consistency.

Pour over warm muffins and serve!
Step by step tutorial:
Also:
These are best eaten warm. But can be stored in an airtight container for upto 2 days. Warm and glaze before serving.
You' ll have some melted butter leftover.