"The coolest things in life are things that you have not done before. That's the key to life: new things always. "- Afrojack.
In my little over a year of blogging , this is my first bread post ! I haven't forayed much into savoury baking – on and off the blog. Blame it on a tad bit of yeastophobia or the impatience to wait through provings . But some encouraging nudging from some of you has made me want to explore this part of baking as well . And I rarely turn down an opportunity to try something new.
This no-knead foccacia from the Bake or Break blog caught my eye last week and it seemed the perfect recipe to get my feet wet . It's so simple and the result is quite gratifying .If like me you are a newbie breadie , this recipe is a good place to start. Hell, even if you are a regular bread baker , you will want to give this a try.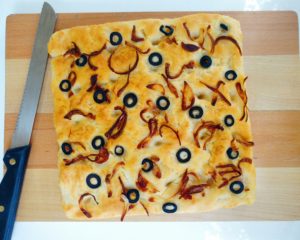 Focaccia is basically an Italian flat bread. It is rustic in nature and soft in texture. It could be any shape but is usually baked in a rectangular or oblong form. It can be topped with a variety of toppings like herbs, veggies , cheese or meat . It is typically sliced into fingers and served alongside dipping oil or salads.
This recipe needs quite a bit of yeast and like most focaccia , quite a bit of oil. I did try to reduce the oil but it was a pain trying to get it out of the pan after baking. Olive oil is ofcourse the traditional choice. But I ran out of it on my second try with this and used regular oil. Know what . It tasted not very different. I hope the bread connoisseurs don't pound on me.. no-knead foccacia with regular oil. For committing bread blasbhemy !
But no apologies. The foccacia was super soft and delicious. And I am all for baking hacks when they turn out this good!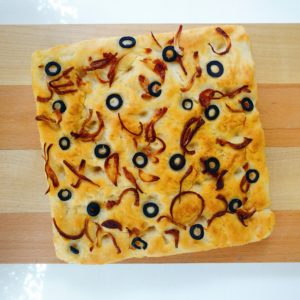 No knead foccacia
2017-01-22 02:18:06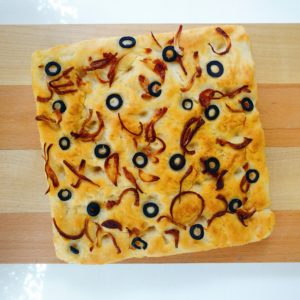 Soft and fluffy foccacia that needs no kneading and not much time either !
Ingredients
220 grams or 1 3/4 cup all purpose flour
1 and half teaspoons instant yeast
1/2 teaspoon salt
1 teaspoon sugar
180 ml or 3/4 cup warm water.
1 1/2 tablespoons olive oil
1 medium onion and 5-6 olives sliced thin- for the topping
2 tablespoons olive oil - for the pan and topping
Instructions
Grease a 8 inch pan with oil.Spread one tablespoon oil well on the bottom.
Heat the water so that it is lukewarm. (You should be able to put your finger in for 5 seconds. It should be too hot to keep it in any longer . A thermometer shoild show between 95 and 115 degrees)
Mix the warm water with the sugar and yeast. Keep aside for few minutes to froth.
After the yeast gets activated , add the flour , salt , and oil. Mix with a wooden spoon until a dough forms.
It's a sticky dough but if it looks too wet and sticky , add up to two tablespoons flour more and mix in.
Spread the dough on your prepared pan spreading it almost till the edges.
Cover and keep aside for an hour to rise.
Meanwhile , preheat your oven to 200 C / 400 F.
After the resting time , stretch the dough to the corners of your pan if needed.
Put a little oil in your fingers and press 4 to 5 holes in rows , spacing them out equally.
Drizzle one tablespoon oil on top.
Spread your toppings and press down slightly.
Bake for 25 to 30 minutes until golden brown on top.
Cool for few minutes .
Using a knife, nudge the sides off the pan and lift the bread out. Or slice in pan and serve !
Notes
This can be stored for 2 days. The crust will harden slightly.
I browned my onions a little bit in oil in a pan before using.This is optional.
Other options of topping - garlic , cheese, tomatoes ,dried or fresh herbs ,pepper , salt , sliced vegetables, meat.
if you have trouble getting the bread out of the pan , let it cool and then gently release the sides and try to slide a knife under.
If you don't want to use a square pan, you can spread the dough on a parchment lined baking sheet and follow the rest of the recipe for a more rustic looking focaccia.
FLOURS & FROSTINGS http://floursandfrostings.com/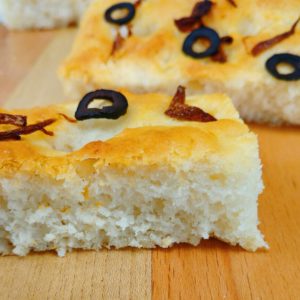 The foccacia turned out really good. Fluffy and light. Its quick , it's simple and bread doesn't seem so scary anymore!
Affiliate links : Just so you know, I have baked this focaccia in my trusty Morphy Richards 52 Litre Oven
.
Happy baking !