"There is no love sincerer than the love of food." – George Bernard Shaw.
The husband spent some time during his early working years in the city of Hyderabad and has quite a few food memories of the place. The thoughts of the biryanis and haleems haunt him off and on, and on more than a few occasions he has mentioned the Irani chai and Osmania biscuits the city is known for.I am not a big chai person, so I wasnt much impressed by the few sips of Irani chai he literally forced me to have in a Bangalore stall. And oddly enough i didnt taste Osmania biscuits until last week. That too, when the husband brought home a box from a famous bakery. I surprisingly really enjoyed the cookies. They were so light and literally melt in the mouth.
I started my trials at trying to recreate the Osmania magic in my own oven. A few fails later, I found a recipe by the Vahchef Sanjay Thumma. The Vahchef's recipes for savoury cooking have always worked great for me and this cookie recipe didn't disappoint either. I made only slight modifications in the amounts of the ingredients.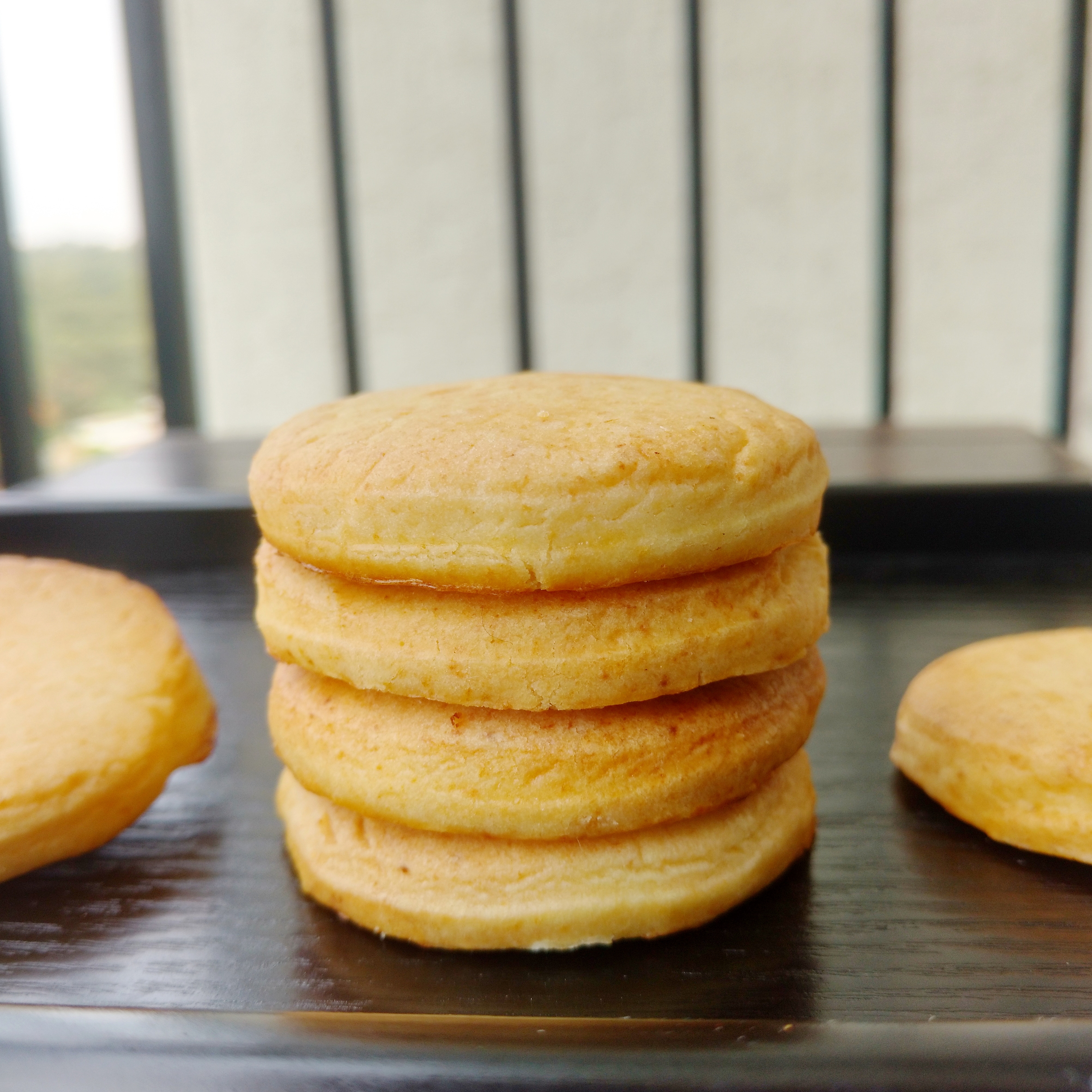 Not entirely sure, but apparently the Osmania biscuit was named after the 7th and last Nizam Mir Osman Ali Khan and was created by the dieticians of the Osmania General Hospital (named after the Nizam) who came up with this high energy solution to supplement the diet of patients.
So these cookies are really soft . The dough includes icing sugar, milk powder and custard powder along with the flour, butter and a little milk. Some add cardamom powder for a characteristic taste.. The cookies are rolled and circles are cut using a cutter The cookies are given a soak with milk ( with saffron) just before they are placed in the oven. This gives that soft texture.
I noticed that baking longer 22 to 24 mins gives you a browner colour and some bite to the cookies. Taking them out at the 15 to 18 minute mark gives you paler but softer cookies.
Either way, these cookies are damn delicious.
Osmania biscuits
2018-12-10 06:13:47
How to make Osmania biscuits!
Ingredients
115 grams or 1/2 cup unsalted butter , at room temperature
75 grams or 3/4 cup powdered /icing sugar
15 ml or 1 tablespoon milk
190 grams or 1 1/2 cups all purpose flour or maida
10 grams or 1 tablespoon Milk powder
10 grams or 1 tablespoon Custard powder
1/4 teaspoon baking powder
1/4 teaspoon salt
For soaking
120 ml or 1/2 cup milk
1/2 teaspoon saffron strands (optional- i skipped this)
Instructions
Preheat the oven to 180 C . Line a cookie sheet with parchment paper or grease well with butter.
In a mixing bowl, whisk or sift together the flour , milk powder, custard powder , baking powder and salt. Keep aside.
In another bowl, beat together the butter and powdered sugar using an electric mixer or wooden spoon until smooth.
Add the tablespoon of milk and beat until incorporated.
Add the dry ingredient mixture and mix until a soft dough is formed.
On a well floured surface , roll out the dough to about a quarter inch thick.
Using a cookie cutter or round shape, cut out cookie shapes and place on the prepared pan. Leave 2 inches space between the cookies .
Reroll the scraps until all the dough is used (you can bake the cookies in batches)
Mix the saffron strands (if using) in the milk and pour (or spoon) the milk over the cookie dough shapes on the pan, making sure each cookie is soaked. Carefully pour out the extra milk from the cookie sheet.
Bake at 180 C for 16 - 18 mins until light brown on the edges. You can make for 20-22 minutes for a firmer , well browned cookie. Cool on pan for 5 minutes and then transfer to a cooling rack to cool completely.
Notes
I used a cookie cutter of 2.5 inch diameter and got about 25 cookies.
The cookies last for 10 days or longer in an airtight container.
My measuring cup measures 240 ml.
Make sure all ingredients are at room temperature for best results.
FLOURS & FROSTINGS http://floursandfrostings.com/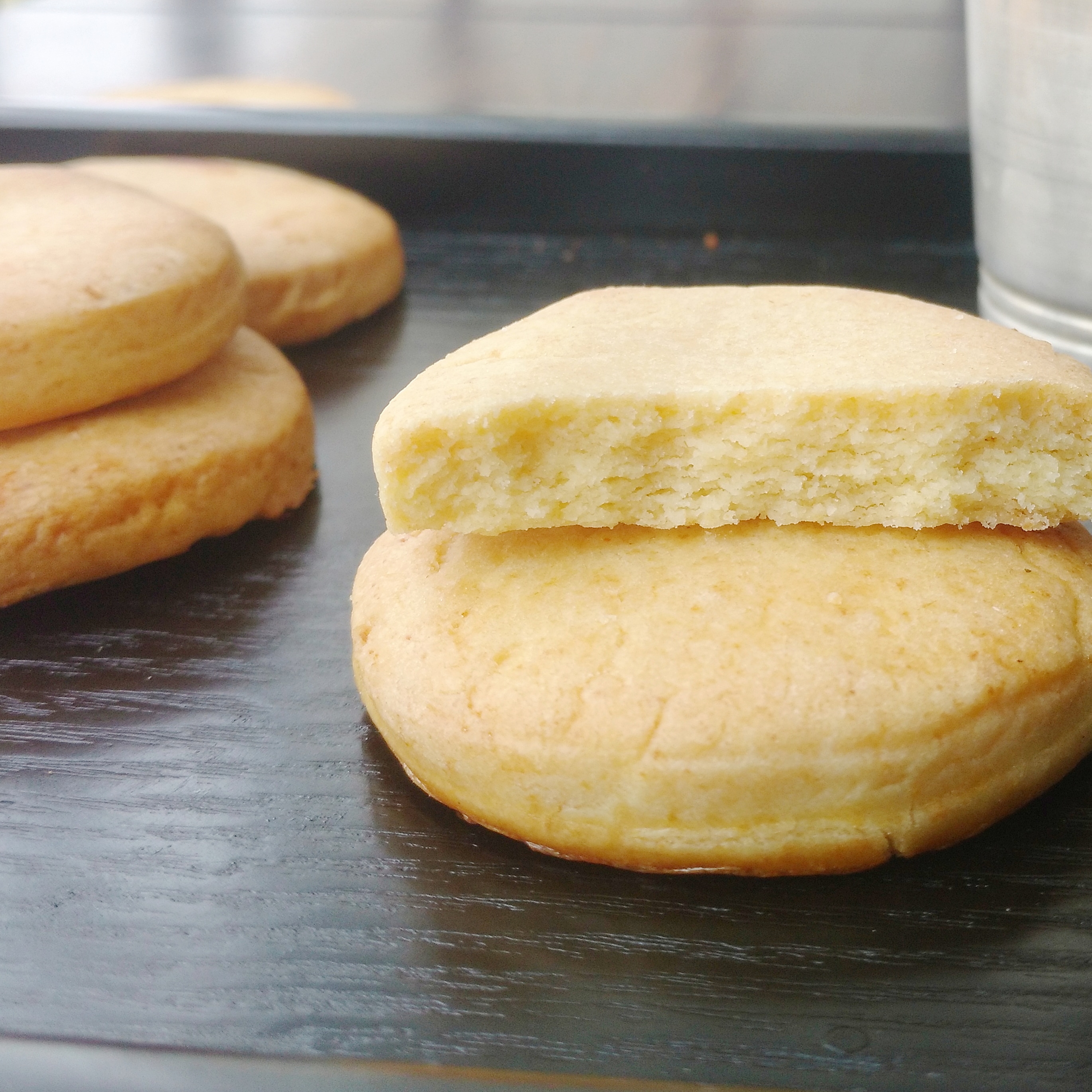 These cookies last for a long time and are perfect to lay on the plate when any guests, expected or unexpected drop in at teatime. A teeny weeny taste of Hyderabad wherever you are.