"In all things of nature there is something of the marvelous." – Aristotle.
I have several weird manias or hang ups and one of them is passionfruit. I don't get hold of them often enough and when I do, I go crazy. They fascinate me. Unlike most other fruits, they ripen not when they are plump and bright but when they are dark and wrinkled. And when you cut into those unassuming shrivelled up orbs, the bright yellow pulp inside with the black seeds. Seriously. NATURE NEVER CEASES TO AMAZE!
And when I am done waiting for my passionfruits to shrivel and then gawking at the beauty inside, I go into overdrive looking up passionfruit recipes online. Making up some luscious refreshing curd is one of my favourite fab ways of using passionfruit. But this time i wanted to mix things up and made some passionfruit bars.
I shy away from citrus bars because I think they will be just too much citrus for most people. Too tart or too strong. This time,maybe I was starry eyed by the passionfruit and decided to give them a try. I am glad that I did !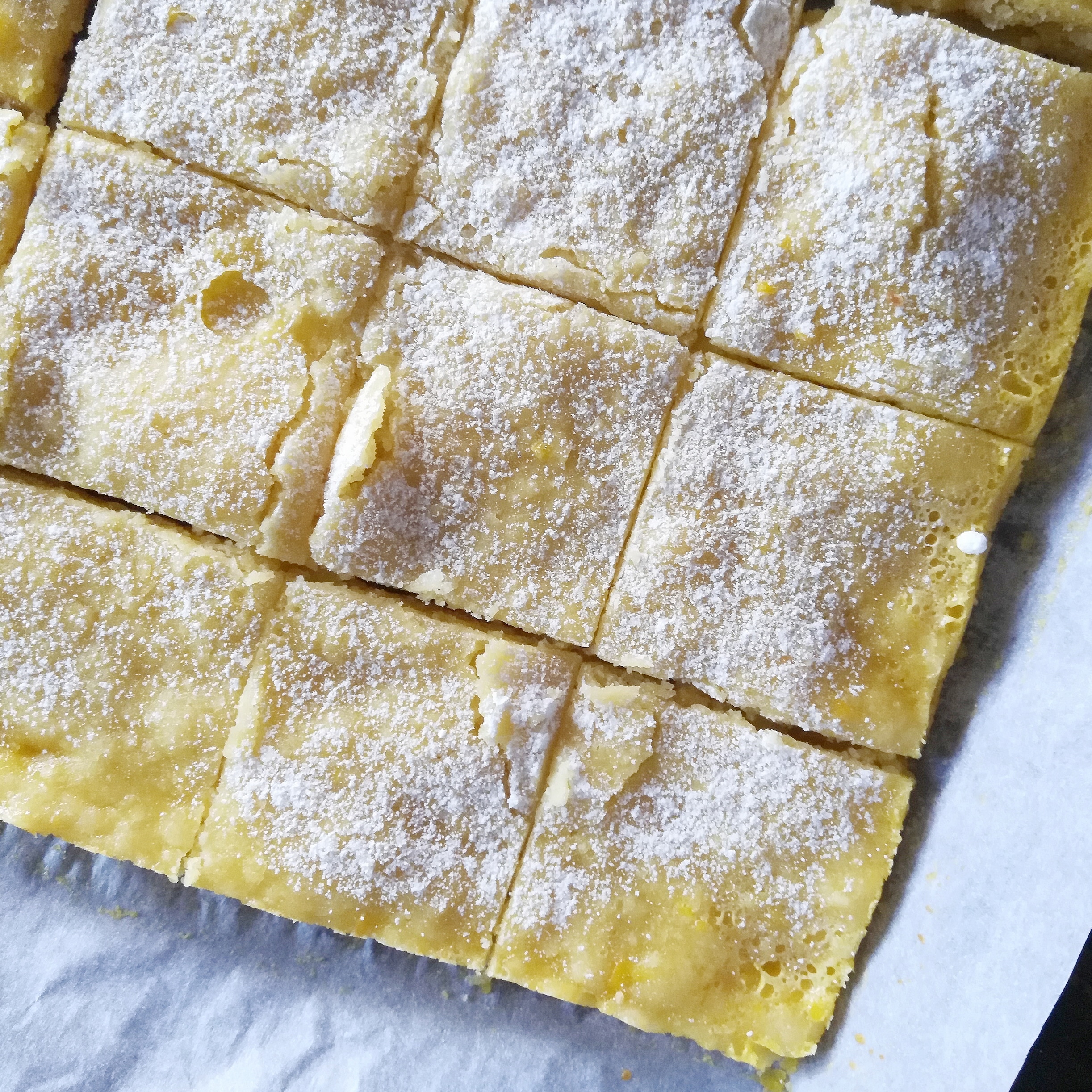 The bars were gorgeous. The base is buttery and melt in your mouth. The filling is tart but such a pleasant and different flavour . And it's really simple to make. But it has two stages of baking. You bake the crust and then you cool it.Then you pour the passion fruit filling in and bake it again. Generally, I am loathe to wait for anything to cool but be sure to cool the base down or the filling will soak into the base. So you won't get distinct layers like I haven't here.
I usually like my bars thick and was disappointed to see how thin these were when they got out of the oven. But then I realised its a good thing they aren't thicker. The size is just perfect for such a rich and citrus filling.
Rich and creamy top, super buttery crust, and the taste – beautifully and perfectly sharp and sweet!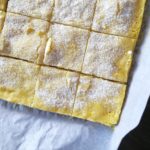 Passionfruit bars
2018-10-01 17:18:34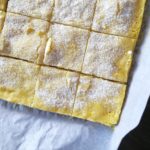 How to make passionfruit bars or passionfruit squares with a buttery crust and beautiful citrus filling !
For the crust
112 grams or 1/2 cup butter ,at room temperature
125 grams or 1 cup all purpose flour
25 grams or 1/4 cup powdered sugar
Pinch of salt
For the topping
100 grams or 1/2 cup castor or granulated sugar
2 eggs, at room temperature
60 ml or 1/4 cup passionfruit juice (strained from the pulp of 2 passionfruits)
Instructions
Preheat your oven to 180 C/350 degrees F. Line a 8 inch square pan with parchment paper.
To make the crust : Whisk together the flour, sugar and salt. Add the butter and mix with spoon or hands until the mixture resembles coarse breadcrumbs. Dont try to make a dough
Press this mixture into the bottom of the prepared pan.
Bake for 18-20 minutes at 180 c / 350 F. Remove from oven and allow to cool for 15-20 minutes.
To prepare the filling : While the crust cools, whisk the passionfruit juice , sugar and eggs until smooth.
Pour over slightly cooled crust.
Bake for 18-20 minutes until top looks set.
Cool completely on a wire rack. Sprinkle or dust with icing sugar
Slice into squares when cool.
Notes
These can be refrigerated for 3-4 days .
Make sure to cool the crust enough so that the layers stay distinct.
You can use an equal amount of lime juice instead of the passionfruit juice and add zest of one lime into the filling to make lime bars.
My measuring cup is 240 ml
FLOURS & FROSTINGS http://floursandfrostings.com/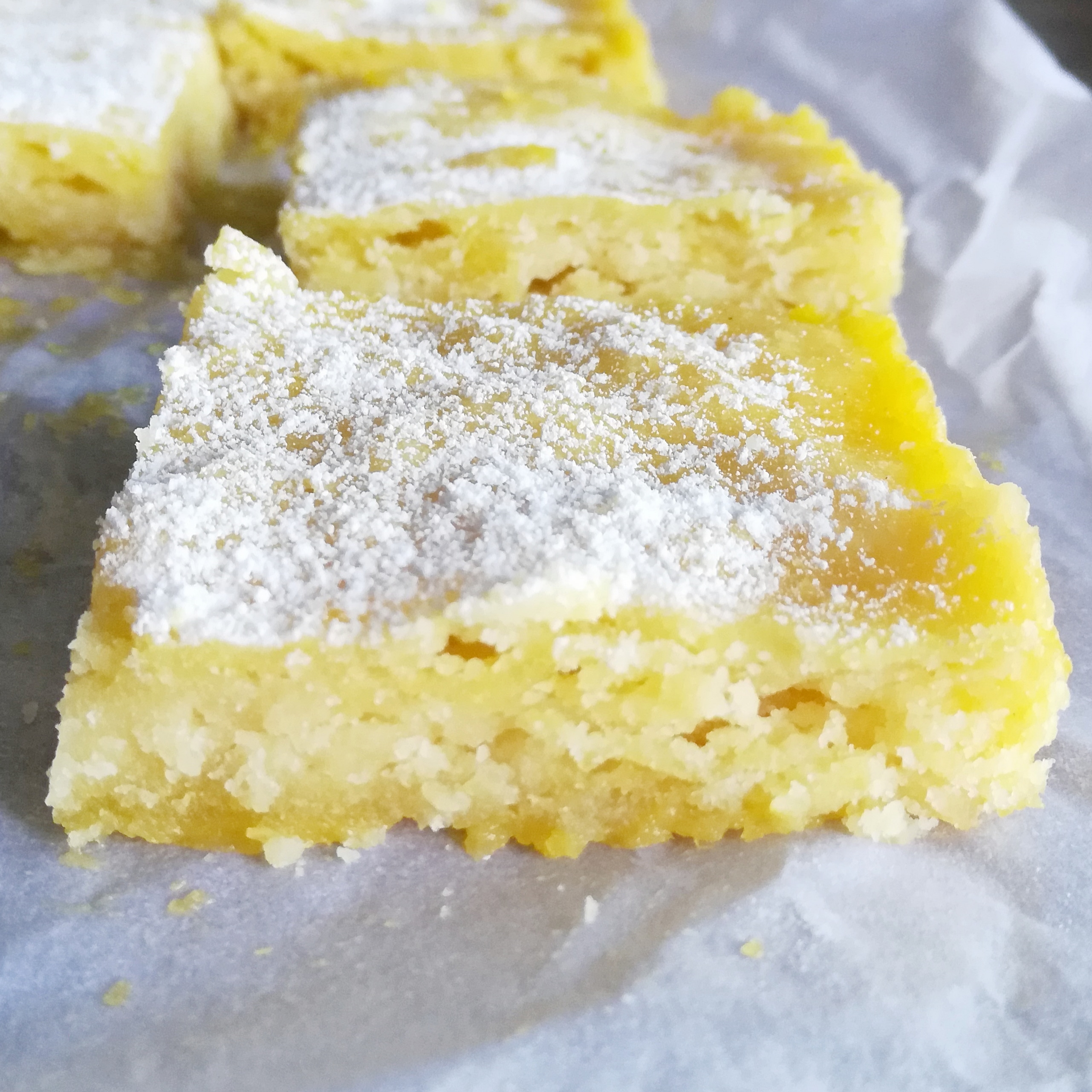 If you don't have passionfruit, you could try limes here as well. Be sure to add in some lime zest to get some colour into your bars. We eat with our eyes first, don't we.
Do let me know if you try these. I am off to recipe hunt again. Got a few more passion fruit waiting to shrivel !