"When your life seems black n white, make sure that you dream in colour"- Owm'r Farouk.
So , I saw this picture on Pinterest the other day of a rainbow cheesecake and bookmarked it for a rainy day (or you know, when there's left over cream cheese) . My friend asked me to make something for her 9 year old girl and I knew the cheesecake would be perfect .
But what can I say ? I chickened out.. I don't make that many cheesecakes and baking a single colour , one layer cheesecake freaks me out ! So… I chose the next best thing and made a No bake cheesecake! A task that seemed much more manageable to a cheesecake novice like me.
The recipe is a simple vanilla no bake cheesecake , one that I have tried before , light and creamy with that little tang that makes a cheesecake , a cheesecake. Obviously , you can skip the colours , a much easier task ! I would suggest halving the cream cheese batter . Making a almost-rainbow one like this (or a full rainbow if you want) , takes a lot more patience ,some more time and a few more dirty bowls . But …… how dreamy does this look ,right ?
Maybe someday I ll bring myself to bake a full rainbow cheesecake , maybe not. I do love the ease of these nobake versions ! It's a great tasting dessert no doubt, but the almost whimsical look was what made it a winner for me. And you can play with it ! Use more colours , or use neon ones , use sprinkles on top , or swirl the colours for a tie dye effect !
Like the idea of a no bake cheesecake? You might like this Oreo cheesecake!

Print Recipe
Pastel No Bake Cheesecake
Yum
Delicious smooth and creamy no bake cheesecake in lovely pastel colours!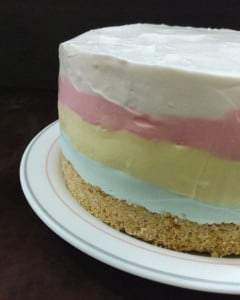 Prepare your pan. Use a 6 inch springform pan if you have one , or use a mousse ring . Line the bottom and sides with parchment (optional but easier!) . If you don't have a springform pan or mousse ring , line  the bottom of a regular pan with plastic wrap so that it comes up the sides of the pan (so you can pull it out once set).

Powder the biscuits any way you want. Use a food processor , blender , mortar , rolling pin or your hands! 

Add the melted butter and icing sugar and mix until it comes together like wet mud !

Press into the bottom of your prepared pan. Refrigerate until you make the filling.

Sprinkle gelatin over the cold water. Let stand for 5 minutes . Then heat in microwave or stovetop to melt it. Let cool while you make the filling. 

Whip the cream to soft peaks. Keep refrigerated until needed.

Beat together the cream cheese , granulated sugar and vanilla until smooth.

Fold the whipped cream into the cream cheese filling.

Fold in the gelatine liquid. 

Divide filling equally into as many bowls as you are using colours. Add a drop of gel colour to each. I used pink, yellow and blue , and kept one plain. Mix colour well in each bowl. Add more until you get the desired colours.

Spread filling of one colour over the biscuit base as smoothly as possible. Freeze for 10-15 minutes or until set.

Spread the other colours in the same way , freezing in between.

After spreading the final portion of coloured filling , chill for atleast 4 hours or overnight .Un mould the cheesecake or lift out of pan , remove the parchment . Smoothen the top using a spatula . Keep chilled until its serving time !
You can keep this cheesecake refrigerated for 3-4 days.
If you use a 8 or 9 inch pan , you can use the same amounts but you'll have thinner layers
Always add one drop of colour first, mix well and add as needed. Too much colour can alter the taste of the cheesecake.
Use agar agar instead of gelatine if you are a vegetarian. If you want a more firm set cheesecake , use 1 tbsp of gelatine .