"Be a pineapple. Stand tall, wear a crown but be sweet on the inside" .
The last time I had frozen yoghurt, I think I wasn't more than 12 years old . Without getting into specifics , lets just say that it was a long long time back :-P. It was a brand called TCBY (the country's best yoghurt) which had a couple of outlets in Doha where I grew up. I still remember how yummy and creamy it was ! And half the time , I don't remember what date it is .Thats how obsessed with food I am!
For whatever strange reason , I have never had frozen yoghurt since. I honestly didn't realise how easy it is to make it at home. It takes some pre planning and chilling time , but the actual active effort is next to none !
Its cool and creamy and the pineapple keeps it from getting cloyingly sweet . Whats better is that its made from fruit , yoghurt and honey . So it won't make that big a dent in your diet plan ( if unlike me , you have one !) . I was a little bummed with the light colour , so next time I shall use riper fruit!
I found this recipe on Gemma Stafford's site where she has a wide array of homemade ice-cream and frozen yoghurts. You must check it out. Lot of options for some summer feasting!
This is a great dessert option given the soaring temperatures . Its slightly icy when you get it out of freezer , but a few minutes out and its perfectly scoopable and yum! Fruity, light and guilt free. A diet friendly, delicious chilled dessert. Just what the summer ordered!

Print Recipe
Pineapple frozen yogurt
Yum
Healthy and cool desert with frozen pineapples and yoghurt !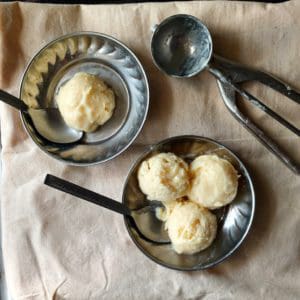 | | |
| --- | --- |
| | |
Chop up the pineapple into chunks . Freeze for few hours or overnight.

Blend together the frozen pineapple chunks , yoghurt , honey and lemon juice in a food processor or blender.

Blend / process until smooth and there are no chunks left. This will take 3-4 minutes in a food processor.

Transfer into a freezer friendly container (with lid) and freeze 6 hours or longer.
Also:
For the best flavour and texture , use good quality fruit . You can also use frozen pineapple instead of fresh
This can be stored in the freezer for 2 months or longer.
Add two tablespoons of toasted coconut into the blended mixture for a textural contrast like Gemma does.
The sweetness depends on the the fruit and yoghurt you use. Once you blend , taste and add more sugar / honey as you need. Do not skip the 2 tablespoon honey as it helps keep the consistency non-icy.
The thicker the yoghurt you use , the smoother the end result. Greek yoghurt works well.