"When life gives you lemons, sell them and buy a pineapple!"– Davin Turned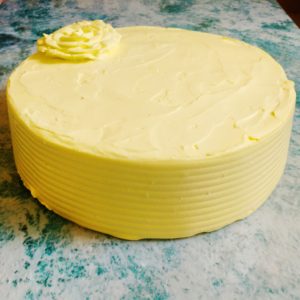 There s nothing that beats the taste of a cake made in your own oven .But for a lot of us beginners , especially for special occasions, what we constantly compare our cakes to are the cakes from cake shops . The pastries and the birthday cakes we love eating. Moist (almost juicy!) cake layers with perfectly sweetened smooth frosting, Right ?.
One of my cakes that I find most similar to the cake shop ones in taste (obviously not in appearance!)  is this pineapple layer cake. As layer cakes go, super simple and quick. No elaborate steps. A sponge cake, some whipped cream and a tin of canned pineapple. Just over one hour from start to finish. More if you want to frost it all good . What are we waiting for!
I have baked this cake in a 6 inch pan.Or  I suggest making a double recipe of sponge ( with 6 eggs), which will give you 4  ( around 1 inch high each) layers. Or use your favorite vanilla cake recipe that will give you 3-4 layers of 1 inch or so . About the pineapples , its just easier to use canned as they are sweet whereas fresh might be too sweet or slightly sour. Also, you can use the syrup for soaking your cakes. But if you want to use fresh pineapples, no problem! Make sure they are sweet and make some sugar syrup for the soaking.
You'll need :
1 sponge cake (about 6 x 3 inch) or your favorite vanilla cake.
1 small can of pineapple slices , you ll need 5-6 slices (I used a small tin of Delmonte pineapple slices)
50 ml soaking syrup ( from the canned pineapples or freshly made)
1 cup heavy whipping cream or non dairy whipping cream
3 tbsp sugar
Time : 45 minutes for baking the cake + 15-20 minutes assembly.
You ll make : 1 8 inch , 2 layer cake
Lets get started :
Bake your sponge cake and let cool completely. While the cake is baking, prep the other ingredients .
Strain the syrup or juice from the canned pineapples. Taste it , add sugar if you want . But be wary of over sweetening because the cake and whipped cream are quite sweet.
Chop the pineapple into chunks. I like big chunks of fruit in my cake slice, you could go for smaller. Keep aside
When your cake is cool, whip your heavy cream and sugar to soft/firm peaks. Keep refrigerated until needed.
Slice your cooled cake into 2 layers using a long serrated knife. Place the top half (cut end facing up) on a cake board/plate.
Using a pastry brush or by sprinkling, soak the cake layer evenly. Soak the edges also.
Place the second layer (bottom side facing up) on top and press gently.Soak the top layer with the syrup.
Spread 1/4 cup whipped cream on top and spread as smoothly as possible. Spread the cream along the sides as well . Chill for 20 minutes or so. You can smoothen the cream, or add another layer and frost as you want.
Also:
Like all layer cakes, this is best tasted after a few hours in the fridge so that the flavors are well set.
If you are making the sponge cake exclusively for this cake, you can use pineapple essence instead of vanilla .
For sugar syrup ( if not using canned pineapple) – heat 1/4 cup sugar with 1/4 cup water in a saucepan . Let the sugar dissolve and continue heating for around 5 minutes. Cool and add 1 tsp pineapple essence(optional).
For the whipping cream – make sure cream , beaters and bowl are chilled. 1 cup gives you 2 cups whipped cream. You ll have enough for piping left over after covering the cake.
Soaking the cake layers is most important here. For even better results, you can chill the cake layers (so its easier to handle ) , soak one side, turn over and soak the other side. Then use as above.
Even if you make a 3-4 layer cake, one small tin pineapple, the same amount of syrup and whipped cream is sufficient. You might need more whipped cream if you want to do elaborate piping.
Cake should be stored in the refrigerator and got out about an hour before serving . Cold cake isn t as moist!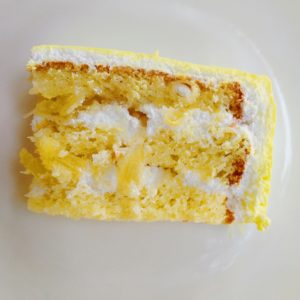 Moist cake, wonderful flavor, sweetened whipped cream and chunks of pineapple. Deliciousness in each bite! Try this and you ll never order a pineapple pastry from the cake shop again. Trust me!