Puff pastry , also called pâte feuilletée, is a light flaky pastry used for both sweet and savoury dishes . I think its most popular form in India is the quintessential savoury puffs seen in every small and big town bakery.
Finding ready made puff pastry here is difficult and making it from scratch is a worthwhile trick for a baker to learn. It may seem intimidating at first (it did to me) but its really quite simple , albeit time consuming. In fact , it involves bouts of just a few minutes of activity with chilling in between.
There are several ways of making puff pastry. But to break it down , it is made from a laminated dough by wrapping butter block (beurrage) inside a flour dough (detrempe) and repeatedly folding and rerolling. The dough is chilled periodically to maintain the butter in solid state throughout. When the pastry is baked ,the butter melts and boils, creating steam which makes the layers rise. The heat also cooks the flour forming the "puff" around the air pockets.
Making a quick Puff pastry , also called "rough puff" yields good results when you are in a crunch for time. But having tried both ,i can easily say that the original longer method gives a much more spectacular result, more light and hundreds of layers ! Ofcourse it takes almost half a day but its well worth the effort . And the waiting!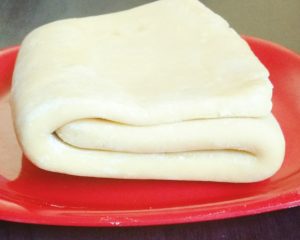 Puff pastry
2017-01-06 13:28:31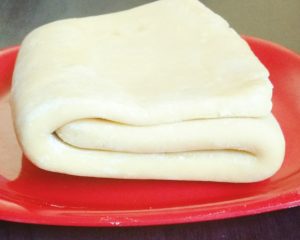 Buttery and flaky puff pastry !
Ingredients
250 grams or 2 cups all purpose flour
100 grams or about 1/2 cup unsalted butter, at room temperature
100 ml or a scant 1/2 cup water
1 tsp salt
100 grams or about 1/2 cup unsalted butter , at room temperature
Instructions
Spread one portion (100 grams ) of the butter to form a 5 x5 inch square on parchment and chill.
Meanwhile , on a clean surface , measure out the flour , make a well in the centre. Add the water and salt.(pic 1)
Stir the salt into the water .
Add the remaining butter , cut into cubes, to the flour.(pic 2)
Using your fingers , rub the butter , water and flour together to combine. You can also use a pastry scraper.Bring the crumbs together in a rough dough. (pic 3)
Wrap and chill for one hour.
After the chilling ,on a floured surface, roll out the dough into a rectangle about 5 x 15 inches.
Place the chilled butter slab in the centre and bring both short ends of the dough rectangle towards the centre and press to seal. You will now have an envelope of dough with butter exposed on two ends.(pic 4-6)
Roll out this envelope into a rectangle again of about 5 x 15 inches , trying to keep the edges as straight as possible.(pic 7)
Starting from one short end, fold one third onto the centre. (pic 8)
Then fold the other third on top (like folding a letter).This is one turn.(pic 9)
Again , roll into a rectangle and fold as above . This is your second turn.(pic 7-9)
Wrap in plastic and chill for 2 hours.
Roll and complete 2 more turns . wrap and chill for 2 hours.
Roll and complete the last 2 turns. Chill overnight.
The puff pastry is ready to use. Cut the amount required , roll out and use as desired!
Notes
This can be refrigerated for a week and frozen for 2 months wrapped well.
At any point of the procedure , if you feel the butter peeping through or melting , chill for some time and continue. You want the butter to be cold at all times.
FLOURS & FROSTINGS http://floursandfrostings.com/
Step by step Tutorial: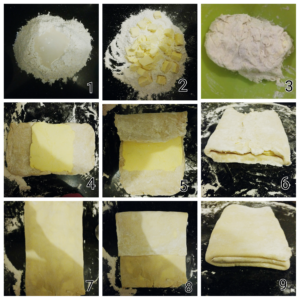 Now that you are armed with this fool proof puff pastry , the possibilities are literally endless!! Fo starters , you can have a look at these pithviers or these scrumptious jam palmiers. And of course , if you are not keen on spending a day waiting on some pastry , there s always a easier way out!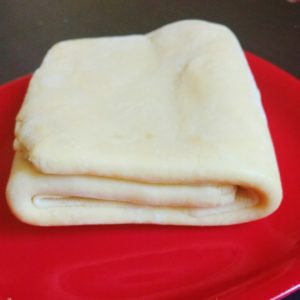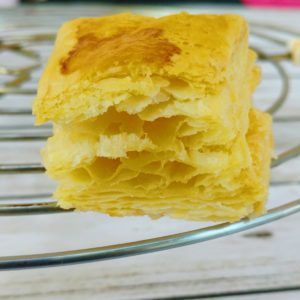 Update on 10.2.2017 : So, Akila – a fantabulous baker , a great blogger and an even better friend- tried my puff pastry . I suspect it was to get me to stop nagging her , but she loved it . Check out her post on her blog Morphy and Me. She has awesome step by step pictures that illustrate the process much better than I have managed to do here! And she makes some yum veggie puffs with her puff too. While there , make sure to look around and drool at all the amazingness that comes out of her kitchen . Thanks Akila. Big hug girl !