"People who follow all the rules and chase every trend tend to get forgotten
– they look great, but they're not as memorable."- Dita Von Teese.
So I am not a very trendy person as such. I never know whats in fashion or which singer is in vogue or whats the latest app that you just MUST have on your phone. When it comes to food trends, I am a bit more aware but am more of an observer and not necessarily a follower.
Off late , rasmalai cakes are popping up all over my feeds . I thought of giving it a try finally , just to see what all the fuss was about . And since I seem to be on a fusion dessert spree these days, this was an ideal time to jump on the rasmalai cake bandwagon ! Ages back , I had made this Rasmalai Japanese cheesecake too . This one is a lot less trickier to pull off i reckon.
So , Rasmalai (literally meaning juice and cream) is an extremely popular Indian dessert made with discs of homemade milk cheese or chenna , which are boiled in sugar syrup and then soaked in saffron flavoured , sweetened reduced milk (rabdi ). The process does take a little bit of time and effort. But rasmalai are soft, spongy and absolutely to die for.
Tres leches ( meaning three milks ) is a traditional Mexican cake which consists of a super light sponge , soaked with a mixture of three milks and then topped with whipped cream. The three milks most often used are condensed milk , whole milk and evaporated milk . Although flavoured milks and cream can also be used instead .
It seemed like a no brainer to marry the Indian dessert with the Mexican cake ! And to be honest, a lot less effort than a Rasmalai layer cake. The rabdi is the prominent soaking milk with some condensed milk and whole milk .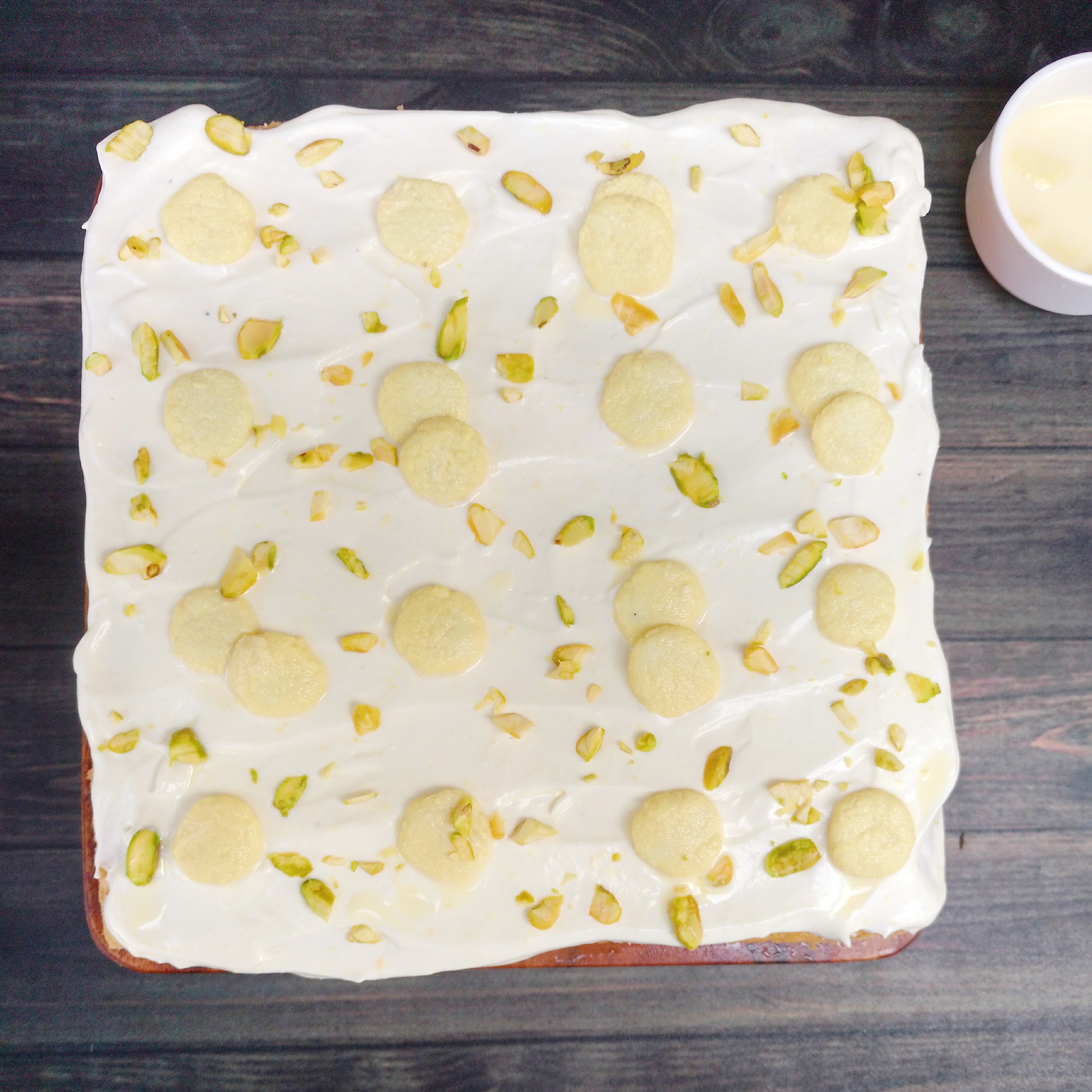 Now here's the good news. You can actually make this cake without the rasmalai as well. I made them because sometimes as a food blogger , you need to kind of commit to the dish and the way it looks matters almost as much as how it tastes . But my rasmalais are more of a garnish than a component. Even without them , the cake very much tastes like Rasmalai !! And the rabdi is far easier to make than the Rasmalais themselves.
If you see the list of ingredients and steps below, you might get a little put off. but stay with me here. Its definitely easier than it looks. And at Flours and Frostings , we are nothing if not effort-efficient ( thats a fancy word for lazy). So here are three ways you can go about making this cake –
The Have- two-hours-at-hand version : Make the chenna balls, make the sugar syrup, make the rabdi , make the cake, soak the cake. The big plus : you can make the rasmalais any size that suits you. I made tiny button ones that i found adorable (though not perfect!) . And of course the satisfaction of seeing all your effort being devoured.
The slightly-lazy-but smart- baker version: Buy rasmalai (with the rabdi) , make cake , soak cake . Big plus : Far less effort and time but still big rewards .
The lazy-but-want -to do-it my way – baker version : Skip the rasmalai . Or buy rasgullas (which you get in all sizes ) . Make the rabdi , make the cake , soak the cake . Big plus : You can adjust the sweetness of the cake to how you want it !
The recipe shows the completely -from -scratch version , but you can skip steps depending on which version you decide to try. There are some things you would do different than regular rasmalai. For starters, the amount of rasmalai and rabdi you actually need for the tres leches cake is quite small. Secondly , the rabdi itself is much less sweeter than usual as you add the condensed milk while soaking the cake. And also, you don't need to reduce the rabdi as much as you would when you make just the rasmalai dessert. See, I told you its easier than it looks !
You can use any sponge of your choice. Traditionally , the Tres leches is a shallow or thin layer . Do use the airiest cake you have and let the milks soak in for a few hours atleast ! So so worth the wait !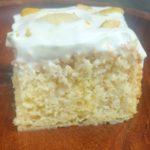 Rasmalai tres leches cake
2017-10-11 18:27:19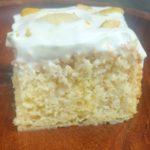 The Mexican Tres leches meets the ever popular Indian Rasmalai - and its a marriage made in heaven!
For the rasmalai
120 ml or 1/2 cup milk
1 tablespoon lemon juice
For the sugar syrup
50 grams or 1/4 cup sugar
240 ml or 1 cup water
For the rabdi
360 ml or 11/2 cups milk
3-4 tablespoons sugar
1/4 teaspoon saffron threads
1/4 teaspoon powdered cardamom
For the soaking milks
120 ml or 1/2 cup Rabdi ( as prepared above or ready bought)
60 ml or 1/4 cup sweetened condensed milk
60 ml or 1/4 cup milk
For the cake
4 eggs, at room temperature
100 grams or 1/2 cup castor or granulated sugar
125 grams or 1 cup all purpose flour
1 tsp baking powder
For the topping
120 ml or 1/2 cup whipping or heavy cream
1-2 tablespoons sugar
1-2 tablespoons rabdi ( from the rabdi used to soak the rasmalai)
Pinch of cardamom (optional)
Pinch of saffron (optional)
Sliced almonds or pistachios
To make rabdi
Bring one cup milk to a boil in a thick bottomed pan.
Lower the heat and bring to a simmer while stirring occasionally .
After about 10 minutes, add the sugar , saffron and cardamom powder.
Continue simmering for 5-10 minutes more until you have about 3/4 cup liquid.
Take off heat and let cool.
To make the rasmalai
Bring the half cup milk to a boil and add lemon juice while stirring.
Once the milk curdles completely, take off heat and pour into a strainer lined with cheese cloth or muslin cloth.
Wash the cheese with fresh water to remove any lemon smell.
Wrap the cheese cloth with the cheese in it in a ball, squeeze out extra water and hang somewhere for about 30 minutes.
Knead the cheese for about 10 minutes until it forms a smooth dough.
Make small balls out of the cheese (I got 20) and make sure they are as crack free as possible.
Heat the 1 cup water with the 1/4 cup sugar in a wide bowl.
Once it comes to a rolling boil, add the cheese balls gently .
Cover and cook ( on high heat) for 8-10 minutes. They should double in size.
Using a slotted spoon , remove the discs .
In 1/4 cup of the prepared rabdi , soak the cheese balls and keep refrigerated for few hours or overnight.
To make the cake
Preheat the oven to 180 C / 350 F. Butter and flour a 8 inch square pan , line the bottom with parchment.
Separate the eggs .
Whisk together the flour and baking powder in a bowl, keep aside.
Beat the whites using an electric mixer or whisk until stiff peaks form. This takes 2-3 minutes.
Add the yolks little by little while continuing beating.
Once the yolks are incorporated , add the sugar one tablespoon at a time while continuing beating.
Beat for a minute or two after the last of the sugar is added.
Sift in the flour- baking powder mixture on top of the batter.
Using a spatula, gently fold in the flour until you can't see flour anymore .
Immediately pour batter into prepared pan and smooth the top.
Bake at 180 C / 350 F for 25- 30 minutes until the cake springs back when touched and the edges are coming away from the pan sides.
Cool in pan for 10 minutes . Remove and cool completely on wire rack.
To assemble
Stir the remaining half cup of the rabdi with the condensed milk and whole milk.
Pour over the cooled cake evenly .
Refrigerate for few hours or overnight.
Whip the half cup heavy cream with 1 tablespoon sugar to firm peaks .
Add a tablespoon or two of the rabdi used to soak the rasmalais and beat well. You can also add saffron (soaked in warm milk ) or cardamom for flavouring instead.
Spread the whipped cream over cake.
Garnish with the rasmalai and sliced nuts
Serve chilled or at room temperature
Notes
The finished cake stays good refrigerated for 2-3 days.
If using store bought rabdi, adjust the amount of condensed milk so that the soaking milk isn't too sweet.
While flavouring the whipped cream, add the rabdi slowly (half tablespoon at a time) and beat well after each addition so that the cream doesn't lose its consistency .
You might not get a pale yellow colour in your whipped cream with just the rabdi- you can add food colouring or saffron (soaked in a little milk) if you want.
If using store bought rasgulla, squeeze out excess sugar syrup , let soak in homemade Rabdi and continue as above.
FLOURS & FROSTINGS http://floursandfrostings.com/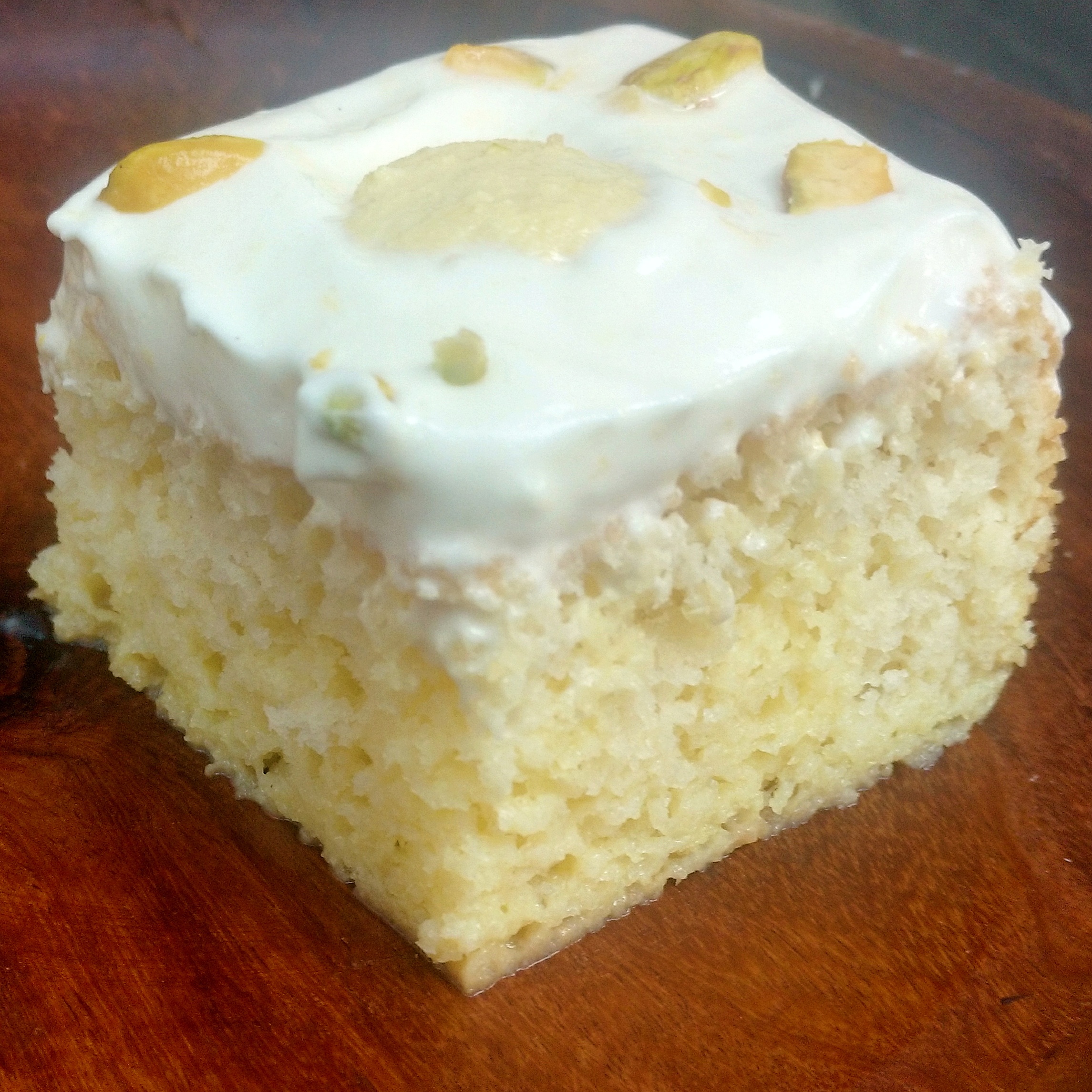 I am so proud of this cake- I really am. Its moist – juicy almost . Its still light and refreshing . It tastes really scrumptious. I am kind of running out of adjectives, but its definitely worth a try !!