"Pink isn't just a color, it's an attitude!"-Audrey Hepburn.
Four layers of feathery light sponge cake layers , moistened beautifully with syrup , filled with a sweet and tart raspberry filling , and enrobed in some sweetened whipped cream .
I toyed with the idea of calling it my "pretty in pink" cake !
Once again , I have used my oft tried and tested fatless sponge cake because.. well try it .. and u will not need an explanation as to why I keep coming back to this uber light cake ! But the hot milk sponge cake would be stellar here too, as would be the yellow cake.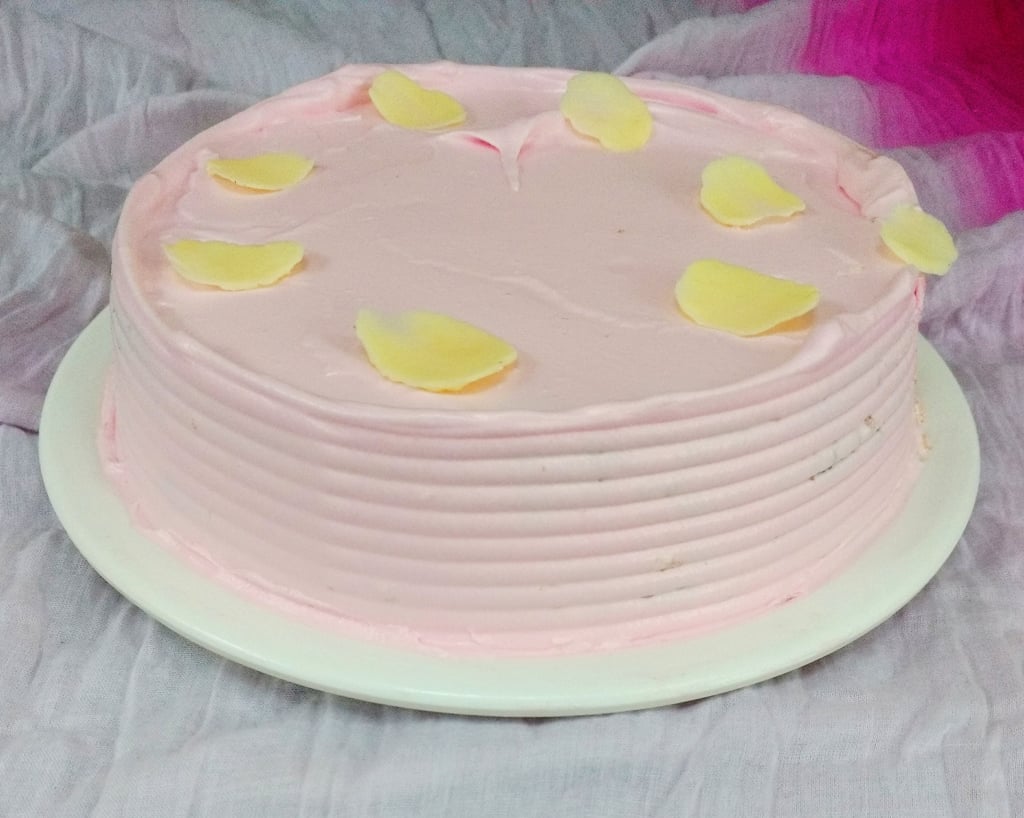 The raspberry filling is easy to make , but you could use raspberry jam in a pinch. But I do urge you to try this. It's sweet and tart and finger licking good. The whipped cream is an easy option for a frosting , and a light frosting is what this cake needs. I used a little raspberry essence and some pink food colouring in the cream. You could just as well swirl in some of the raspberry jam…
This one is high on the yumminess scale!
This is the sort of cake that makes your day a little brighter! Its deceptively simple to make but refreshingly light . The cake is moist and sweet , the filling is sharp and tart , the cream is billowy and pleasant . All in all… this cake is all kinds of delightful!
It's a very berry good cake ! Sorry couldn't resist that !

Print Recipe
Raspberry layer cake
Yum
"Pretty in pink" cake with feathery light sponge cake layers, layered with a sweet and sharp raspberry filling, frosted with whipped cream!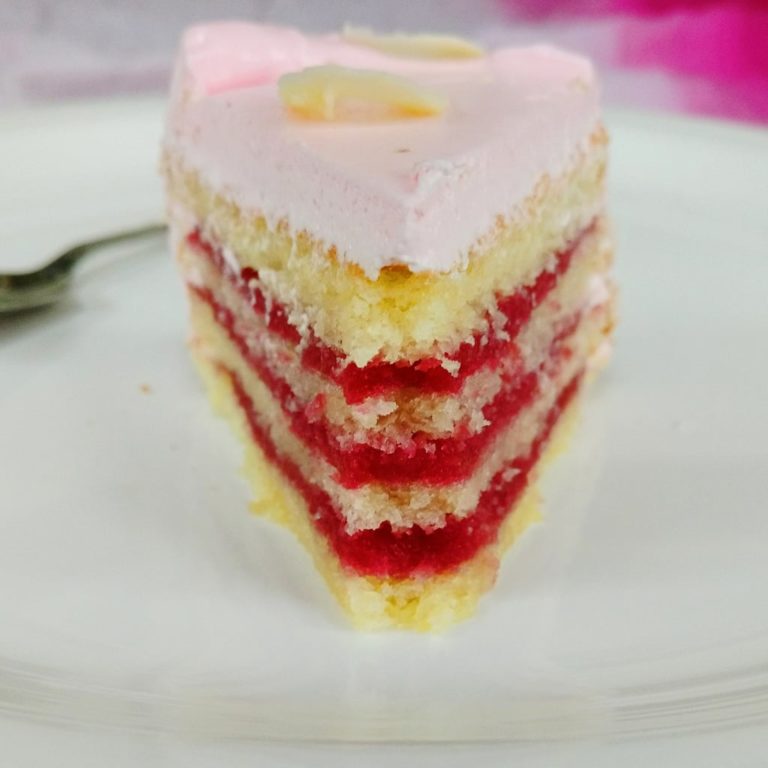 | | |
| --- | --- |
| | |
To make the cake : preheat your oven to 180 C / 350 F. Line the bottom of a 8 inch pan or two 6 inch pans with parchment paper. Or you can grease and flour the bottoms. Beat the eggs until foamy.Then add the sugar and vanilla and beat until the eggs triple in volume . Sift in the flour and fold gently until all the flour is incorporated. Immediately pour the batter into prepared pan(s) and bake for 22-26 minutes until the top springs back when touched and a toothpick inserted comes out clean. Cool in pan for 5 minutes , remove and cool completely.

To make the syrup: in a saucepan , bring the water and sugar to a boil, then simmer for about 10 minutes. Remove from heat, mix in the extract. Cool to room temperature before using.

To make the raspberry filling : In a saucepan , heat together the berries ,sugar and lime juice for a few minutes, stirring occasionally. Once the fruit breaks down, sieve this to remove the seeds . Add a half cup water to this strained fruit mixture and reheat. Bring to boil, add the cornflour and simmer for 5-6 minutes while stirring until it thickens. Cool to room temperature before using.

To make the whipped cream : whip together the chilled cream, extract , sugar and food colouring if using with a whisk or electric mixer until stiff peaks are achieved ( if you overturn the bowl, the cream should not move). Keep chilled until using.

To assemble: slice each cake into two layers if you used two six inch pans or three if you used one 8 inch pan. Place one layer on a cake board or serving plate. Brush some syrup on the top and sides . Spread about 2-3 tablespoons of the filling on the layer , leaving about a 1/4 inch edge free. Pipe a circle of whipped cream on this edge(this acts as a dam to prevent the filling from coming out on your frosting). Place another layer on top , press down gently. Soak and fill the second and third layers , place the final layer on top. Soak with syrup and spread whipped cream on the top and sides. Smoothen using a spatula . Chill in freezer for 15 minutes. Spread another layer of whipped cream on top if you wish for a neater finish. Pipe / decorate as you wish.
Also:
This cake is best made a day earlier so the flavours have time to set.
Chill the sponge cake in the fridge for 1- 2 hours so that you can slice it more neatly and with less crumbs.
Here is a detailed tutorial on how to make this sponge cake perfectly.
Adjust the sugar in the filling and whipped cream according to your taste.
I used one pack of Very Berry frozen raspberries. You can replace raspberries with any fresh or frozen berries . Adjust the sugar accordingly. You can make life easier (maybe a little less delcious) by using store bought berry jam.
We like this cake to filling ratio. If you like more cake, split your 8 inch cake into two layers and use half the filling recipe. Or you could double the cake recipe, make two 8 inch cakes , split each into two layers !