"Blessed is the season which engages the whole world in a conspiracy of love."- Hamilton Wright Mabie.
Yup. A whole week of cookies for Christmas. For seven days, I will be sharing my favourite recipes for my favourite cookies for my favourite time of the year. There's a good mix -traditional and not so traditional , nutty and spiced and sweet , cut outs and hand shaped and dropped. I'd like to think there's something in here for everyone. These are cookies that taste great , look festive and are perfect for gifting and making ahead. Because tis the season to be jolly …fa la la la la la….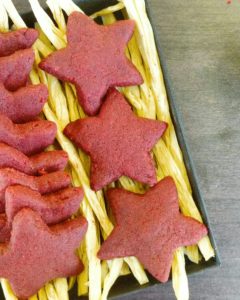 I think shortbread cookies are such a welcome addition to any holiday cookie tray! They are easy to make , stay good for a while when packed well and are perfect to flavour any way you want. And what better way to make shortbread for Christmas than some red velvet. The colour is holiday appropriate , and cookies in a favourite cupcake flavour ? Yes please!
Although to be completely honest, I am not sure whether the cookie here is authentic "red velvet" as the flavour and colour in a red velvet cake is a result of thereaction between cocoa and vinegar (no vinegar in this cookie) which is enhanced by some food colouring. The batter does have cocoa so its just not another red dyed vanilla cookie. But hey- if its good enough for the folks at Better Homes and Gardens , its definitely good enough for me! And you have to admit , the red instantly brings christmas into the room!
I tweaked the recipe a tad bit ( by increasing the sugar and adding some vanilla ) and loved how they turned out. They are super tender and buttery like a good shortbread should be. You can add as much as the colouring as you want , i stuck to a little and hence the "maroon velvet"! I did try piping on some white chocolate but the white chocolate is fussy to melt and pipe , and I got impatient waiting for it to dry (Exhibit A- the seemingly child's artwork I am sharing in the spirit of full disclosure below!) . The cookies don't need it anyways!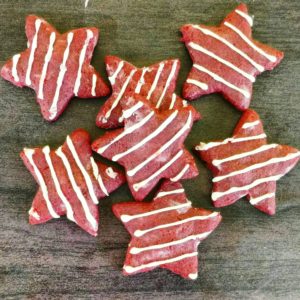 Again , a small batch recipe here but you can multiply it as many times as you wish! Trust me , you will want more!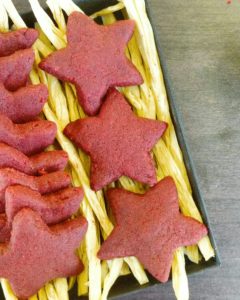 Red velvet Shortbread cookies
2016-12-10 02:10:32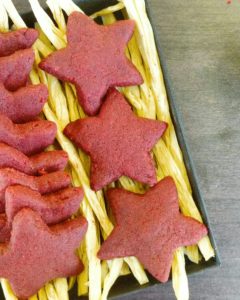 Buttery and tender red velvet shortbread which are absolutely perfect for the holidays!
Ingredients
140 grams or 1 cup plus 2 tablespoons all purpose flour
1 tablespoon unsweetened cocoa powder
1/4 tsp salt
56 grams or 1/4 cup unsalted butter, at room temperature
50 grams or 1/4 cup granulated sugar
1 tsp vanilla extract
2-3 drops red food colouring
40 grams white chocolate to decorate (optional)
Instructions
Preheat your oven to 160 C/ 325 F. Line a cookie sheet with parchment or grease well.
In a mixing bowl , whisk together the flour , cocoa and salt.
Add the butter (cut into small pieces), vanilla and the food colouring .
With a wooden spoon , your hands or mixer , mix until a soft uniformly coloured dough forms.
Knead for a minute or so.
Roll out the dough or press down onto a slightly floured surface to a thickness of about 1/4 inch or so.
Using a cookie cutter , cut out shapes and transfer to the lined cookie sheet, placing about 11/2 inches apart.
Reroll dough scraps and cut until all the dough is used up.
Bake for 15 minutes , turning the sheet around after 9 minutes .
Cool on sheet for five minutes and then completely on wire rack.
If you wish , pipe or dip in melted white chocolate.
Notes
These cookies store for 1-2 weeks in an airtight container .
I got 40 cookies of about 1.5 inches size . You can double or triple the recipe.
Add 2 drops of the colour and knead completely. Add more only if needed.
You can make the dough in a food processor also.
If you don't have a cookie cutter, use the rim of a small glass or use a knife and cut shapes.
The cookies will be soft at the end of baking time so don't handle them until they firm up.
FLOURS & FROSTINGS http://floursandfrostings.com/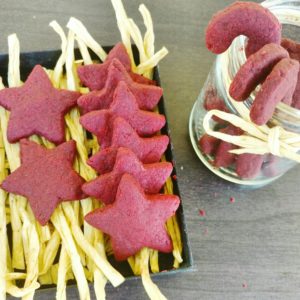 Light and buttery shortbread .They are crisp as you bite in and then so lovingly melt away. And that lovely red of course. Make them because they taste good or simply because they look good. Either ways , this cookie is exactly what Santa asked for !

Affiliate links : Just so you know, I have baked these cookies in my trusty Morphy Richards 52 Litre Oven
and used these Cookie cutters
.
Happy baking !