"Jack of all trades, master of none, though often better than a master of one."- Adam Savage.
Diwali festivities are just around the corner. We usually go to our parents' homes for Diwali, which usually means zero cooking on my part ! But I thought I would share a few desserts you could try your hand at if you are entertaining this year.
They aren't your usual Diwali style sweets though. But I do think there's no harm in trying something different.
I have been accused several times over for not sharing Indian sweets on the blog. The blog obviously caters to baking and desserts , I don't generally put up anything and everything food related on the blog. You know what they say about jack of all trades and master of none ? Besides and more importantly, there are some awesome indian food blogs out there and I am far better sticking to what I am slightly good at . Or atleast I think I am slightly good at 🙂
That said, sometimes I do try certain fusion desserts that bring the Indian flair into western desserts . I really loved how this Coconut burfi inspired cake came out and these carrot halwa tarts are totally worth the effort.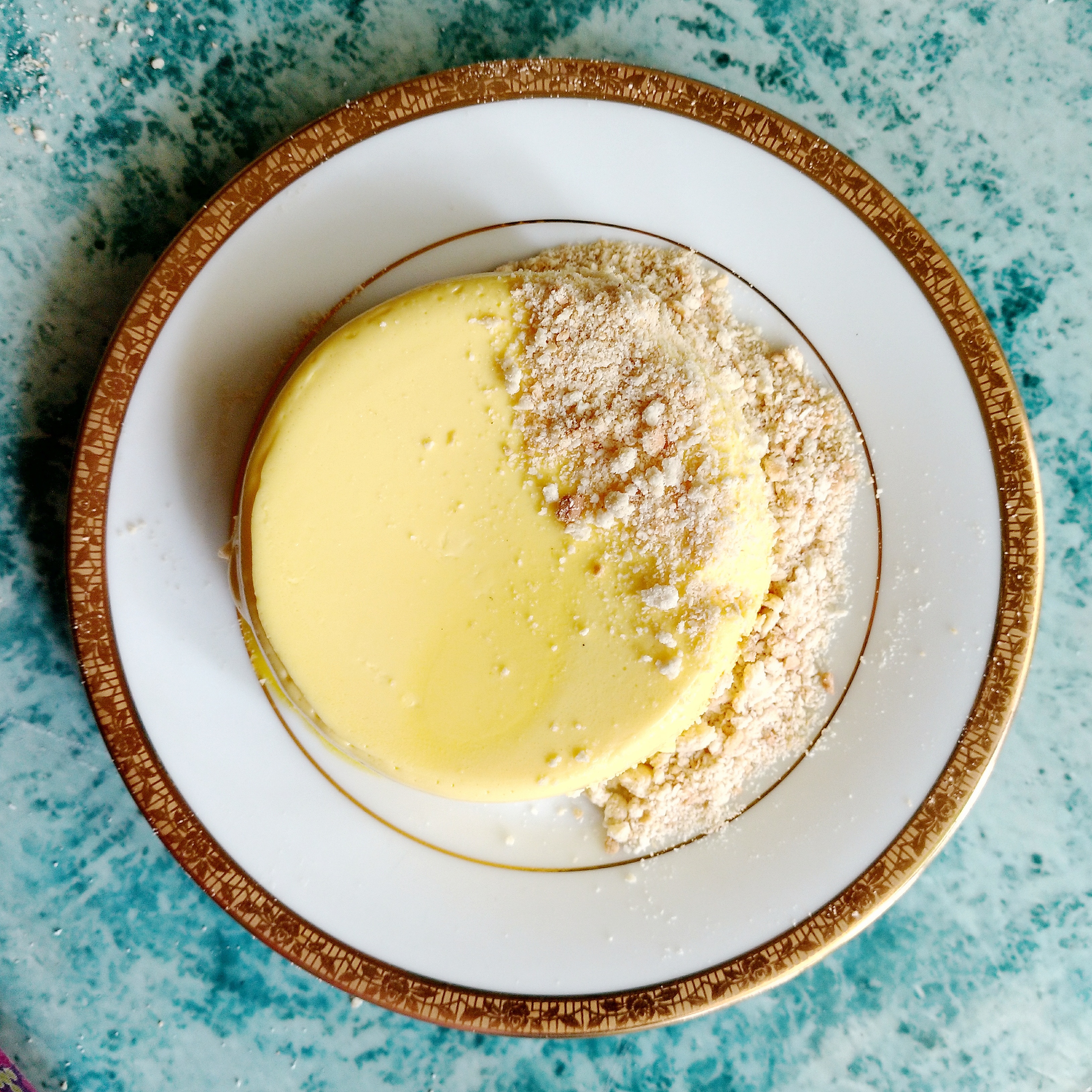 These saffron panna cottas are in the same vein. Modern look but Indian in spirit . I enjoy making panna cottas. They are simple and delicious and can be made ahead of time. Individual servings . So perfect for entertaining.
The saffron provides a beautiful colour and lovely subtle flavour. Do keep in mind that saffron varies wildly in strength (and cost!) So use as much as you need for the colour . Panna cottas can get a little one tone for some when it comes to texture and that is the reason for the almond crumb. It's optional of course, but quite easy to make and brings some crunch to the spoonful for the ones that need it.
Saffron and almond do go together fabulously !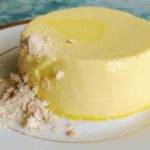 Saffron pannacotta with almond crumb
2017-10-07 15:57:22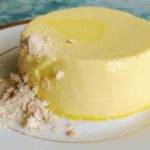 Rich and creamy saffron pannacotta with Almond crumb !
For the pannacottas
120 ml or ½ cup milk
360 ml or 1 ½ cups low fat cream
50 grams or ¼ cup sugar
¼ teaspoon saffron strands
2 teaspoon powdered gelatin
¼ cup cold water
For the crumble
60 grams or 1/2 cup almonds
56 grams or 1/4 cup butter , cold
62 grams or 1/2 cup all purpose flour
50 grams or 1/4 cup granulated or castor sugar
For the panna cottas
Heat the milk, sugar , cream and saffron strands until the sugar melts and it comes to a boil.
Take off heat and cover. Let it rest for half hour or more so that the saffron can infuse.
Taste it and add more saffron/ sugar as needed.
Sprinkle the gelatin over the cold water (in a small bowl) and let rest (bloom) for 5 minutes.
Heat the cream mixture again and as it is about to boil ( bubbles around the side), take off heat .
Stir in the bloomed gelatin and mix until dissolved. You can return to heat if needed but don't let it boil.
Strain the mixture into lightly oiled ramekins or serving bowls.
Chill atleast 4 hours.
Serve in the dish or run a small knife along the edge of the pannacotta and slightly nudge it out onto a plate.
For the Almond crumb
Preheat the oven to 200°C/ 400 F.
Peel and grind the almonds with a little sugar until fine.
Rub the ground almonds with the butter, sugar and flour until it looks like breadcrumbs.
Spread on a baking sheet, and bake for 20 minutes until golden brown.
Cool and spoon over the pannacotta while serving.
Notes
The pannacotta recipe makes 4 servings of little more than ½ cup each. You can multiply it to make as many as you want.
If you wish , you can serve the pannacotta in shot glasses/ martini glasses etc. In this case, chilling for two hours is sufficient.
I used Amul fresh cream to make the pannacotta.
You can use an equal amount of agar agar instead of using the gelatine.
The reason for straining the pannacotta is to remove any undissolved gelatine granules. If you think your gelatine is well dissolved , you can skip this step. You will have saffron strands in your dessert.
The almond crumb makes enough to generously accompany 4 pannacottas. You can use any left over over ice-cream or brownies. Store in an airtight container when not using.
You can also use readymade ground almonds or finely chop them instead of grinding.
FLOURS & FROSTINGS http://floursandfrostings.com/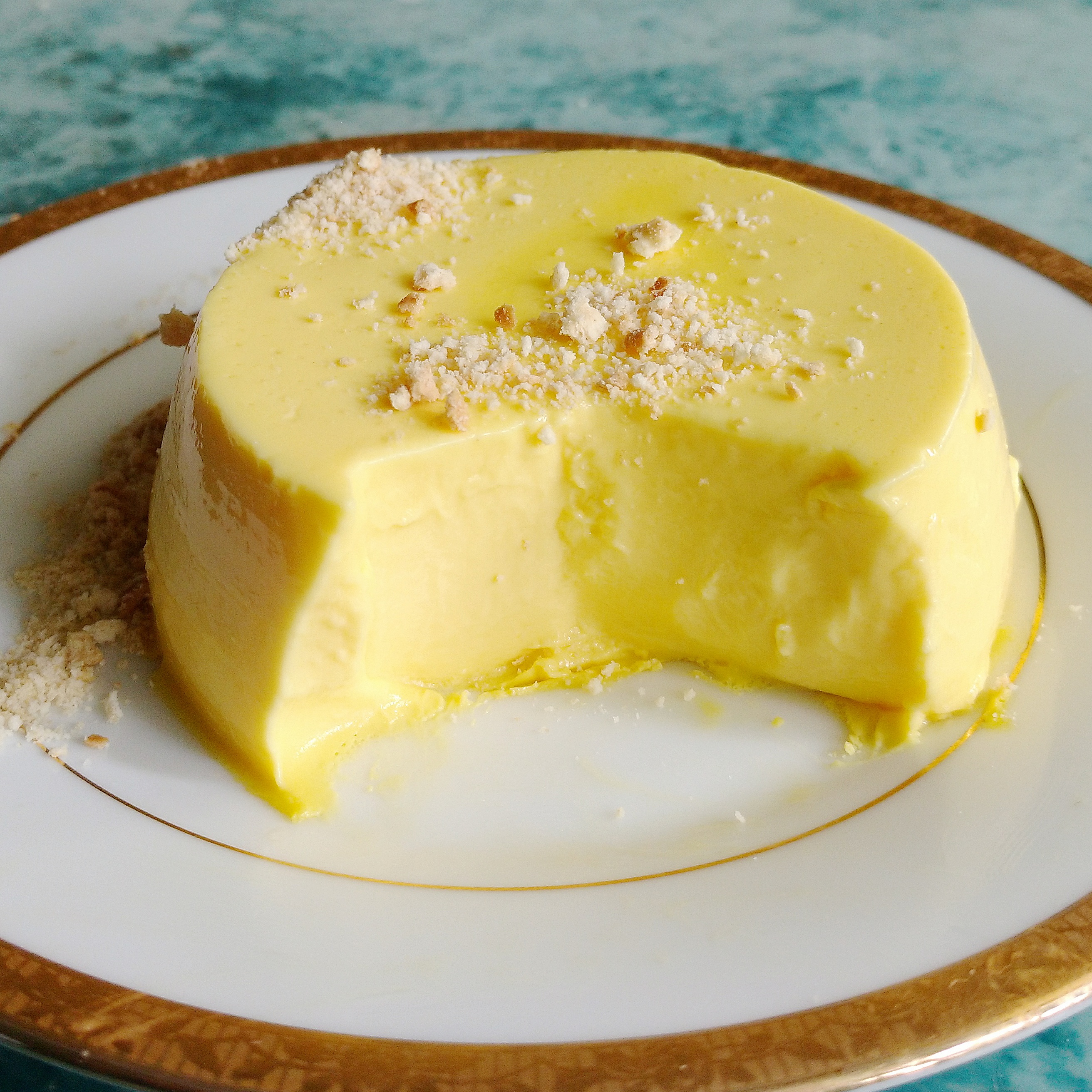 Even if I say so myself , this dessert is quite enjoyable . The panna cotta is rich and creamy and had that characteristic wobble , the almond crumble gorgeous with it. The whole plateful is understated dessert elegance ! Don't you agree ?