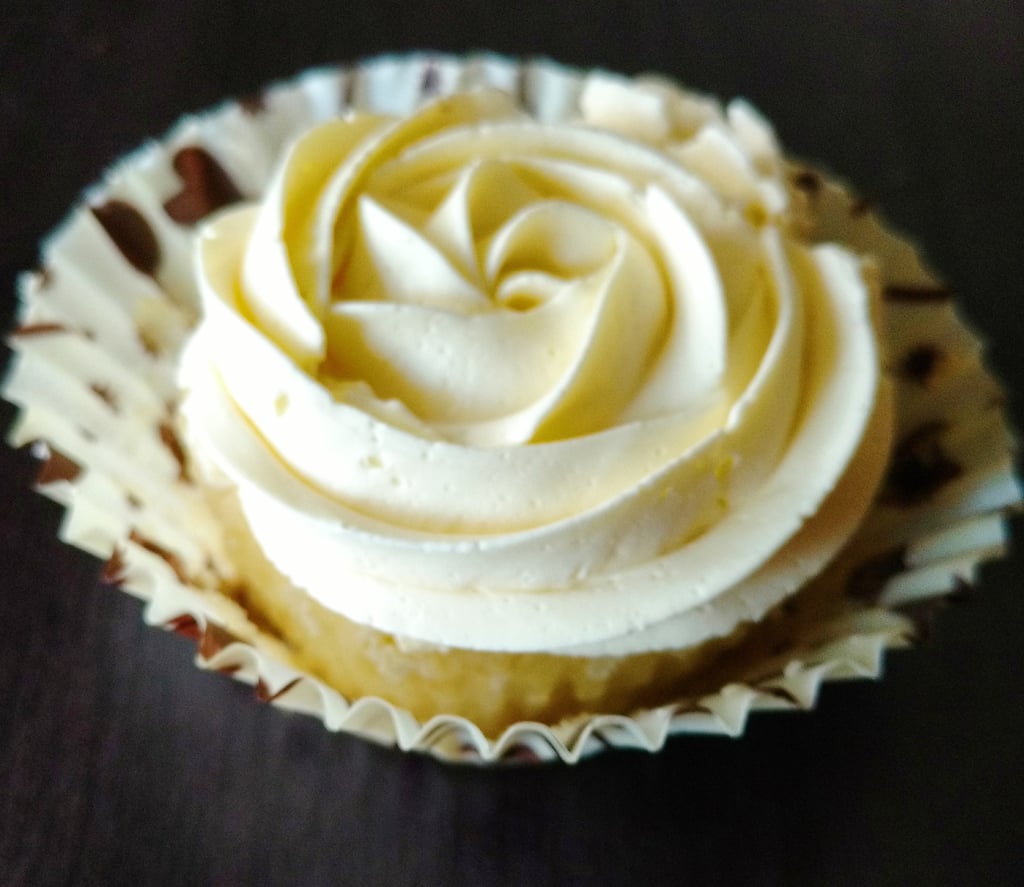 If you have been following this space, you would know that I have on here some in-depth posts on different types of frostings . Just my attempt to demystify them for beginners who might be thrown off by how complicated or laborious some frostings may seem!
This post was a long time coming . I already have on here a couple of versions of swiss meringue buttercream already – this brown sugar (butterscotch ) one and this beautiful strawberry flavoured swiss meringue buttercream. I have said it before and i ll say it now – I LOVE THIS THIS FROSTING!
I have good reason for this affection of course : its smooth and silky , it isn't too sweet , it pipes well . It also easy to flavour it in a multitude of ways and since its so light , it goes with most cakes!
And once you get the hang of it , its pretty easy to make. I would classify it as a "medium fuss" buttercream. Because although it has a few steps more and needs egg whites unlike american buttercream, whipped cream and ganache. On the up side , it does not require a thermometer or handling of hot liquids like an Italian or French Buttercream requires.
I have to say my view here might be a bit biased as I haven't yet tried Italian buttercream yet ( Coming up soon though!). I have used and abused SMBC to my heart's glory , and I have tried a bunch of variations with it . So , I feel totally comfortable jotting down my sixpence about one of my favourite frostings!
Lets break down SMBC a little further !
What it is :
In SMBC, a meringue is formed by heating egg whites and sugar together and then whipping the mixture. Butter is then added to form a smooth buttercream and then in goes any flavouring . In Italian meringue buttercream , the ingredients are more or less the same but the egg whites are whipped on their own while a sugar syrup is added to them to make the meringue. The richer French Buttercream is similar to the Italian one, but yolks are used instead of eggs!
Ingredients :
SMBC essentially needs only three ingredients – egg whites , butter and granulated sugar. To these we add the flavouring of choice – any extract or puree or melted chocolate. Different recipes will give you slightly different measurements . These measurements work for me . Plus they are easily measurable (compared to like 4 1/2 egg whites) , makes a decent amount ( i usually never need 12 cups of buttercream) and can be scaled up (doubled, tripled and so on).
EGG WHITES : For best results , separate the eggs when they are cold and let the egg whites come to room temperature. Make sure that there is absolutely no trace of yolk in the whites as this will prevent the egg whites from whipping up to their maximum volume. You do not need to worry about pasteurising the whites beforehand as they will be heated . 4 egg whites used in the recipe here measure to about 120 ml or 1/2 cup.
BUTTER : Unsalted or salted works fine but I always use unsalted butter. The butter should be at room temperature , but not too soft or melty. If you press on it, it should take the impression of your finger but not go all mushy. Chop up the butter into cubes (Approximately of 1 tablespoon each) and keep ready before you start the process.
GRANULATED SUGAR : Nothing much to say here – just standard fare white granulated sugar.
Procedure :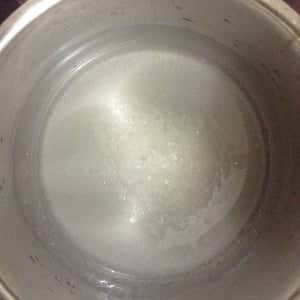 Measure out the egg whites and the sugar into a clean stainless steel / metal bowl / bowl of your stand mixer .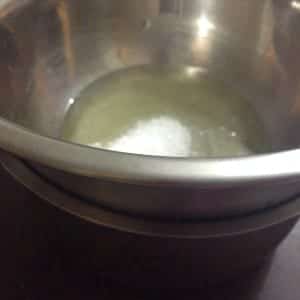 Fill a saucepan with about an inch of water and place the bowl on it – such that it fits snugly in and the bottom of the bowl does not touch the water.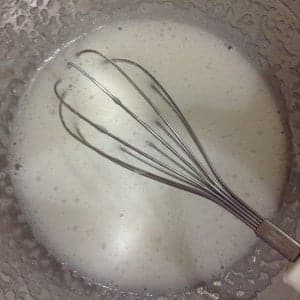 Place the saucepan (with the bowl on top and the sugar + egg whites in it)on the stove top. Heat at low , while stirring the mixture with a whisk continuously. The whisking is to prevent the egg whites from cooking . Stir while heating until : 1) all the sugar is dissolved, 2) if you feel the mixture with your fingers (it won't be too hot) , you will not feel any graininess 3) if you are using a thermometer , it registers 160 F/ 70 C. This will take 3-5 minutes.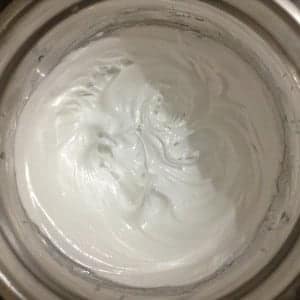 Switch off the heat and take the bowl off the saucepan. Using a hand held mixer or a stand mixer , start beating the egg whites at medium high speed . Beat until : 1) the outside of the bowl doesn't feel hot anymore and is cool.2) the egg whites have stiff peaks ,and are white and glossy.
This will take 6-10 minutes depending on your mixer.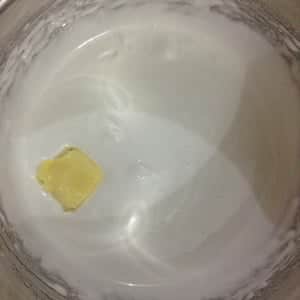 Now its time to add the butter . While beating , Add one cube (about a tablespoon ful) at a time . Once its incorporated , add the next bit of butter (within a few seconds) . Repeat with all the butter. Your meringue will collapse a bit as you add the butter.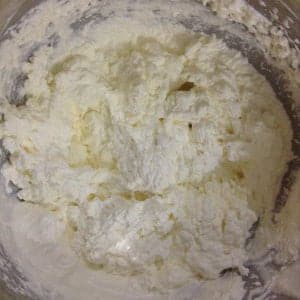 Once all the butter is added , the mixture will look all curdled . Do not worry- it will come together ! . Keep beating and in a few minutes you will see the beautiful , luscious , smooth and silky Swiss Meringue Buttercream !
Now you can add gel food colouring or flavouring and beat just until incorporated.
Storing :
Store in the refrigerator in an airtight container for upto 2 weeks.
You can also freeze it for upto two months.
To reuse after chilling / freezing : bring to room temperature. Re beat it for a couple of minutes until you have the desired consistency.
An iced cake/cupcakes should be refrigerated but served at room temperature.
If the buttercream continues to seem curdled after adding all the butter, beat it at high speed for few minutes . If it still doesn't come together , This might be because the butter you added was too cold. Melt a little of the buttercream (About 1/4 cup) and add it to the remaining . Continue beating.
If the buttercream seems too soupy or liquid , this might be because you added the butter before the egg whites had cooled completely. Refrigerate for 10 minutes and beat again.
If you have difficulty with egg whites whipping up to firm or stiff peaks , make sure there is no yolk in the whites and that the bowl / beaters are absolutely grease free. As an added precaution, you can wipe them with a little bit of lemon juice or vinegar.
Amounts :
The amount of frosting required a baker to ice differs hugely ! Depending on how big you like the swirls on your cupcake to how much you like to coat your cakes with. And of course , a beginner and a master can do very different things with the same cup of frosting. Nevertheless I found that the 2 cups that this recipe yields lets me frost 6-8 cupcakes with high swirls , 12 cupcakes with lesser piping and a 7 inch cake (with 2 or 3 layers of cake) with a little left over.
For more cake layers or a 9 inch cake , I double the recipe .
Flavours:
Chocolate buttercream : Add 100-125 grams chocolate , melted and cooled.
Nutella buttercream : Start by adding two tablespoons of Nutella and beat it well. If you want more flavour , add held more tablespoon and beat well. Do not add too much at once and stop adding if you think the buttercream is thinning out.
Fruit buttercream : Start by adding two tablespoons of thick fruit puree / seedless jam and beat it well. If you want more flavour , add held more tablespoon and beat well. Do not add too much at once and stop adding if you think the buttercream is thinning out. Strawberry, blueberry , mango , lychees – all work well.
Extracts : Add one teaspoon of extract of choice .
Brown sugar or butterscotch buttercream : Use brown sugar instead of white .
Caramel buttercream : Start by adding two tablespoons of caramel sauce and beat it well. If you want more flavour , add held more tablespoon and beat well. Do not add too much at once and stop adding if you think the buttercream is thinning out.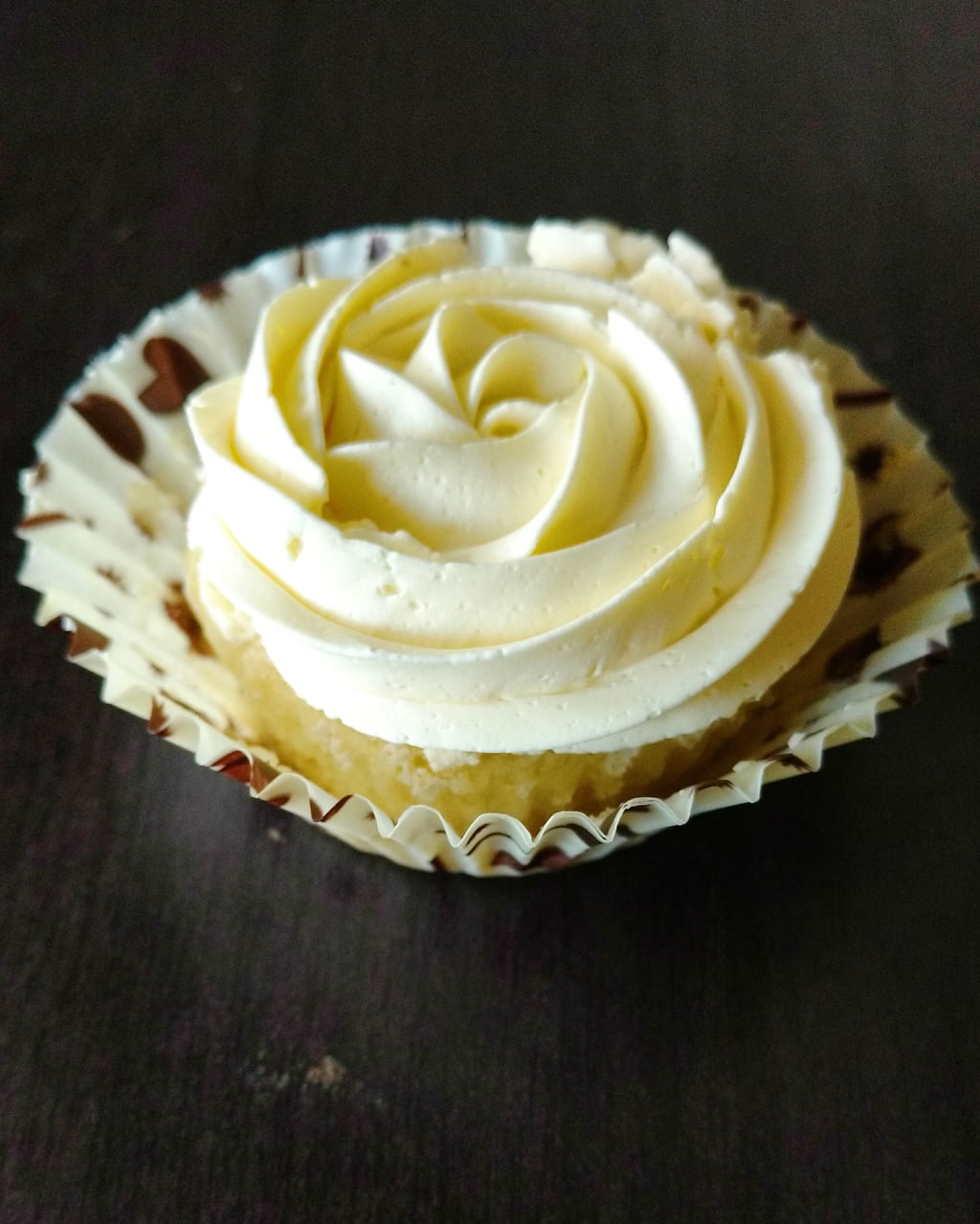 The only reason I can think of you not trying this buttercream is if you prefer not to use egg whites in your frostings. Its sweetness is point on and its stable , and pipes like a dream. Its gorgeously smooth and silky . If you haven't tried it already, you have to give it a whip!

Print Recipe
Vanilla Swiss Meringue Buttercream
Yum
A beginner's guide to the smooth, silky Swiss Meringue Buttercream!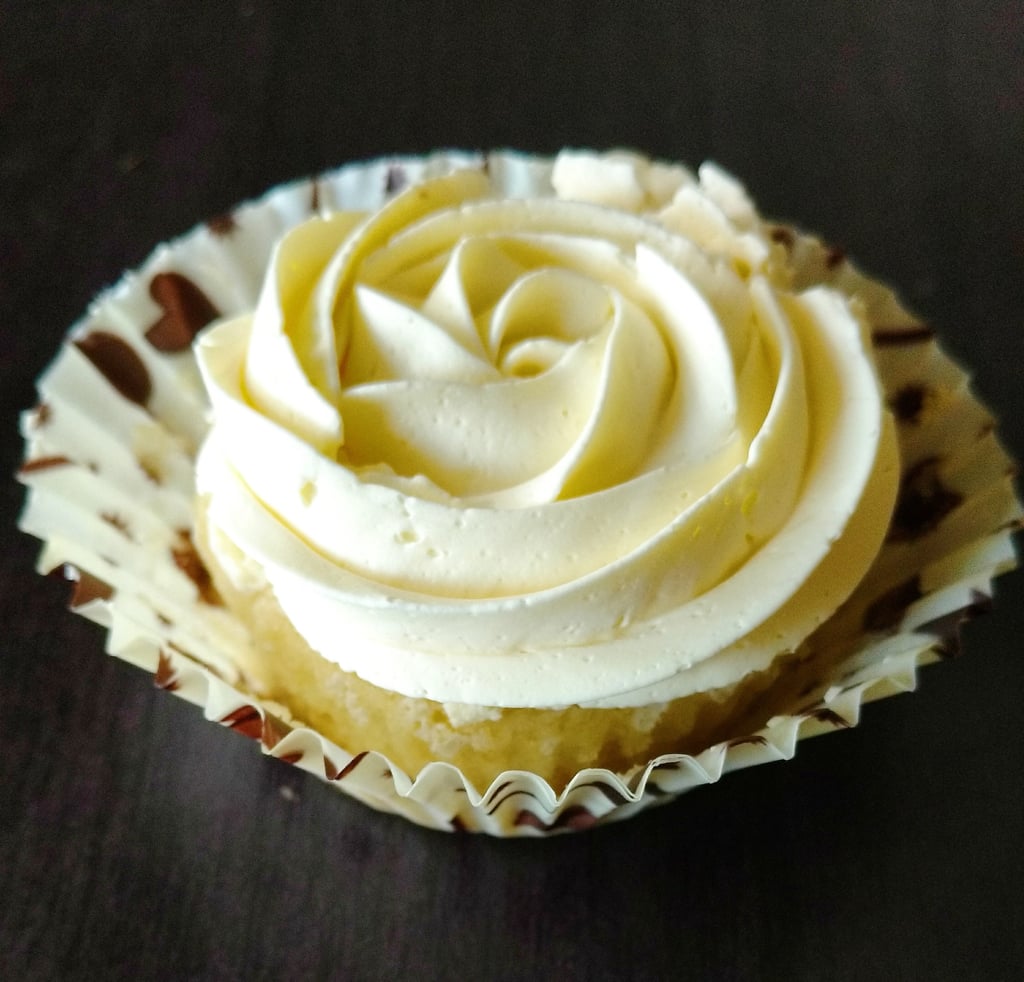 | | |
| --- | --- |
| | |
Whisk the egg whites and sugar in a metal bowl for a minute .

Place bowl over a saucepan with an inch of water (double boiler method) and bring the water to a simmer while whisking constantly.

Whisk and heat until all the sugar has dissolved , or a thermometer shows 160 F / 70 C.

Take off heat (And saucepan) and start beating at medium high speed until stiff peaks are formed and the outside of the bowl is cool.

Add butter , one cube (tablespoon) at a time while whipping. Repeat with all the butter.

Beat at high until desired consistency is achieved.

Add the vanilla and beat for 3-5 minutes more to remove any air bubbles.