"Sometimes a person needs a story more than food to stay alive."― Barry López.
When I had just started baking , sometimes searching for new recipes was frustrating . Everything was " my favourite" or "the best ever" or "the world's greatest" ! How do you choose when you search for vanilla cupcakes and Google Maharaj hands you over some 3678 "ultimate" vanilla cupcakes , all with a different recipe!
And now that I am a blogger myself , I rack my brains for more superlative adjectives and words to describe my cakes and bakes ! Double standards I tell you !!!
So this is another " best ever buttercream " or so proclaimed by the blog Not Quite Nigella (don't you love that name for a food blog!) . It is the brainchild of cake decorator and chocolatier Jessica Pedemont . And the reason I say "brainchild" ,because it is more or less an american buttercream in its essence, but it has a genius ingredient in it ! Which is ….wait for it…. WATER!
I for one don't like American buttercream much . I do not like making anything that has multiple cups of any type of sugar (there go my double standards again! I am an author at a baking and desserts blog!) . I abhor sifting icing sugar . And am not too fond of the final taste (far too sweet) or texture (more often grainy than not!) . Ofcourse there are some recipes that are better than others and flavours matter , like this fluffy Nutella buttercream .
But yes , in general , American buttercream is not my go-to and I know thats the case for many others. This new (and improved) version of the buttercream is made up of castor sugar (or granulated sugar if you don't have castor ) , butter and water. I have played around with the quantities a little to make it easier for people who don't have weighing scales. My adapted version works just fine but check out the original amounts on Not quite Nigella if you do have one . And check out her pretty piped flowers !
The buttercream is smooth , just sweet enough and pipes well ! Its quite similar to the swiss meringue buttercream in texture and taste (although i am still partial to the swiss buttercream !) but doesn't have eggs … so yay for that !
This is a great solution for those who like the ease of the american buttercream and the taste of the swiss buttercream ! As you can see, its quite easy to make and pipes quite well ( my mediocre piping skills not withstanding!) . This will not crust. Its smooth and luscious and gorgeous . Is it the " best ever "? Like always , you' ll need to try and let me know!
For another good and a lot more different egg free frosting option , check out the Flour buttercream !

Print Recipe
The "new" buttercream
Yum
Easy and smooth buttercream that is easy, not too sweet and great for piping!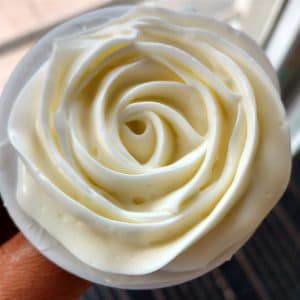 | | |
| --- | --- |
| | |
Make sure the butter is at room temperature . If you press it , it should show the indentation of your finger but shouldn't be all mushy. Beat the butter in a mixing bowl using a handheld electric mixer or stand mixer for 6-8 minutes at low speed until it is all smooth and almost white.You can also use a wooden spoon.

Add in quarter cup of the sugar and 2 tablespoons of the water ( half amounts of both) and beat until fully incorporated and smooth. It shouldn't feel grainy . Scrape the bowl as needed.

Add in the remaining quarter cup of sugar and 2 tablespoons of the water and beat until smooth and fluffy and not grainy . This will take about 4-5 minutes depending on your mixer.

You can now add the vanilla / extract of choice and beat until incorporated. Your buttercream is ready to use!

Mango buttercream : I added 1/4 cup thick mango puree from one mango for this mango buttercream that I used in my Mango and vanilla layer cake.

Chocolate buttercream : I added 100 grams melted chocolate for this chocolate buttercream that I used in my Rocky road cake.
Also:
This can be stored in the refrigerate for upto a week and frozen for two months. Bring to room temperature and rewhip to desired consistency before using.
If you don't have castor or super fine sugar , pulse your regular sugar in the blender or processor once. You could also use granulated sugar but will need to beat the buttercream more.
You can use salted butter if your butter is only mildly salted and you don't like too sweet a buttercream .
Flavouring suggestions : upto quarter cup or thick fruit puree / jam , upto a 1/4 cup of melted chocolate , 60 ml of coffee instead of the water .