Why did it take me over a year and a half to share my favourite dessert on the blog? Probably because I thought most food blogs have a version of the Tiramisu . And maybe because it is next to impossible to get a clean slice of this otherwise near-perfect treat. Especially for an impatient person like me . I mean , I make this often and clicked a few pictures too, but the Tiramisu didn't look even half as appetising as i wanted it to look .
But then I figure a classic is a classic. And when a few readers wrote in requesting for a Tiramisu recipe , I knew I couldn't keep it away from the blog any longer. Any dessert that means "pick me up" has to be a part of my life , and YOURS!
Tiramisu is an Italian dessert made with slender biscuits called Savoiardi ( lady fingers or sponge fingers) dipped in a coffee and liquor syrup and layered with a mascarpone cheese and egg yolk based custard (Zabaglione) . A dusting of cocoa powder on top is customary and attractive, but not essential. It is chilled and served cold ,sliced onto dessert plates or scooped into bowls (like a trifle). For a coffee lover , this has to be one of the most gratifying sweet treats ever. Atleast me thinks so!
Like I said , there are many versions of Tiramisu and a lot of people who will argue that it is NOT a Tiramisu if its not made a certain way. I aint much of a stickler for rules. But I have made my share of this dessert with enough variations that I can tell you what works for me and what doesn't .
The Savoiardi : I do make my own lady fingers and they are pretty darn good. Not too difficult to make either. But I have to be honest , if you can pick up a pack of ready made Savoiardi , go for it. One less step that makes your entire Tiramisu no-bake , and the cookies hold up better than home made. You can also have a look at my egg free ladyfingers or just make a vanilla sponge cake if you just don't want the hassle of piping .
The Mascarpone : This is a MUST ! Please do shell out the extra bucks for this cheese (or for the fuel to drive down to the gourmet store to pick up this cheese) . It is sweet and creamy and absolutely essential for the "tiramisu experience ". You could try making your homemade mascarpone too.
The liquor : Kahlua is great , I use rum which works awesome as well . You could add whisky or vodka of your choice , or just skip the liquor altogether. No issues there !
The filling or Zabaglione : Since I am not entirely sure what I feel about using raw eggs , I just make an egg free filling. Some fillings with the egg yolks are cooked on the stove top , but I would rather not separate eggs and figure out what to do with the whites if given a choice. I use heavy cream for the volume in the filling , because once again I like to avoid whipped raw egg whites .
The dish and the serving : The big advantage of making your own lady fingers (or vanilla sponge) is that you can make them in the size of your dish ! You can use any round , square or rectangular dish to layer your Tiramisu . Just slice / scoop and serve. But if you plan to serve it upright (freestanding ) , you can use a mould / dessert ring or line a pan with plastic wrap and unmould before serving. I use a loaf pan , because i find it easier to line and unmould. This makes enough for 4-6 people with a healthy dessert appetite !
Scratch that. Most people who try this might come back for seconds… so be prepared !
Bake your lady fingers and let cool completely. Prepare the soaking solution by dissolving the coffee powder into the water . Once cooled , mix in the rum . Prepare the filling by beating the chilled cream to firm peaks. Keep refrigerated. In another bowl, beat the cheese, sugar and vanilla until smooth. Do not over beat or it will look curdly. Fold in about 1/4 cup of the whipped cream into mascarapone mixture (to lighten it). Fold in the remaining whipped cream. To assemble : If you plan to unmould your set Tiramisu , line your pan with plastic wrap leaving it long enough on the sides to pull out later. Dip each lady finger in the soaking solution , remove , dip the other side and place it your serving dish. You want the cookie damp but not soggy and limp. Repeat with all the cookies and line them up in your pan so that the bottom is covered. Spread about quarter cup of the filling over the lady finger layer or you can pipe it on . Repeat with another layer of lady fingers and the filling until you have used up all the lady fingers. Smooth the remaining filling on top. Cover and chill for 4 hours or longer. If serving from the pan , dust the top with sifted cocoa powder . If serving upright , place the plan upside down on your serving plate or tray. Remove the pan , remove the plastic wrap , smoothen the sides with a spatula or knife. Dust the top with sifted cocoa powder.
I made this Tiramisu in a 9 x 4 inch loaf pan , layering the sponge fingers 2 by 3 (6 in one layer) . For an 8 inch square pan , you will need double the recipes .
Do not worry too much about the pan size, you can break up the cookies to fit your pan.
Skip the rum if you want to make this alcohol free.
You can adjust the amount of coffee and rum in the soaking syrup but try to keep it strong for maximum flavour.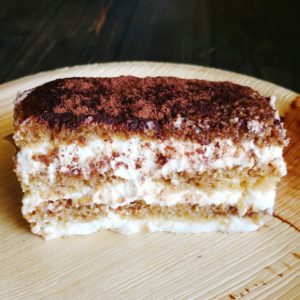 If i could convince people to try one dessert in life , it would be Tiramisu. It is invariably my order if its on the menu anywhere we dine. This homemade version is bound to impress your family and guests just as much.
If you feel tiramisu is done to death , maybe this revamped mango tiramisu can get you more interested !