I enjoy connecting with my readers, and love it when they write in- whether it is to share what recipes worked and what didn't or to ask what cake to bake for a certain occasion or to ask baking related queries.
I receive several messages and emails every day and I am often asked the same questions over and over again – What butter do you use ? Which oven do you recommend ? Which chocolate do you prefer ? Is this weighing scale good enough?
Don't get me wrong – I love hearing from each one of you and helping in any way i can. I will never tire of responding to any query ! But when I realised , i was typing the same words over and over again , I figured it made sense to put all the information in one place. And after a few of you suggested I do this post about the baking equipment and ingredients I use, I finally sat down to write this post !
So you guys already know what i bake , and how I bake, here s what i bake with!
Some disclaimers though :
I have provided links to most of the products below . This is to give you an easy way of buying them if you wish or just to give you an idea of how the product looks. Some of these (some, not all) may contain affiliate links. But you have my word , that i own (and love) each one of these . I would never recommend anything that I am not behind 100% !
This post is meant for beginners and people who are thinking of giving baking a try. Some things may seem silly to you ( and to me when i was typing it out), but as a beginner even i had these same queries.
I am based in India and hence all the options below cater mainly to an Indian baker.
These aren't necessarily the best baking equipment or ingredients available – there might be more expensive ones . But as a hobby baker , I bake because I love it . I don't make any money off it , so I try not to spend exorbitant amounts of money on it . So while I would pick up a super expensive brand of cocoa powder while travelling , I would use it in a cake for a special occasion or brownies for a friend i am meeting after ages. Not just for a wednesday or thursday random bake. You know what I mean ? Also, I don't keep my things very well. So i just wouldn't spend 4000 bucks on a mixing bowl (whatever the brand maybe or however pretty it looks ) because I know i will end up scratching it up or it may slip from my hands on its very first outing. Doesnt mean I am cheap. I did overspend on my baking tools and picked up too much unnecessary stuff in the beginning, but now I use only good stuff and stuff that works – I always go for value for money !
These are my personal choices and options that work for me. They may or may not work for you ( although i am sure they will!)
So here goes !
Microwave and convection oven
When i started baking , i used a Samsung Convection Microwave Oven
that i had ( I still use it) . Contrary to what many say , I always had good results in the convection oven. The main advantage of having a convection oven ( as opposed to an OTG) is obviously that you have one appliance that does the job of two – so you can bake and you can reheat . You save counter space by having only one device . Also a microwave is useful for some steps of baking – like melting chocolate , dissolving gelatine , reheating ganache etc – which can be done on stovetop , but much easier in a microwave. So , If you want to invest in a microwave, I definitely suggest this Samsung one.
That said, if you are serious about baking – I would strongly recommend you buying an OTG . Reason one – the bakes come out better , no doubt about that. The baking time is shorter and the browning is better. Reason two – there is not much size limitation. most convection microwaves allow only a 8 inch square pan , a 10 inch round pan or a 6 cavity muffin pan at one time. So if you bake for more people or your recipe calls for more cupcakes , you might take double the time (and electricity ) baking. Making cookies especially is irksome because it takes several batches for a single recipe.
Oven Toaster grill
I now own a Morphy Richards 52-Litre OTG
. Its one of my most prized possessions . 52 litres is a size that works for me , it allows a 9 x 13 inch rectangular pan or a 12 cavity cupcake pan or a jelly roll pan or two 8 inch round pans at the same time ( on one rack) . I bake only for family and friends , but i like making layer cakes and since i distribute most of the stuff I bake at my workplace , i like the amount of baking i can do in one go. You can go smaller in size like a 18 litres
if you bake only for family , or bigger at 60 litres
if you wish.
It takes a while to understand any oven , and while Morphy Richards ovens are notorious for overheating , after one or two bakes , you realise whether to set the temp higher or lower than the recipe. Or you can use a oven thermometer to remove the guesswork (i don't own one) . I have never had to service the oven in over two years, but the service is good i hear. It does take up a good bit of space on your counter though.
Hand mixer
I have owned this Philips hand mixer
for over 3 years now and have no issues with it. It is strong enough for all my bakes and not too heavy to handle. When i started baking , I bought a relatively inexpensive Orpat mixer which was great as well. I stopped using it when I got my Phillips hand mixer (which was a gift) but i passed it on to someone and it still functions well. So if you are still unsure whether you will stick with baking , or just don't want to spend too much , go with the Orpat one. If you find it somewhere, because I don't see it on Amazon.
I do own a stand mixer- an inexpensive brand that cost me around 2k . It was good value for money , because it cuts down on prep time a lot and you can use it as a hand mixer (without the bowl) as well. But my main issue was that , the bowl is plastic and hence not ideal for whipping cream , whites or meringue. Also the mixer comes with only whisk and hook attachments and not the paddle attachment that other more expensive stand mixers come with. I don't think this is a bad product, but I prefer using my hand mixer over this.
The reason I don't own a Kitchenaid or Kenwood is because it didn't make sense to me to spend that kind of money on a mixer when baking is just a hobby. Thats just me ! I may change my mind someday.
Weighing scale
I definitely think every person who bakes regularly, should have a weighing scale. The accuracy of measuring ingredients makes a super difference in your finished products , cuts down prep and cleaning time. And some ingredients are just a hassle to measure by cups and spoons – like butter and chocolate. I own this inexpensive one
which does the work and has not given up on me for years. It weighs from 5 grams to 10 kgs , and has a tare function (zeroes out previous weight) .
Measuring cups and spoons
Even if you own a measuring scale, you will need
The silicon ones brighten up your baking drawer and the ceramic ones are pretty collectibles , i have bought several sets of both before realising that metal measuring cups are the best – they are accurate , easier to clean , last longer and don't break on you. I own the exact same set as the picture
and use it religiously .It has 1/4 cup, 1/3 cup , 1/2 cup , 1 cup and 1/4 tsp, 1/2 tsp, 1 tsp and 1 tbsp measures.
Liquid measuring cup
While measuring cups are great for measuring out dry ingredients, a measuring glass is ideal for measuring liquid ingredients.
I own a Pyrex measuring glass
which is marked accurately and since its glass , it is easy to pour liquids (even hot) into it exactly upto the mark required . Since it holds about 2 cups (500 ml) , in recipes that require mixing of liquid ingredients together, you can pour each ingredient upto the measurement you need, stir and pour into your dry ingredients. You can also fill your batter in and use it to pour into cupcake liner cavities or a bundt pan too. Plastic ones are cheaper , but the markings get blurred , gets dirty easily and absorbs oil/ grease after a while .
Round and square pans
I strongly recommend good quality aluminium as opposed to non stick or dark coloured pans . Dark pans absorb heat and can cause excessive browning. If you do use them, bake at a slightly lower temperature. Also, non stick ones show scratches and stuff much worse than aluminium ones.
I bake a fair bit, so i own two 6 inch round pan, two 8 inch round pan and a 9 inch round pan (which i rarely use). I have a 8 inch square pan too.
If you like making celebration cakes, it makes sense to pick up two identical pans in the same size ( if you have an oven that accommodates two at a time) if you don't like slicing and stuff.
Try to pick up pans that are atleast two inches in height.
Loose bottomed pans are useful as you can just push from below to release the cake – especially helps in deep pans that yield high cakes . But there is a chance of leakage, so you should move these pans carefully once the batter is in. i always place these pans on a baking sheet on the wire rack while baking. Easier to clean a baking sheet than the bottom of the oven.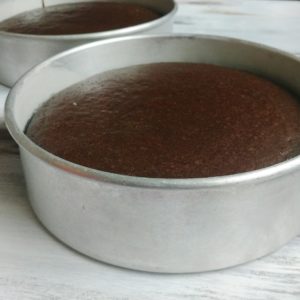 People often want to know how many pans they need to buy to start baking. If you buy only two pans – i would say buy a 7 or 8 inch round pan and a 8 inch square pan. Most recipes for cakes are for 8 inch round pans (which can easily be made in 7 inch pans as well) , and 8 inch square pan is perfect for brownies , bars and snacking cakes.
My 8 inch round pans (in which I baked my one bowl eggless chocolate cake in the picture) are from CCDS online shop. They are sturdy and shiny , and about 2 inches in height. CCDS has a great collection of pans including their cheaper in-house brand and the pricier Wilton / other brand ones.
My 6 inch round pans are loose bottom, about 2.5 inches high and I got them from Institute of Baking and Cake Art , Bangalore. You can order them here. I also got my 8 inch square pan from them and is one of my most used pans as I make a load of brownies and bars .
Loaf pans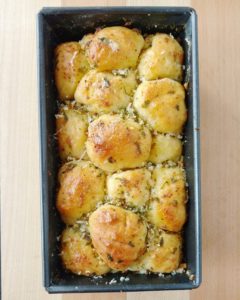 I hardly bake bread , my loaf pans are used mainly for loaf cakes . The standard size is a 9 x 4 inch pan , but i have seen that they range from 8 inches long to 10 inches long and vary in width. This is not a deal breaker as you don't have to alter recipe amounts among such small variations anyways- but have to keep an eye on the baking time . I have a couple of loaf pans – a ceramic one and a non stick one (in the picture). I was gifted the ceramic one which was bought in Jamal's ( Forum Value Mall , Whitefield) in Bangalore. The non stick one I bought from Amazon
and is my third one i guess (scratched and stained my previous two) because I haven't been able to find a good aluminium one (the bread ones are a little narrower).
Muffin pans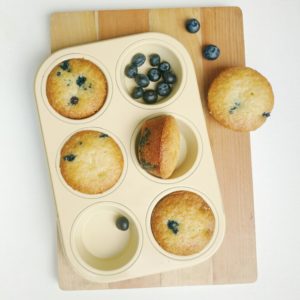 You will need a 6 cavity muffin pan if you have a microwave convection one and I suggest a 12 cup one if you own a big enough Otg. I have an aluminium 6 cavity one and a ceramic one (from Jamals) which is in the picture and which was gifted along with the loaf pan ! My 12 cavity one
in which I made my whole wheat eggless banana muffins is non stick and dark, and I don't like it as much because muffin sides brown excessively and the underside of the pan gets greasy and dirty. When i get enough use out of it , I will buy a 12 cavity aluminium one.
Cookie Sheet
This is basically a flat sheet with no or just a rim on the side. I never found an actual cookie sheet to fit in my microwave convection oven, I just used a square metal plate. Now i have a 9 x 11 inch rectangular sheet . You can pick the largest size that will fit in your oven.
Springform pan
A springform pan basically has a loose bottom and a clasp on the side to close . So when you done baking, you undo the clasp and the entire side of the pan loosens. You don't have to upturn the cake like with a normal pan. It is meant for delicate cakes like cheesecakes . You can also use them for mousse cakes, no bake cheesecakes , ice cream cakes etc .
I am not a big fan of these pans as they aren't leak proof. You need to wrap aluminium foil around the bottom if you are baking in a water bath (how cheesecakes are baked ) . I have a set of three such pans
which I picked up early on , before I realised i didn't find non stick ideal for baking in. I have to say they are value for money .
Bundt pans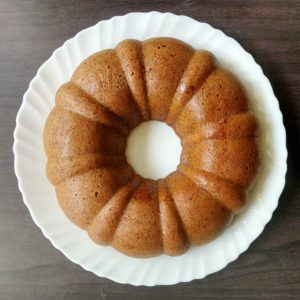 These pans are great as you don't have to worry about making your cake look pretty – the pan does all the work for you. You get intricate designs on some of them and Nordic ware is a favoured brand. The downside is that most Bundt pans (the 12 cup ones) need large cake recipes so you make a whole lot of cake . Which is a problem if you are baking for less people. Also, these need to be greased and dusted really well to make sure the cake comes out of the pan in one piece! And the more complexly shaped bundt pans may yield cakes that are slightly tricky to slice. I recently acquired a Nordic Ware pan
that is pretty yet not overly fussy . The banana cake in the picture has been baked in it.
An easier but plainer alternative is the ring or tube pan
(the above one is from Amazon) that has a smaller capacity hence lesser cake, easier to unmould and slice. But ofcourse , the wow factor is far less. Recipes that bake well in Bundt and tube pans are pound cakes , dense cakes and tea cakes.
Ramekins and smaller moulds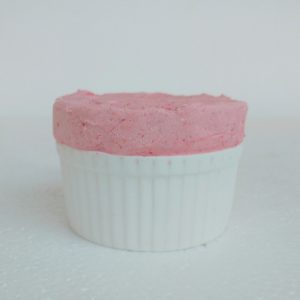 These are useful to bake and serve individual sized desserts – think chocolate lava cake , panna cotta , puddings, shuffles , creme brûlées etc. I own a couple of sets of ceramic ramekins
like you see in the picture.
Tart pans
These are needed for baking tarts or pies or quiches , and you can buy them later on in your baking journey if you wish. I own a 9 inch aluminium tart pan (which is a standard size foe most recipes) with removable bottom and also a set of four inch pans . I strongly recommend buying a removable bottom tart pan – removing the finished tart is such a breeze ! I own a silicon one ( early buy which i used only once) and a ceramic one which is super pretty but is good to serve in , not as easy to remove the tart/ pie as a whole unless your tart base is super buttery.
Silicon and glass Bakeware
You get an array of silicon bake ware – from regular sized round and square pans to various shapes like heart, flower, car etc. You also get speciality silicon pans like bundt pans, muffin pans , mini-bundt pans , madeleine pans etc. I own a few of these but i have shifted to aluminium since . Silicon pans main advantage is apparently that you don't need to grease and line them . However, its difficult to move them into and out of the oven ,as they are not rigid. You have to ideally place them on another baking sheet to move around. And while unmoulding, I feel its easy to damage (break) the cakes and bakes. Also, they are either more or as expensive as aluminium or non stick bakeware. So personally, I don't see any reason to buy silicone bakeware – unless you like filling your kitchen with lots of colour!
Parchment paper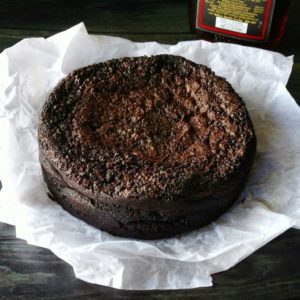 I always use parchment paper for my round / square pans / cookie sheets . There is even browning of the bottoms and no fear of sticking. Especially for baking brownies and bars, parchment makes unmoulding and slicing so much easier. It is also useful for setting up things like praline, chocolate decorations , caramel etc. For me , it doubles as food prop like in the picture with my chocolate rum cake!
I don't line the sides of my pans as i didn't find much difference in the bake when i did a few times , and I am much too lazy to take the extra effort when there is not too much of a benefit ! The downside is that parchment paper is not easily found around other than specialty baking stores or a handful of big supermarkets. You can also order yours online
.
Mixing bowls
I recommend stainless steel mixing bowls as a) they are light b) they are easy to clean and don't hold on to grease c) they don't scratch easily d) certain things like cream and egg whites whip best in stainless steel e) in recipes that need a double boiler ( like melting butter or chocolate , or dissolving sugar in smbc ) , you can use these bowls and f) they are inexpensive. Glass is good enough but they are heavier . Plastic ones are a big No as they hold on to grease over time and aren't the best for whipping up egg whites and such.
Also, if you bake regularly – i would suggest keeping a set of bowls just for baking. This is not a must but just gives an order to your baking and keeps them from getting remnant odors or flavours from your butter chicken or idli batter.
I have a set of Stainless Steel Mixing Bowls
of different sizes . There is not much sense to buying very big bowls as even if you prepare batter , you might not be able to bake it all at once. And even if you need to whip a large quantity (for example cream or meringue ), the whisks of a hand beater will not reach the bottom of the bowl. I also own a set of Borosil Glass Mixing Bowls
and they are good but i find them heavy and you have to be more careful with glass of course (and i am not a careful person per se ), so i don't use them for day to day baking.
Hand tools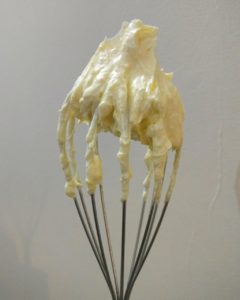 Must have tools – a whisk and a spatula . You can actually make most batters and mixes with just these two ( sometimes with a whole lot of effort , but you can!) . I prefer a stainless steel balloon whisk
as opposed to a silicon or plastic one as it gives a better grip and sturdier whisking. The silicon spatula
with a plastic handle works well. They are useful for mixing and folding batters and scraping off the batter from mixing bowl to baking pan.
I do own a thermometer
, which is good enough for its occasional use. It is not essential to own one because some things that a thermometer is used for , you can guess estimate. For example, the temperature of water before yeast is added , or the temperature of caramel . But for other things like making candy or Italian meringue buttercream or tempering chocolate, you are better off owning one.
I also have a zester
. This is a nice-to-have tool , especially if you like citrus in desserts like I do.
An Ice cream scoop
is useful if you like making homemade ice creams but also for filling your cupcake pans and bundt tins. I have the spring loaded one in the link.
Cake decorating tools
I dont do much cake decorating. But i love making layer cakes , so i can decently slice, fill and frost a cake – as well as make some rosettes and write happy birthday ! If like me , you like making the family's birthday cakes , you can invest in a turn table , some spatulas and a few piping tips – to begin with.
I have a metal turn table
which i bought from a baking store in Bangalore but the exact same one is available on Amazon. It is 12 inches wide and is sturdy and moves smoothly. In case this is too heavy and big for you, you can go for a plastic one.
Ideally you should have a offset (or bent) spatula longer or as long as the diameter of your cake . Its useful to have two of these in different sizes to help spread filling in between layers and to smoothen frosting on the tops and sides of the cake.
I prefer disposable icing bags to the reusable variety as they are just easier to use. There is no hassle of cleaning them and there will be several times when decorating a cake (especially with multiple colours) that you will need multiple icing bags. The only advantage of a cloth (not sure what the material is!) bag is that it is sturdy while a disposable bag might tear on pushing thick frosting through it.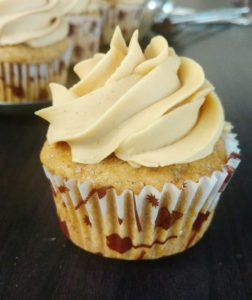 There are a thousand and more icing tips – when you start off, you don't need that many. Some companies number their tips (like Wilton), some don't. I suggest a small round tip to write , an open star and closed star tip for some easy piping , and a couple of petal tips for making flowers . This was the set
i started off with ( one open star, one closed star , one small round, 1 petal and one basket weave tip) and you can do a whole lot with it ! You can add on to it as you decorate more ornately . I also strongly suggest a Wilton 1M Open Star Tip
(I used this for the eggless coffee cupcakes in the picture) which makes beautiful rosettes on your cakes and awesome swirls on your cupcakes. You can also order one here. Also , a large round tip
would come handy for piping macarons , choux pastry or making dams in your cake layers (so the filling doesn't out).
A pastry brush is useful to brush syrup over your cake layers and trust me , you will be using it in several other ways once you have it ! A silicone one
may look good, but i prefer a fibre bristled one . I just feel it does the job better.
Baking ingredients
I had several second (and third and fourth ) thoughts about writing this section as a lot of it isn't path breaking information. But again, keeping in mind queries a baking beginner may have ( and I did at one time) , I am just jotting down my preferred brands in core baking ingredients .
Flour , butter and eggs :
These are core in any of my bakes and I am very very casual when it comes to them.
I pick up any maida (all purpose flour) pack that I find in any store that i go to and the same goes for whole wheat flour (although its usually Pillsbury or Aashirwad) .
I prefer unsalted butter as you can control the salt in your recipe and have used Amul, Milky Mist , Nilgiris , Govardhan, Vijaya etc and haven't found a difference in bakes among the brands. I have used salted butter on occasion- skip the salt in the recipe, and the cakes turn out fine! Homemade butter works well too.
If you see some recipes , there is a huge confusion about medium, large and extra large eggs. In India the eggs we get usually are medium to large in size. I pick up any eggs at the supermarket and they usually weigh about 50 grams in the shell (i have checked several brands) . When recipes ask for large eggs , I use these eggs and they work fine . I generally work with recipes that use 4 or lesser eggs. If your recipe asks for 6 or more large eggs, then i would suggest adding one more egg.
Sugars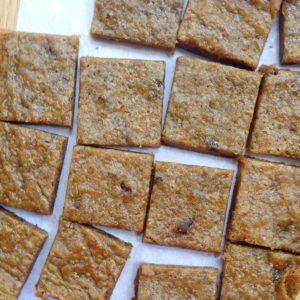 There are several kinds of sugar that goes into baking. And they are found in most supermarkets ,and can be ordered online too,
Regular sugar – I use regular granulated sugar for most of my cakes and cookies. i use any brand that i can get or whatever is lying at home
Brown sugar -Cakes that have brown sugar are moister and cookies (like chocolate chip) / brownies (or blondies like in the picture) are chewier. Light and dark brown sugar are usually interchangeable although there can be a difference in the colour of the baked goods, and for brown sugar i prefer the organic brands Organic Tattva
and Pure & Sure
.
Castor sugar (breakfast sugar) – It can be used wherever granulated sugar is used. It infact yields better results as the granules dissolve faster. Blue Bird
Eagle
and Mawana
are commonly found brands. I don't often buy castor sugar. I just pulse regular sugar once in the blender to get smaller granules.
Icing sugar (powdered or confectioner's sugar) – you will need this if you like making macarons , buttercream . Some delicate cookies like shortbread may also ask for icing sugar. Mawana
, Blue Bird
and Trust
are three common brands I use and I don't find any great difference among the three.You can make your own icing sugar too by grinding regular sugar, but i don't find it works as well as store bought. Packaged icing sugar has corn flour added which prevents clumping. In an emergency though, you can just make your own.
Baking powder, baking soda, gelatine and yeast.
Most grocery and supermarkets carry regular baking powder and baking soda. Urban platter also has a vegan , gluten free and aluminium free
baking powder thats great for regular and alternative baking.
While small packets of yeast are found in most shops , always be sure to bloom the yeast before using as their quality is unpredictable . I use SAF brand yeast which i picked up in the gulf and it works fantastic. Gloripan is another brand thats great. Again , I am not much of a bread baker, so my knowledge on Yeast brands isn't the best.
Gelatine , china grass and agar agar too are found in many stores now and while these store brands all work well , if you have a chance to visit a baking specialty store , do pick up packs of all these (baking powder and soda too) . In my experience , they work better ! You can order them from CCDS shop or Bakersmart if you don't have a baking store near you.
Chocolate , chocolate chips and Cocoa Powder
If there is one thing i am particular about in baking, its my chocolate ! 90 % of my baking is with chocolate.
In a nutshell, there are two kinds of chocolate – couverture ( pure and tastier but expensive) and compound ( not pure but cheaper ) . In most recipes , they are interchangeable. I prefer couverture chocolate, but i do use compound when i need to test a recipe with it, when i am out of couverture or when i have exceeded the baking budget for the month !
In Couverture chocolate , I love callebaut , which i used to order from CCDS online shop – its Belgian chocolate and in pellet form so you don't need to bother with chopping. I have also used Van Houten (50 % dark chocolate and 28% milk chocolate ) which i like but don't get easily , and Mii which i have mixed opinion of (the Milk Couverture
and White
, dark is kinda bitter ) . You can get Mii online (just click on the links ) but also in high end supermarkets like Godrej Nature's Basket.
But my go to brand is Cocoacraft . Its delicious . They have Bitter
(85%), Bitter Sweet
(70%) , Dark or semi sweet
(52%) , Milk
(38%) and White
(32%) chocolate. I have used all – the bitter chocolate is too bitter for me but I loooooove the 52% and use it for all my dark chocolate needs. You can buy it on Amazon via the links or on their own website. Amul Dark Chocolate works good and is vegan !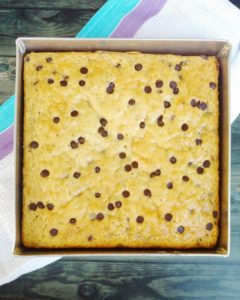 Among the compound chocolates, I like Vanleer , but 2m and Morde is more or less the same if you can't find Vanleer. Several supermarkets have some random brands which work fine too.
And I pick up larger bags of chocolate chips from baking stores when i visit one or order online – its easier on the pocket. Those tiny packs in regular shops don't taste as good. i recently was introduced to Urban Platter
and really found it tasty if a bit expensive.
I have tried many brands of cocoa powder like Hershey's , Cadbury , bluebird , hintz etc… but I prefer Cocoacraft Cocoa Powder
again ( No, the people at Cocoacraft don't pay me but wouldn't that be sweet) ! Its a dark dutch processed powder, and i use it even where regular cocoa is mentioned in the recipe and I love how darkly chocolatey it makes my bakes ! There are some super expensive brands of cocoa, but i still prefer Cocoacraft.
Creams
Light cream (fat percent <35%) : This can be whipped with difficulty but is much better used in making ganache or in bakes where the cream is just mixed in ( for richness) , and where volume is not required. Brands like Amul fresh cream, Milky Mist , Go all work the same.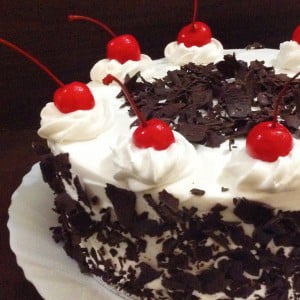 Heavy cream or dairy whipping cream (fat percent >35%) : This can be whipped up or can be used wherever you use light cream. But after whipping this, if you want to maintain the volume, you may need to stabilise with gelatine or some other agent – or it will go flat on you. Dairy whipping cream is a luxury in India . Either you get the imported brands at the big supermarkets like Presidents, Elle and Wire, Pucks etc which taste real good but cost about 750 – 1000 per litre. Or you get small pouches in smaller supermarkets like Milky Mist, Vijaya, Nilgiris – but i have a bad experience with them that most of them turn out already spoilt in the pack.
Non dairy whipping cream : This is the answer to India 's whipped cream problems . It doesnt taste as good and isn't as healthy ( cream isn't the healthiest in any case) . But it whips and stays whipped without much help. Rich and Tropolite are my favourite brands but other lesser known brands ( merry whip, etc ) work but taste a bit odd. These non dairy whipping creams are available in baking speciality stores.
Cream cheese
I actually don't mind using Britannia cream cheese while some bakers find it odd in texture and taste. Philadelphia is great but quite expensive. Mooz , Arla , La Fromelle are other brands which package cream cheese that taste great and work in bakes but their packs are quite small. Dlecta Creme Cheese
is what I prefer using now – its available in bigger tubs of 800 grams too , is cost effective and can be gotten online . Thank you Amazon! You can also make your own cream cheese at home- i have never tried though.
Essences and Food colours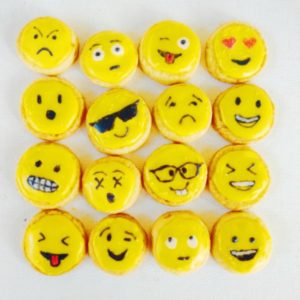 There are plenty of very good vanilla extracts available. Sprig and Goodness vanilla are brands that i have used and liked. Infact , both brands have vanilla pods that you can use to make your own extract or use the pods directly. If you don't want to spend as much, you can use essences like DFF but essences aren't nearly as great as extracts . I like the clear vanilla essence from DFF . For other flavours too, you can order them here. I am not a big fan of the tiny bottles of essences you get in regular shops.
I am not a big fan of food colour either. But again, I m more of a baker than a cake decorator. When i do use colour, its always gel colour .I do own this set of 12 Americolor colours
though – which i bought out of enthusiasm and when on sale . My main food colour use is for red velvet cakes for which i use Americolor super red
. And i also got my set out for making these emoji cookies .
I have tried natural food colours by Sprig but the colours are quite light and dull compared to other food colours.
Phew. That was a long post.
Do you think it was helpful ? Or was it stuff you knew already ? Did I miss out any essential baking ingredient or product that you'd like more info on? Do let me know !
SaveSaveSaveSaveSaveSaveSaveSave
SaveSaveSaveSave
SaveSave
SaveSave
SaveSave
SaveSave
SaveSaveSaveSave
SaveSave
SaveSave
SaveSave
SaveSave
SaveSave
SaveSave
SaveSaveSaveSave