"Why not go out on a limb? Thats where the fruit is!"- Mark Twain.
I used to believe that if you look hard enough and in the right place, you can find anything in Bangalore. Except… passionfruits. I haven't had any luck in finding those so far. So on a recent weekend getaway to a nearby hilltop coffee estate, when the hosts offered us passionfruit juice,I was overjoyed !Seriously, I got stared at for getting so excited over a fruit juice! The gardener was nice enough to give me a few to take back home. And couldn't wait to put them to good use.
Now..I had never even seen a passionfruit before this , let alone taste one. The vibrant colour of the pulp made me smile, the taste made me pucker. I decided to try my hand at a passionfruit curd and was happy with the result. Chose to sandwich it between a split white cake . Both the white cake and curd are a mix and match of many I found on the net,  inspired by several and adapted .
Some thought and a lot of mathematics went into coming up with a dessert because of the few fruit I had and so that the yolks from the cake recipe went into the curd. I am known to carefully save away an extra white or yolk in my fridge with the lovely intention of incorporating it into another dessert, but only to find it weeks or months later !
Both are lovely by themselves. The cake is snowy white, soft and fluffy. The curd is buttery rich and silky smooth.It exactly toes the line where sweet isnt too sweet and tart isnt too tart. But the combination of the light cake and the sharp creamy kick of the curd is a match made in heaven. Trust me . Really !
White cake:
You'll need:
113 grams or ½ cup unsalted butter, at room temperature
200 grams or 1 cup granulated sugar
200 grams or about 1 ¾ cup all purpose flour
2 tsp baking powder
½ tsp salt
1 tsp vanilla (I used clear vanilla extract)
3 egg whites , at room temperature
2/3 cup milk , at room temperature
Makes: a 9 inch round cake
Time : 20 mins prep + 30-35 minutes baking time
Lets get started :
Grease a 9 inch round pan with butter and dust with flour. Line the bottom with parchment. Preheat your oven to 180 C.
Whisk together the flour, salt and baking powder in a bowl. Keep aside.
Beat together the butter and sugar until light , fluffy and creamy. It ll take about 6-8 minutes with a beater.
Beat in the egg whites until fully incorporated.
Beat in the vanilla extract.
We will now add in the flour in 3 additions and the milk in 2 additions. Add 1/3rd of the flour mixture and beat.
Add ½ of the milk, that is 1/3 rd cup milk.
Add in half of the remaining flour mixture. Mix well and Scrape your bowl as needed.
Add the remaining 1/3rd cup of milk.
Beat in the remaining flour until incorporated.
Pour batter into the prepared pan and smooth the top.
Bake at 180 C for 30-35 minutes until the cake springs back when touched or a toothpick inserted in the center comes out clean. Cool in pan for 5 minutes and then invert onto a cooling rack to cool completely. Split into two halves when cool.
Spread the passionfruit curd onto the cut surface of one half and top with the other. Serve as is or dust with some icing sugar.
Also:
Curd can be stored for a week in the refrigerator
Cake can be stored at room temperature for 3 days .
Assembled cake should be stored in the refrigerator for upto 3-4 days but let it come to room temperature before serving.
Always separate cold eggs , and then let the yolks and whites come to room temperature.

Don't go by the pictures. I didn't bother with the photographs at all (I usually don't 🙁 ). Couldn't wait to taste it. The luscious curd bursts with the tangy flavour of the exotic passionfruit and is the PERFECT filling for any cake, or maybe even a tart? . It 'd be great with just about anything. The sunny colour is a treat for the eyes. The white cake is almost like a pillow, almost dissolves away in your mouth. Its airy and super light. Have to try it in a "full" layer cake soon. This simple , put together in a rush cake was nothing like anything I ve tasted before.

Print Recipe
Passionfruit curd
Yum
Pristine white , feather light cake filled with a tangy delicious passion fruit curd!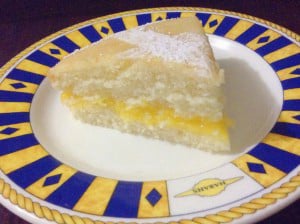 | | |
| --- | --- |
| | |
Remove the pulp from the passionfruit into a saucepan.

Add the sugar and egg yolks.Heat on a medium flame until sugar dissolves. It takes a couple of minutes.

Add in the butter and mix (while heating ) .

Cook for 8-10 minutes on low flame as the mixture thickens. It ll bubble up and be a creamy consistency.

Strain immediately into a bowl.

Let cool in the refrigerator before using. Cover with plastic wrap touching the surface of the curd so that a film doesnt form.