It's like everyone tells a story about themselves inside their own head. Always. All the time. That story makes you what you are. We build ourselves out of that story.

Patrick Rothfuss
Have you heard of the white forest cake? It's a spin on the traditional black forest cake. Now the black forest cake is probably one of the most well known cakes all over, and more probably one of the quintessential Indian favourites. And the black forest has a proper history, it originates from Germany centuries ago and there are a couple of theories why its called the Black forest. It is made of layers of chocolate cake soaked in some kind of Kirsch or cherry based syrup layered with cherries and cream and frosted with more cream and covered in chocolate decorations. Every black forest cake is more or less made of these components with some innovation or creativity thrown in.
Now the white forest cake is a whole different story. Or rather there is no story behind it! I think it is just the result of some Baker somewhere thinking "hey, let's try to make this cake with white chocolate and not dark chocolate !". Well, I guess that's a story too.
Whoever you are, Ms or Mr Baker , thank you ! You had the right idea!
My version of the white forest cake has layers of vanilla or white chocolate cake, soaked in a cherry syrup, layered with fresh cream and a homemade cherry compote , frosted with fresh whipped cream and covered with white chocolate shavings!
Does that sound too complicated? Let me tell you, this cake was filled and frosted and Inside the fridge chilling two hours from the minute I took out my mixing bowl ( that includes baking time!) . Just make the compote, syrup and whip the cream while the cake is baking . And it all can chill while the cake cools enough to slice.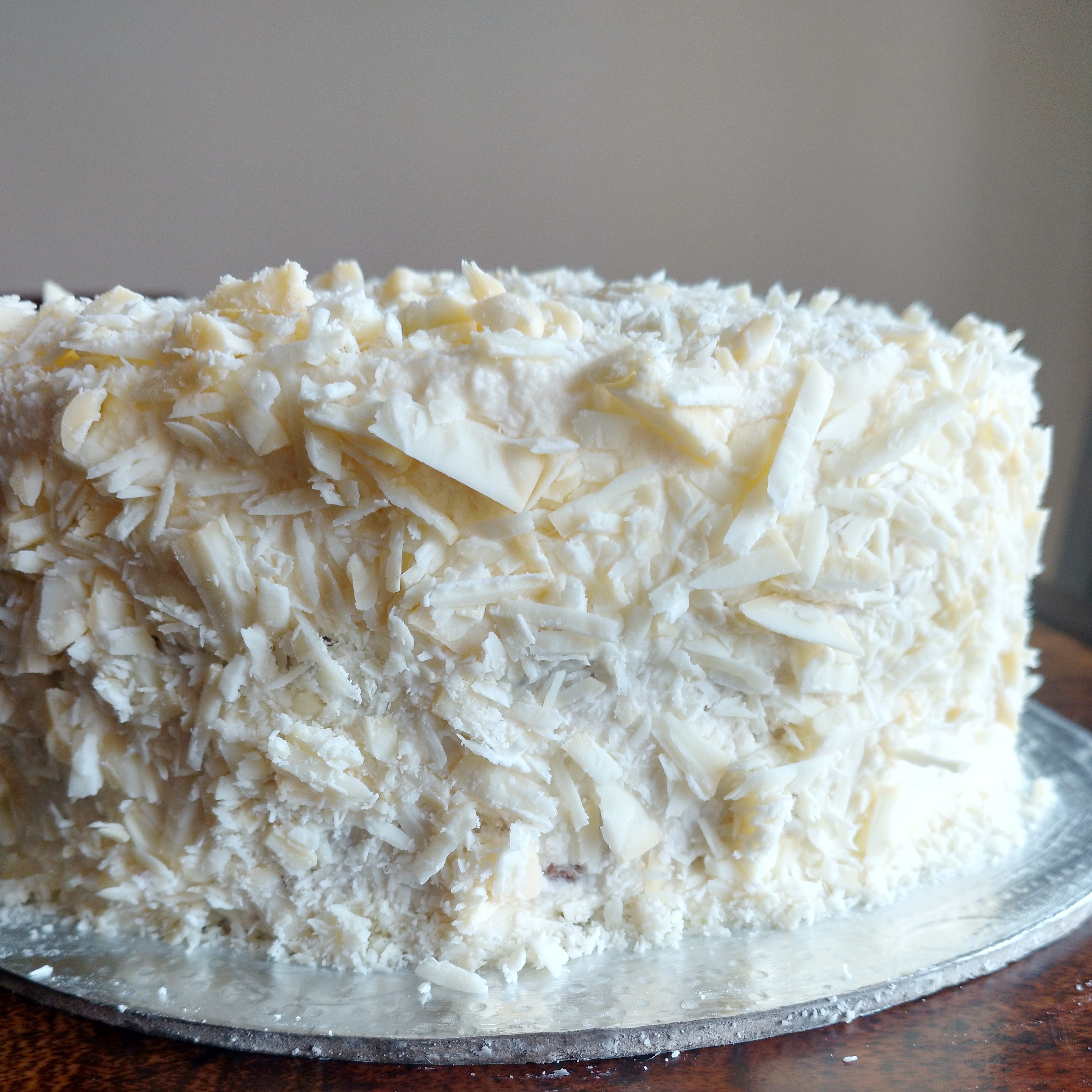 So I have made a version of the white forest cake twice. Once I used my white chocolate sponge and once I used my hot milk sponge. While the white chocolate sponge gives a much richer mouthfeel (and is probably more true to the concept of the "white" forest) , I though the hot milk soaks better and is a lighter cake. So while both are lip-smacking delicious, you can opt for your choice.
I went with sweet dark cherries. You can pick fresh cherries or go with canned ones. With the canned cherries, you can use the remaining liquid in the can to make your soaking syrup while with fresh ones, you can puree a few and use. The cherry compote is made is from a recipe by Veena Azmanov. To reduce this step, you can just use chopped cherries instead.
The white chocolate is optional ofcourse, but it gives a crunch in every bite and a slight richness to an otherwise quite light cake. And also, it is meant to be messy, so your decoration is done in 2 minutes! Win win!
I would strongly suggest to make this cake a day or atleast 12 hours in advance so that everything has a chance to soak and imbibe and marry! To become all the more luscious and decadent.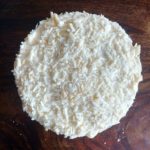 White forest cake
2019-02-22 05:36:49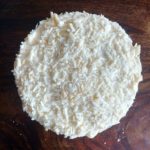 Vanilla cake layers soaked in cherry syrup, filled with homemade cherry compote and frosted with whipped cream!
For the hot milk sponge
225 grams or 1 cup all purpose flour or maida
1 teaspoon baking powder
1/4 teaspoon salt
150 grams or 3/4 cup granulated sugar
2 eggs ,at room temperature
120 ml or 1/2 cup milk
28 grams or 2 tablespoons unsalted butter
1 teaspoon vanilla extract
For the cherry compote
200 grams cherries (fresh or canned)
50 grams or 1/4 cup granulated sugar
120 ml or 1/2 cup water
1 tablespoon lemon juice
1 tablespoon corn flour
For the cherry soaking syrup
8 to 10 cherries or 1/2 cup of drained liquid from canned cherries
120 ml or 1/2 cup water
50 grams or 1/4 cup granulated sugar
1/2 teaspoon vanilla extract
For the filling and frosting
360 ml or 1 1/2 cups cold heavy or whipping cream
5 tablespoons granulated sugar
2 teaspoon vanilla extract.
For the garnish/ decoration
200 grams white chocolate bar, at room temperature
To make the cake
Preheat your oven to 180 C or 350 F. Grease and flour a 6 inch round pan well. Line the bottom with parchment.
In a bowl, whisk together the flour, baking powder and salt. Keep aside.
In a saucepan, bring to a boil the milk and butter. Switch off the heat but make sure the mixture remains hot.
In a large bowl, beat together the eggs, sugar and vanilla with an electric mixer or whisk until light and fluffy. The volume should become about three times and if you lift the beater, a ribbon of batter should stay on the surface for a few seconds before disappearing.
Once this is achieved, whisk in the flour mixture just until you can't see flour anymore.
Whisk in the milk and butter mixture until smooth.
Immediately pour into pan, tap the pan and bake at 180 C or 350 F for 35 to 40 minutes.
The sides of the cake will be coming away from the pan and if you press the top of the cake, it will spring back. A toothpick inserted in the centre should come out dry.
Cool in pan for five minutes, unmould and cool completely on a wire rack.
To make the cherry compote
Chop the cherries in half and remove the pits.
In a thick bottomed saucepan, heat the pitted and chopped cherries with the sugar, lemon juice and 1/4 cup water until sugar dissolves and mixture boils. Stir occasionally.
Dissolve the corn flour in the remaining 1/4 cup water.
Add to the bubbling mixture and stir.
Continue simmering on low temperature, stirring occasionally until it becomes thick and glossy.
When required thickness is achieved , take off heat and let cool completely.
To make the cherry soaking syrup
If using cherries, puree 8 to 10 cherries. Add enough water to make it about 1 cup of liquid.
If using canned cherries, use 1/2 cup of the drained liquid and add 1/2 cup of water.
In a thick bottomed saucepan, heat the prepared cherry solution along with the sugar.
Once the sugar dissolves, bring to boil.
Lower the heat and let simmer for 10 minutes until thick.
Take off heat, add 1/2 tsp vanilla extract. Let cool completely.
To prepare the whipped cream
Keep the bowl with the cream, sugar and vanilla extract along with your whisk or beater in the freezer for 15 minutes.
Remove and beat until soft peaks are formed.
Chill until needed or use immediately
To prepare the garnish / decoration
Grate or shave off using a sharp knife / vegetable peeler white chocolate onto a parchment paper. Refrigerate until using .
To assemble the cake
Fill about 1/3 cup of the whipped cream into a piping bag. Snip of the end or use a big round tip.
Slice the cooled cake horizontally into three layers using a serrated knife.
Place one of the layers on a cake plate or board
Using a pastry brush or spoon, brush the top and sides of the layer with cherry syrup until moist to touch.
Spread about 3 tablespoons whipped cream over the layer, pipe a ring is whipped cream along the edge. This makes sure the compote wont come onto your external frosting.
Spread 1/4 cup compote inside this whipped cream dam.
Place second cake layer on top and press gently.Soak this layer, spread whipped cream, pipe a cream ring and spread 1/4 cup compote in the same way.
Place last layer on top and press gently.Soak with the remaining syrup.
Spread whipped cream on top and the sides of the cake as smoothly as possible. This is the crumb coat.
Chill the cake for 10 - 15 minutes.
If you want , cover with another layer of whipped cream . Press the chocolate shavings onto the sides and top of the cake and shake off excess.
Chill for 8 hours atleast.
Notes
This makes a 6 inch layer cake. You can bake the same cake in a 7 inch or 8 inch round pan and make two layers. The same amounts of other components will be enough.
Let the filled and frosted cake rest in the refrigerator for atleast 8 to 10 hours before slicing.
You can do the final piping or covering with white chocolate just before serving.
This cake will last in the fridge for 3 to 5 days.
To simplify this cake, you can use chopped cherries and spread over the whipped cream between layers.
You will have some compote left over and grated white chocolate left.
Adjust the sugar in compote and syrup according to the sweetness of your cherries.
Touch the white chocolate as less as possible as the heat from your hands can melt it.
My measuring cup is 240 ml.
FLOURS & FROSTINGS http://floursandfrostings.com/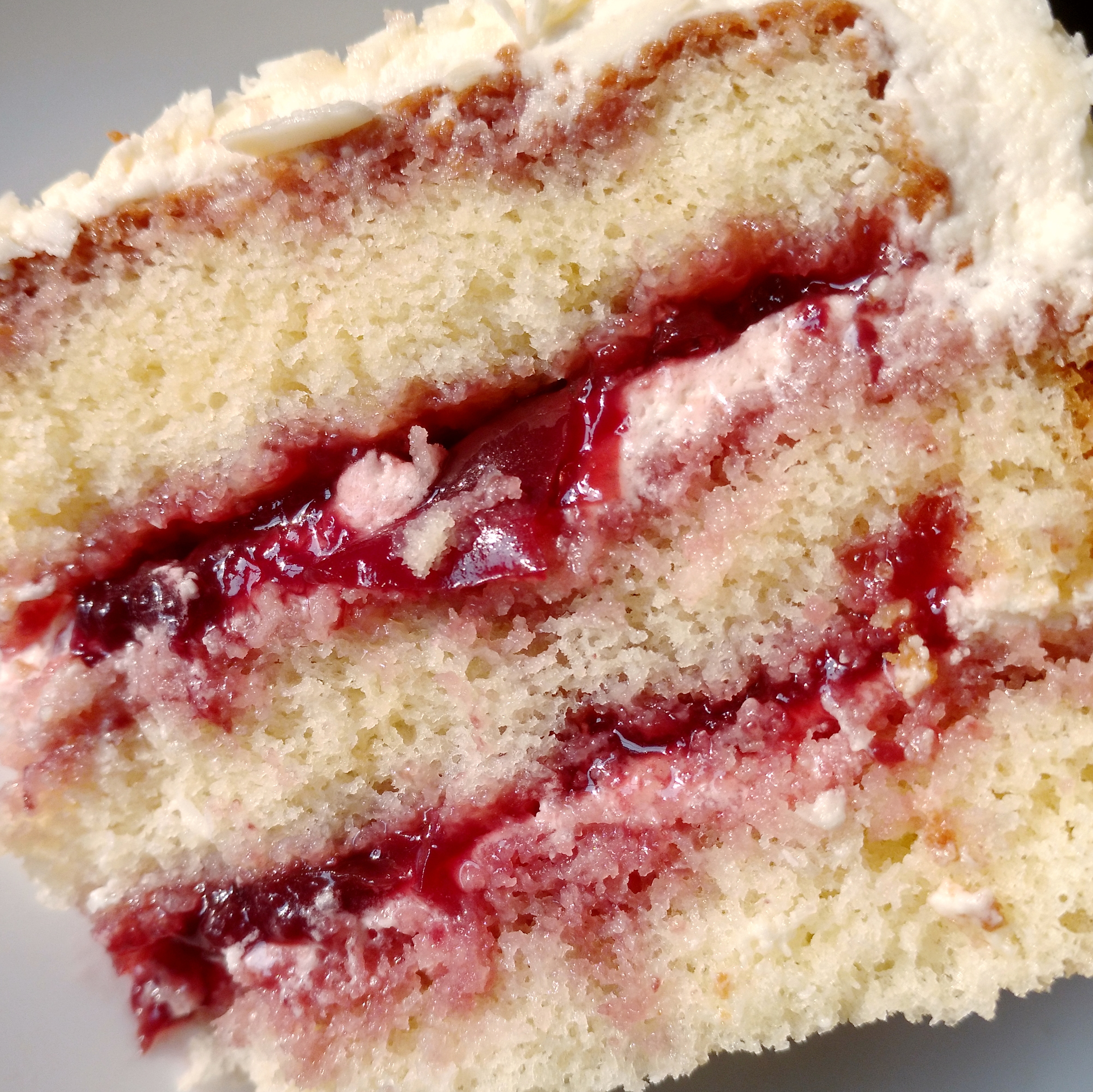 Is that slice too messy? It was the only one that I could manage to get a picture of! This is one gorgeous bite of cake. The cake is super light and moist with the cherry syrup, the slight tartness of the compote keeps it from all getting too sugary, the whipped cream is billowy and the white chocolate shavings give that little snap to it all.
Yum isn't enough of a word!