"We make a living by what we get, but we make a life by what we give."- Winston Churchill.
My very first whole wheat cake !
If you have visited my space before , you might have noticed that healthy baking is not my forte. Guilty as charged! But I recently joined a great initiative by a magnanimous baker to distribute healthy baked goods to underprivileged kids and we were asked to keep the bakes whole grain.
Having never made a cake with atta before , and especially given the little angels I would be baking them for , I wanted to get it just right. Inspired by several recipes I saw online , I figured out a recipe in my head . A "healthier" cake , its 100% whole wheat and has loads of carrots, but it still has eggs , sugar and oil. Its still cake after all !
Let me tell you , until I actually sliced it and had a bite , I was biting my nails nervously throughout! The cake surprised me . It was moist and tasted delicious . It had a certain earthiness to it thanks to all those carrots and the wheat flour , that appealed to me .The texture was perfect for what I had in mind.
I have opted out of nuts and dried fruits , but I think a handful of them would go gloriously here . Also , if you like cinnamon , do add a teaspoon of it along with the sifted flour as cinnamon and carrot are a match made in heaven!
I love how easy this cake is , and how soft. An all time favourite made a little bit more real and a tad more guilt free maybe ?! Wholewheat and wholesome !
SaveSave
SaveSave

Print Recipe
Wholewheat carrot cake
Yum
Moist , easy , wholesome and 100 % whole wheat carrot cake!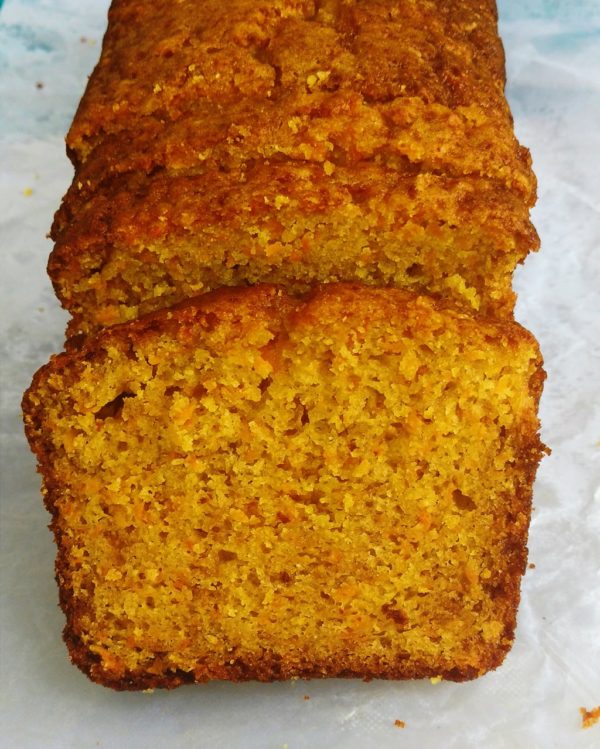 | | |
| --- | --- |
| | |
Preheat your oven to 180 C/ 350 F. Line your loaf pan (9 x 4 inches) with parchment paper , or butter and flour well.

Sift together the flour, salt, baking soda and baking powder. Keep aside.

Whisk together the oil, sugar , honey , eggs and vanilla extract .

Whisk in the sifted flour , until just combined.

Fold in the carrots using a spatula.

Pour batter into the prepared pan and bake at 180 C/ 350 F for 45-48 minutes until top springs back when touched and a toothpick inserted in the centre comes out dry.

Cool for 10 minutes in pan , and then remove from pan . Cool completely on wire rack.
This cake keeps well for 4-5 days in an airtight container , upto a week in the fridge.
I find carrot cakes bake differently , depending on the carrots and moisture content. So keep an eye on it while baking, start checking around 40 minutes .