"You are in pretty good shape for the shape you are in." – Dr Suess.
An ongoing project which requires some wholegrain baking has me experimenting with healthier bakes. While sometimes these experiments have steadfastedly found their way into the trashcan , there are times when I have tasted sweet success( I use this pun too often )!
I chanced upon this wholewheat muffins recipe from the King Arthur Flour site .I skipped the blueberries for two fistfuls of tutti frutti , and reduced the sugar way down. I chose to bake them loaf cake style , but I have made muffins from the batter too in the past . You could omit the candied fruit bits , but I would suggest not to , or use something you fancy more like nuts or chocolate chips or dried fruits maybe.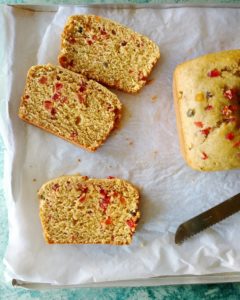 100% wholewheat recipes always awaken a sense of dread in me which turns into relief ( or at times disappointment ) only after the first bites. This was a great recipe. Fuss free to make , simple ingredients and a really fluffy texture. Like the original says, the only thing that gives away all the whole-wheat in this cake is the colour !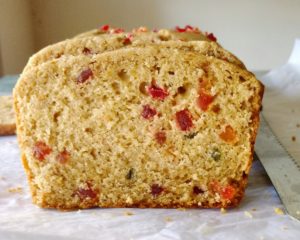 100% whole wheat tutti frutti cake
2016-11-28 09:39:20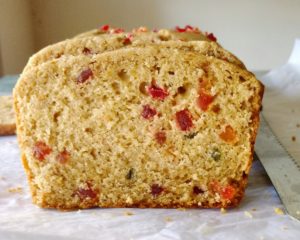 A fluffy whole-wheat cake filled with candied fruit !
Ingredients
285 grams or 2 1/4 cups whole wheat flour
150 grams or 3/4 cup brown sugar
1 tsp baking powder
1/2 tsp baking soda
1/2 tsp salt
3/4 cup yoghurt
180 ml or 3/4 cup water
80 ml or 1/3 cup vegetable oil
1 tablespoon vanilla extract
100 grams or 1 cup candied fruit / tutti frutti
Instructions
Preheat your oven to the 200 C / 400 F . Grease and flour a 9 x 4 inch loaf pan.
Mix together the yoghurt , water , oil and vanilla. Keep aside.
In a large bowl,sift the flour.
Whisk in the sugar , baking soda , baking powder and salt.
Whisk in the tutti frutti.
Add the liquid ingredients and whisk until smooth.
Pour into the prepared pan.
Bake for 45 to 48 minutes or until a toothpick inserted in centre comes out clean.
Cool in pan for 10 minutes , and then completely on a wire rack.
Notes
This cake tastes bests the day it is baked and the next. Stored in an airtight container or wrapped well , it will last for 2 to 3 days.
If you want muffins , divide the batter into a muffin pan lined with paper liners. Fill 2/3rds of each liner. Then bake for 18 to 20 minutes at 200 C or 400 F. Recipe yields 14 to 15 muffins .
Bake for the minimum time given and make sure the cake is done as whole-wheat cakes need a higher temperature or longer time so that the centre is done well and not wet.
Baking times may be more depending on your oven and pan size. Bake in a square or round pan for faster baking.
I have used less sugar as the candied fruit bits make it sweet enough, if you using less tutti fruity , increase the sugar to 2/3 cups or 170 grams.
FLOURS & FROSTINGS http://floursandfrostings.com/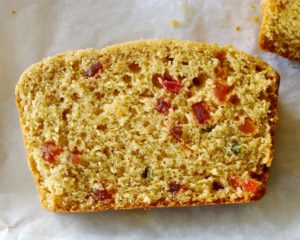 It is especially gratifying when my usually frosting and chocolate loving friends wolf down slices of this simple , whole-wheat cake. It tastes very much like the packaged tutti frutti cake slices we can buy almost anywhere. I am sure this humble , eggfree , wholegrain, colourful cake can find a place on your Christmas platter !
Affiliate links : Just so you know, I have baked this cake in my trusty Morphy Richards 52 Litre Oven
.
Happy baking !
SaveSave