"Emojis speak louder than words!"
What kind of a texter are you ? The hyperabbeviated "k"," g8″ , "c ya" kind or the emoji kind? I use full words even while texting (does that make me old?) and I like emojis . I think the one I use the most is the winky one. Do you have a favourite emoji ?
When I found out that this month's creative cookie challenge theme was Decorated Cookies, I leapt at the chance to finally work with Royal icing. That my lofty plans of making adorable emoji cookies which ended up looking like a child's job is a whole different story.
I always considered myself an artistic person but my first tryst with royal icing brought me crashing down to earth, where I struggled to draw a curve for a smile and found it near impossible to ice out "round" circles.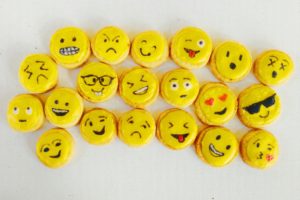 My lifelong war with imperfect circles aside, this was a super fun project. The sugar cookie dough is from Cookie Craft and is as basic as it can get. The cookies taste great , have a great crunch to them , aren't too sweet ( for a sugar cookie !) and hold their shape well. If you are a chocolate person, you could try these chocolate sugar cookies instead. Both are definitely good enough to have on their own, but the Royal icing is literally the icing on the cookie !
The Royal icing from Joy of Baking is so simple to put together. Lime or lemon juice, egg whites and sugar. It is even easier to work and I enjoyed working with the colours. The icing is sweet of course, but so much fun and cheer !
Once I got the hang of it , I realized it was easy enough to decorate the cookies. If you are even reasonably coordinated compared to me , it will be a cakewalk (cookie walk ?) . Just a little precision and practise . My final work isn't too shabby .. Is it ?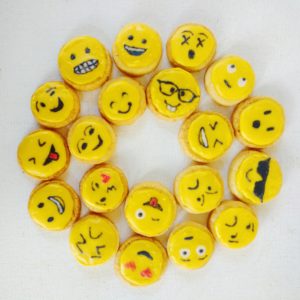 Emoji cookies
2016-11-22 12:45:17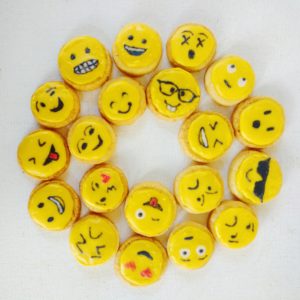 Sugar cookies with royal icing !
For the cookies
225 grams or 1 cup unsalted butter, at room temperature
200 grams or 1 cup granulated sugar
1 tablespoon vanilla extract
1 egg , at room temperature
375 grams or 3 cups all purpose flour
Pinch of salt
For the royal icing
60 grams or 2 egg whites
2 teaspoons lime juice
330 grams or 3 cups icing sugar
Gel food colouring in yellow , black , red
To make the cookies
Using a wooden spoon or electric mixer, beat the butter and sugar until light and fluffy.
Add the egg and vanilla. Beat well until combined.
Add the flour and salt and beat at low speed until soft dough forms.
Divide into 2 or 3 portions , wrap in plastic and chill for atleast 30 minutes.
After chilling , roll out to about 1/8th inch thick. Using a cookie cutter, cut out shapes.
Transfer shapes to a parchment lined baking sheet.
Chill for 20 minutes. Meanwhile preheat your oven to 180 c .
Bake at 180 c for 12 to 16 minutes until edges start browning .
Cool on sheet for five minutes then cool completely on wire rack.
For the royal icing
Beat lime juice and egg whites until combined.
Sift in the icing sugar and beat until shiny white .
When you lift the beater, the trail should disappear after 10 seconds or so.
Colour half the icing yellow and transfer to a piping bag with the tip cut off.
Colour half of the remaining icing black, and the remaining two portions white and red each. Transfer to piping bags.Cut as small a tip off the piping bags as possible.
On each cookie, draw a circle with yellow icing and flood (fill) with yellow icing, use a toothpick to help spread.
Choose an emoji to make and while the yellow icing is still wet, pipe on details with other colours. Use the toothpick for adjustments.
Let cool for atleast a few hours.
Notes
The sugar cookie dough can be refrigerated for 5 days and frozen for two months. The cookies will last in an airtight container for a week or longer.
The cookie recipe yields around 40 to 45 four inch cookies.
The royal icing can be stored in an airtight container or in the piping bags in the refrigerator for a week.
Cover the royal icing as soon as you make it or it develops a crust. Remove the crust from the tips of icing bags in between use.
There are a lot of conistencies for royal icing. As it was my first try, i didnt fuss too much. I kept the yellow one a little thinner than the other colours .
If your icing is too thick and doesnt spread easily , pour it back into a bowl and mix in a little water.
If your icing is too thin and spreads off the edge of your cookie , pour it back into a bowl and mix in a little icing sugar.
A lot of Youtube videos on Emoji cookies are super helpful!
FLOURS & FROSTINGS http://floursandfrostings.com/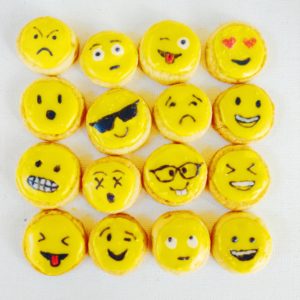 I will definitely be trying some more royal icing projects. Maybe the artist in me just needs a little more of a nudge to get out!
Creative cookie exchange !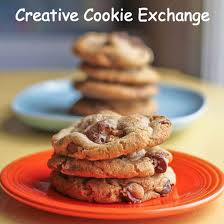 The holidays are coming–and everyone loves decorated cookies during the holidays, so we've got you covered! Time to get your baking on!
You can also use us as a great resource for cookie recipes. Be sure to check out our Pinterest Board and our monthly posts (you can find all of them here at The Spiced Life). You will be able to find them the first Tuesday after the 15th of each month! Also, if you are looking for inspiration to get in the kitchen and start baking, check out what all of the hosting bloggers have made: