"Valentine's Day is the poet's holiday." ― Ted Kooser.
This is a repost almost as this cake is very similar to the flourless rum cake that I have on here . The difference is that , this cake is toned down to make it just enough for two people with extra helpings ( because you will want an extra helping of this cake ) . It is booze free . And instead of the chocolate glaze , I paired it with a pomegranate sauce. Best thing ever !
I know chocolate on chocolate seems like an unbeatable combination ( probably is !) but this contrast is to die for. This cake from Pastry Affair is dark , deeply chocolatey and melts away in your mouth. The tart and sweet flavours of the pomegranate sauce cuts the richness of the cake is the most brilliant way possible . I am not kidding you. Try this cake and not want more. I dare you !
Now, when you are making dessert for yourself and that special someone (or your small family) , the last thing you want to do is putter around in the kitchen all day before and clean a sink load of dishes after. This gives you an elegant stress free plate of decadence . One bowl, one whisk and 30 minutes of your time. You have that…don't you?
This is one of the best chocolate cakes I make . It is very rich and dark and decadent . It is not for someone who doesn't love their chocolate. Or maybe they might start loving chocolate , if they have this. It is so perfect for an after dinner intimate celebration , even served by itself. The pomegranate sauce is the perfect addition for both the clashing flavour and that pop of colour . And that wee bit of elegance it adds ? 🙂
To love… tomorrow and every day!!

Print Recipe
Flourless chocolate cake with pomegranate sauce
Yum
perfect romantic dessert - dark flourless chocolate cake with a beautiful pomegranate sauce!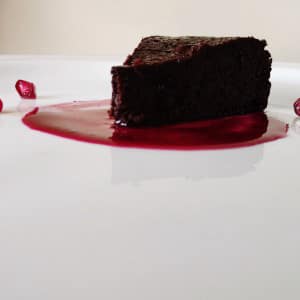 For the Pomegranate sauce :
Grease a round 5 inch pan with butter well. Preheat our oven to 180 c or 350 F .

Melt the butter and chopped chocolate together either in the microwave or stovetop.

Take off the heat and whisk in the sugar.

Mix in the eggs, one by one.

Add in the cocoa, vanilla and water . Mix until smooth.

Pour batter into prepared pan . Bake at 180 c or 350 f for 25-30 minutes. A toothpick inserted into the centre comes out clean and dry.

Cool in pan for five minutes and unmould carefully to cool completely on wire rack.

In a saucepan , measure out the pomegranate juice , sugar and lemon juice. Bring to boil. Then lower the heat and simmer until its the thickness you want. Will take around 5-10 minutes.

Cool until needed. To serve , spoon or drizzle over slices of cake or on the side of the serving dish.
This cake can be stored upto 4 days in an airtight container chilled.
To make the pomegranate juice, grind the pome seeds in your processor or mixer (without adding water) and then pass through a strainer.
Adjust the sugar of the sauce based on your taste preference and ripeness of fruit.
Warm up syrup if it becomes too thick before serving.
For flavour variation in cake , instead of 2 tbsp water, add rum or coffee or orange juice.
Double the cake quantity for an 8 inch cake .