"Happiness is homemade!".
I follow a lot of food bloggers and many of them have amazing DIY recipes or make their own ingredients from scratch. I love how spiffy and innovative they all are. Truth be told, I am quite the opposite . I will use most shortcuts that life offers (in the kitchen or otherwise) and if there is an easier way out, chances are I WILL be cruising along it!
But there are times when even I go the homemade route rather the store bought. When I would rather eat something made with real ingredients than spoon it out of a tub with a label of unpronounceable and unknown chemicals !
Nutella is almost a baking pantry staple for me – I put it in cookies , bars , frostings , cakes and more ! There are umpteen number of homemade Nutella recipes or Nutella inspired recipes made with all kinds of nuts. I used Almonds , because they are much more easily found here than hazelnuts , much easier on the pocket and because I like almonds! Remember these almond brownies ? Yum!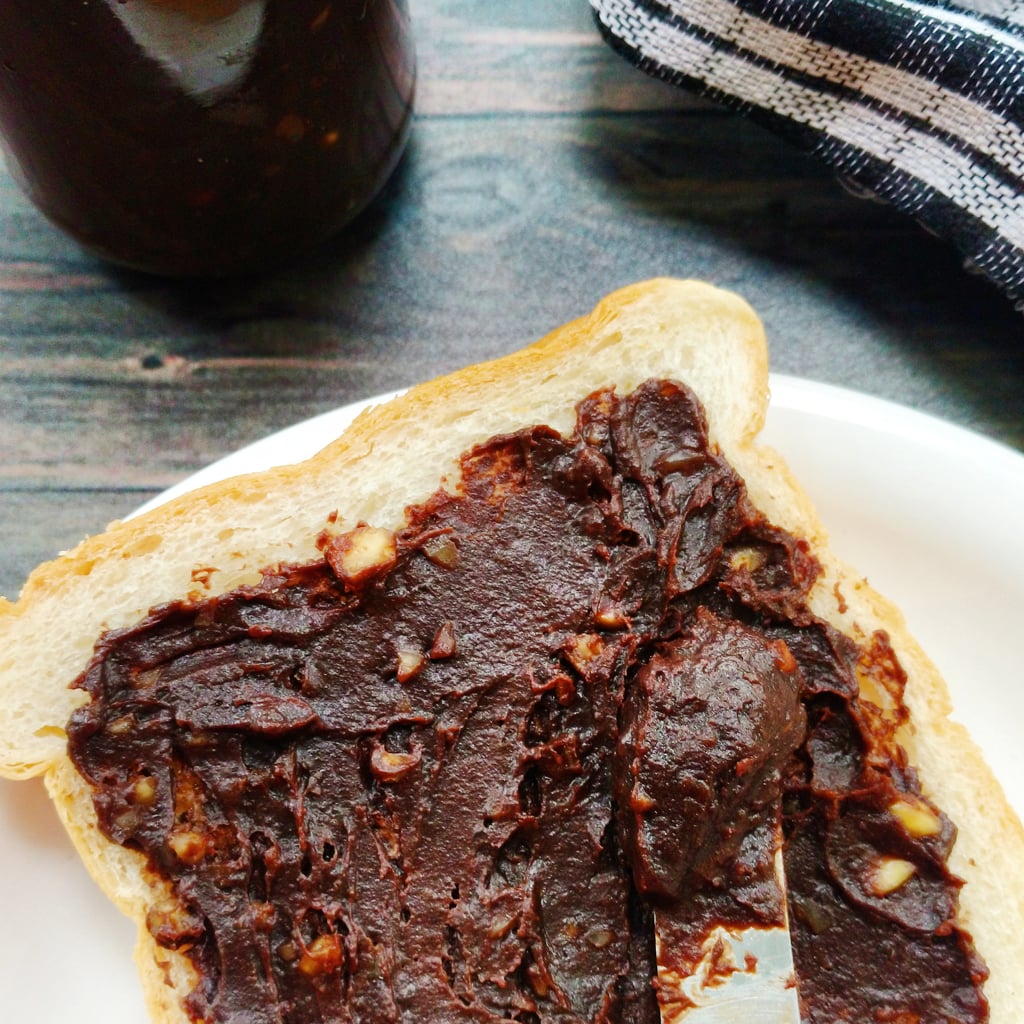 I followed a method that I had come across in the cookbook by Flour bakery. The process is not much more complicated than making a ganache. I steeped some cream ( 20 % , yay!) with ground almonds to infuse the nutty flavour . To this , I added a molten mixture of both dark and milk chocolate . You could use either or both in proportions that appeal to your taste buds. I kept my almond chocolate spread chunky by swirling in some coarsely chopped toasted almonds , but if you like things smooth , you could just mix in almond paste.
Creamy , rich , chunky Almond-ella!
If you ask me , not sure whats the difference between an almond chocolate ganache or chocolate almond spread. Ganache is meant to be spread right. So its just semantics ?
One thing I WILL tell you…. its YUM ! Use it in any recipe that would ask for Nutella. Or spread it on your toast on that Monday morning when you would do anything not to go to work at 8 am. Or sneak a spoonful when you open the refrigerator to get out the veggies to prep for dinner (We all know we have done it !).
Will I never buy Nutella again ? I probably will.
Will I make this Almond-ella again ? I surely will.
Should you make this Almond-ella ? You definitely should !

Print Recipe
Homemade chunky Almond-ella (chocolate almond spread)
Yum
An easy way to make a wholesome homemade almond version of everyone's favourite Nutella !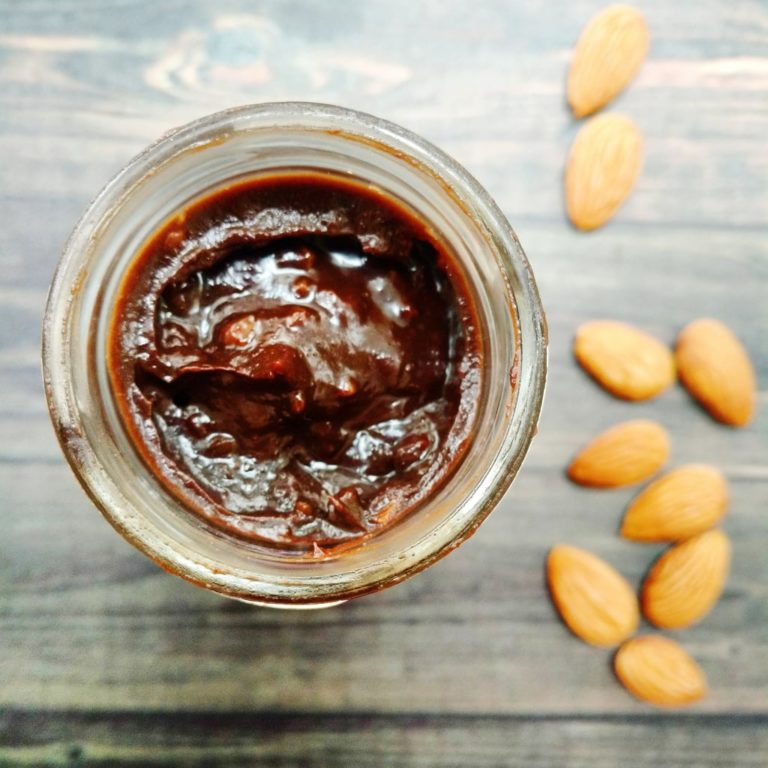 | | |
| --- | --- |
| | |
Blanch and peel your almonds. Dry completely and then toast in a preheated oven at 180 C for 10-12 minutes or until golden brow. Or you could toast them on a skillet for few minutes.

Grind half the almonds into a fine flour using your mixer or food processor.

If you want a chunky spread, coarsely chop the remaining almonds. If you want a smoother consistency, grind the remaining almonds to a paste.

In a saucepan , heat the cream and ground almond flour together until the cream bubbles around the edges . Take off heat, cover and let rest for an hour.

Pass this through a sieve . You may need a spoon or spatula to pass the mixture through the sieve.

Chop up the chocolates into small pieces and melt until smooth in the microwave or in a heatproof bowl set over a saucepan of simmering water (double boiler).

Mix the chocolate and cream together.

Mix in the salt and vanilla.

Fold in the chopped almonds/ almond paste.

Store in an airtight container.
Step by step tutorial:
Also:
This can be stored for about 2 weeks in an airtight container in the refrigerator. If it thickens too much , just warm it up in the microwave or stove top.
70 grams almonds are about 65- 70 almonds .
When you grind them , do so in small pulses . If you grind them too much, they may become like a paste. This is less common in toasted almonds. You can also mix in a little icing sugar to prevent it. Just in case it does become paste-like , don't worry. You can still mix it with cream as above. You are going to strain it anyways!
Even if you use almond paste , its difficult to get the same smooth consistency as you do in store bought Nutella.